Dragonfly 40 Performance Review
Joe Fox travelled to the Dragonfly factory in Denmark to test sail the Dragonfly 40.
Stepping on board the new Flagship 40 with Dragonfly owner Jens Quorning and his son Peter was somewhat of a surreal experience. To sail the boat with the family that designed and built this stunning vessel was an honour.
The wind was a steady 12 knots decreasing throughout our short sail. Manoeuvring out of the tight Marina berth was simple, aided but the swing thruster mounted in the main hull. Once clear of the fairway, there was no time wasted in unfolding the floats. Having sailed many times on the Dragonfly 25, this simple and surprisingly fast operation was conducted with as much ease and control as it is on the 40s little sister; with all lines running to the helm station, there was no need to leave the cockpit for this entire operation. Once open, with safety ties attached, the platform felt rigid and secured. Hoisting the main was a simple task with the furling boom system, again, all completed from back at the helm station by the skipper.
A slight bear away and with the whizz of the headsail unfurling, the leeward float settled into the water, and we took off on port tack. Instantly hitting 9 knots, sailing upwind in the light 12-knot breeze. Tacks were effortless, and the boat pivoted nicely around the main hull. The high-performance sails trimmed perfectly for the conditions looked like something out of a performance sailing magazine!
Rounding out the windward mark, the code 0 was unfurled in a flash, and the headsail furled. Bearing away saw the Dragonfly 40 hit 12 knots downwind in 12 knots of breeze. No mean feat for a vessel that feels so steady and comfortable. The downwind leg went by in a flash before arriving back at our departure point.
Overall, the vessel oozes style, clever design, and practicality. The systems and vessel controls are not overcomplicated, such as improving the sailing experience for all on board. The next step for me is to experience this vessel in a healthy breeze so we can really get this Dragonfly 40 humming… watch video here.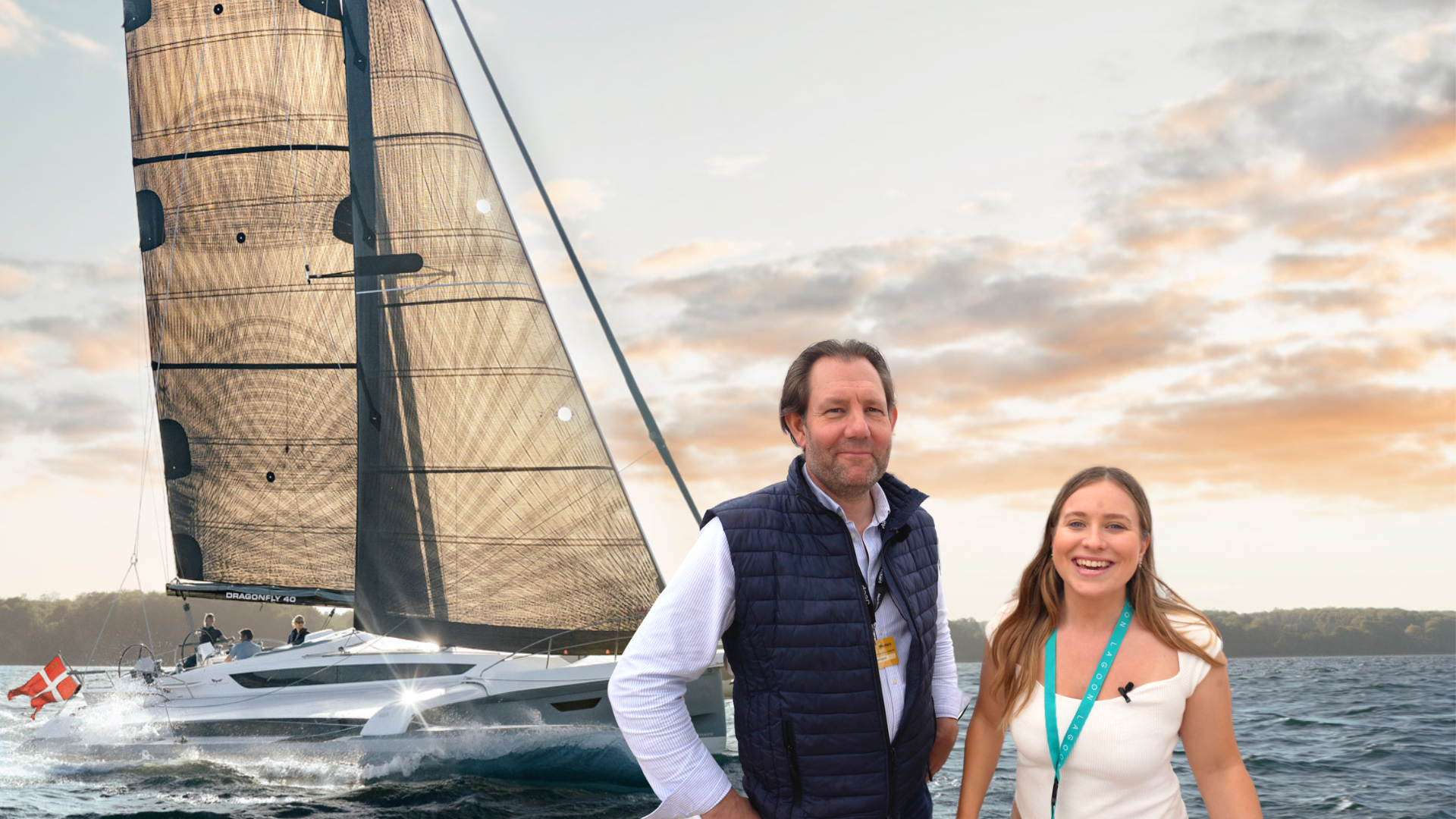 Jørn Ravnskjær discusses the success of Dragonfly Trimarans as a small family-owned business that has gone on to build over 1000 boats.
read more