PRESTIGE X60 In-depth Walkthrough & Highlights
A Blend of Elegance and Innovation
Welcome aboard the PRESTIGE X60, a vessel that effortlessly combines modern style with timeless luxury. Rowan from TMG Yachts takes us on a journey through this remarkable yacht, showcasing its key features that make it stand out in the world of boating. In Rowan's words, "This boat is a crossover vessel, it's a modern-style trawler combined with a motor yacht interior and high-quality fit-out – a really impressive vessel to be seen, walked through, and felt."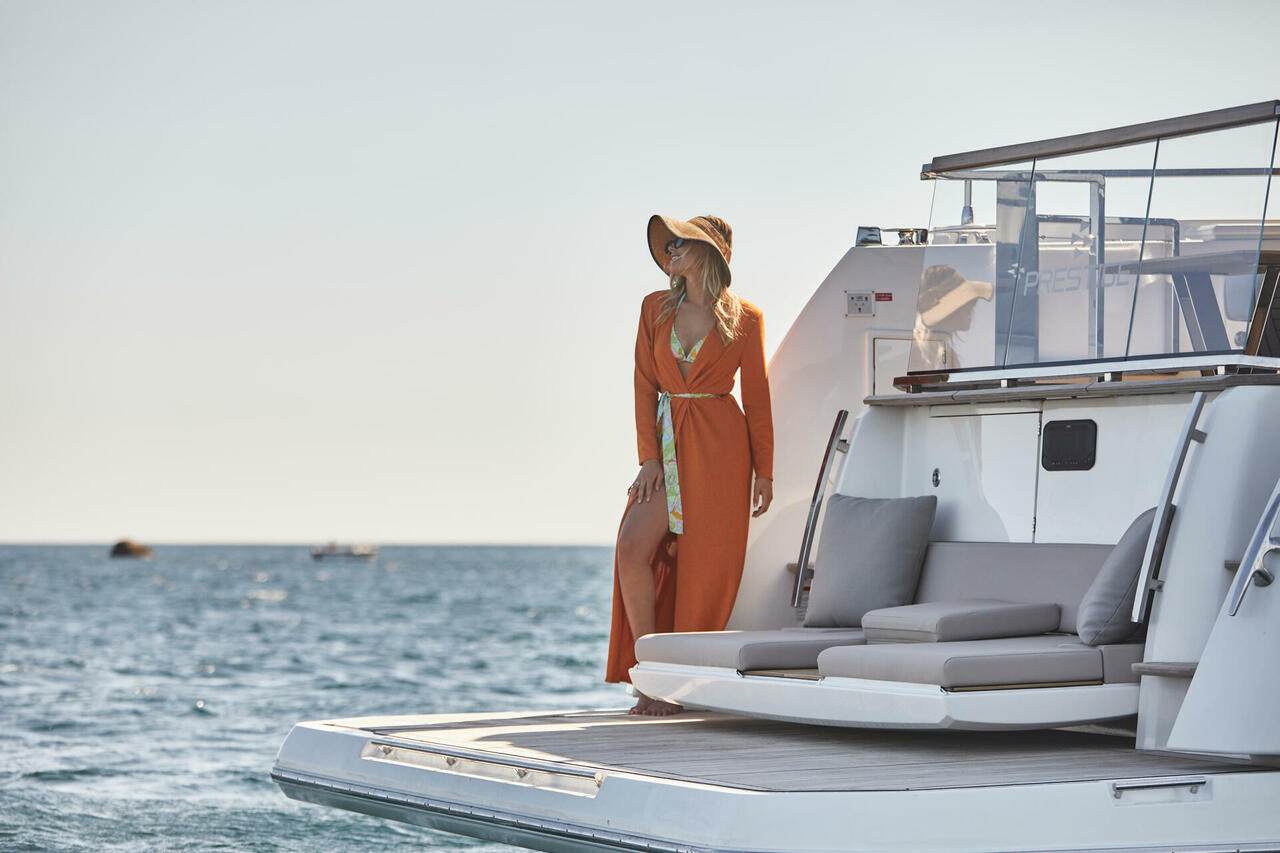 Asymmetric Configuration
The asymmetric superstructure of the X60 provides a full walk-around on the port side and a partial walk-around on the starboard side. This unique design maximizes interior space, offering large windows and an open layout.
Versatile Rear Platform
The PRESTIGE X60 boasts an adaptable rear platform. It features an up-and-down high-low platform that can accommodate a large tender or transform into a daybed. This space, often referred to as the Beach Club, offers a stunning view of the ocean, complete with foldable lounges, ample storage, and even the option for crew quarters, a head or storage.
Powerful Performance
Powered by a Cummins 8.3 engine with 600 horsepower and Zeus drives, the X60 ensures exceptional manoeuvrability and handling. With a fuel capacity of 2200 liters, it reaches a maximum speed of 23 knots, making coastal and offshore cruising a dream.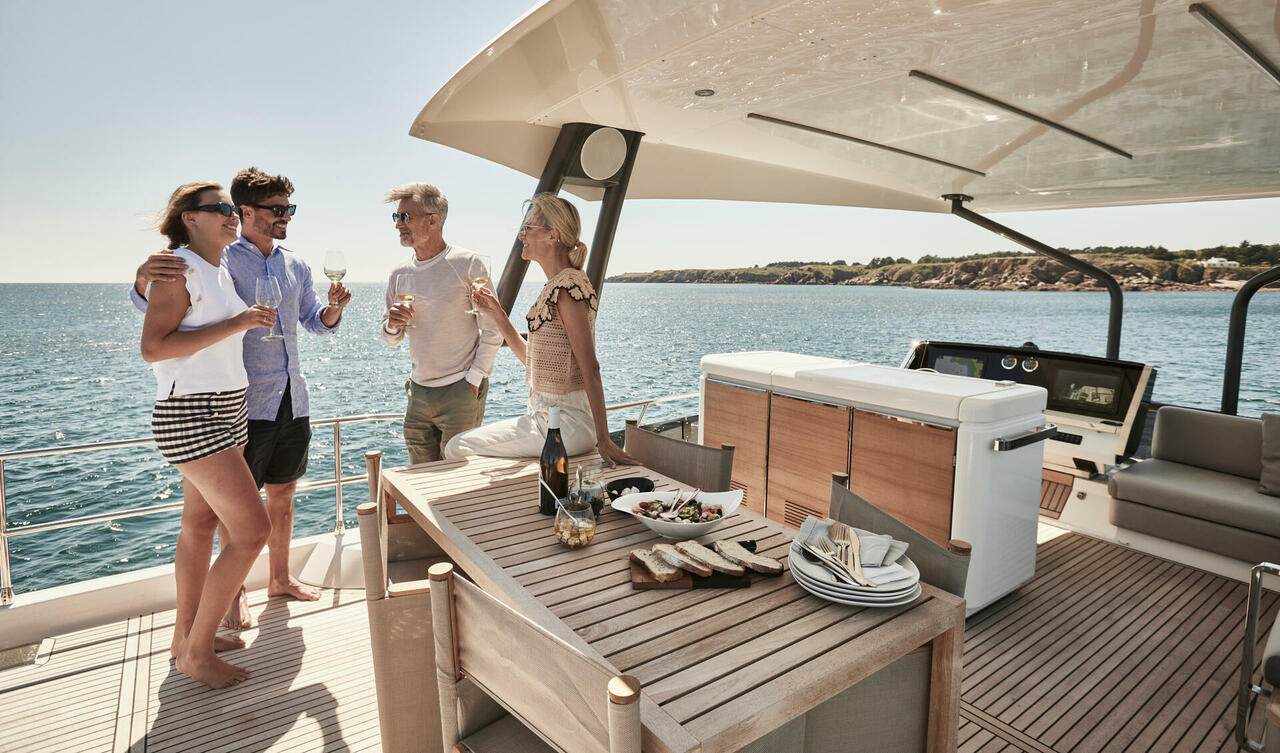 Stunning Flybridge
The flybridge of the X60 is a palace in itself, featuring modular and fixed furniture. It offers options for dining, lounging, and sunbathing. With a wet bar, electric cooktop, refrigeration, and stunning views, it's the perfect spot for entertaining. There is also a fully equipped port-side helm station, perfect for all your navigation needs.
The X60 provides ample sun protection with a large hardtop covering the flybridge. Carbon poles support a rear Euro awning for extra shade while at anchor, ensuring comfort in the Australian climate.
Exquisite Foredeck
The bow area of the X60 offers an ideal spot for enjoying sunset cocktails and entertaining guests. It features a slide-in teak table, popup lights for ambience, and a four-pole Euro awning system for sun protection.
Customisable Cockpit
The PRESTIGE X60 offers a versatile rear cockpit that adapts to your preferences. With modular furniture, you can configure the space for lounging, ocean gazing, dining, or entertainment. The innovative backrests can be flipped for flexible seating arrangements, ensuring your yacht experience is tailored to your desires. From here, the outdoor seamlessly integrated into the interior saloon.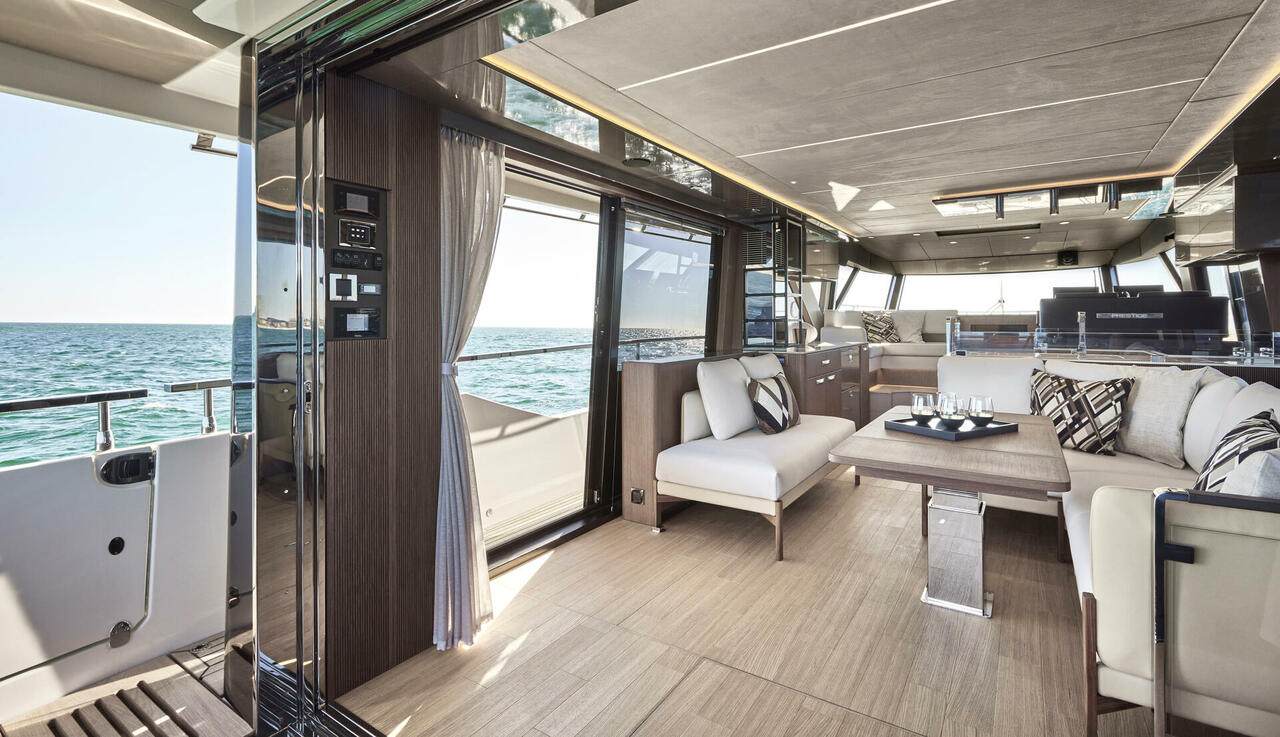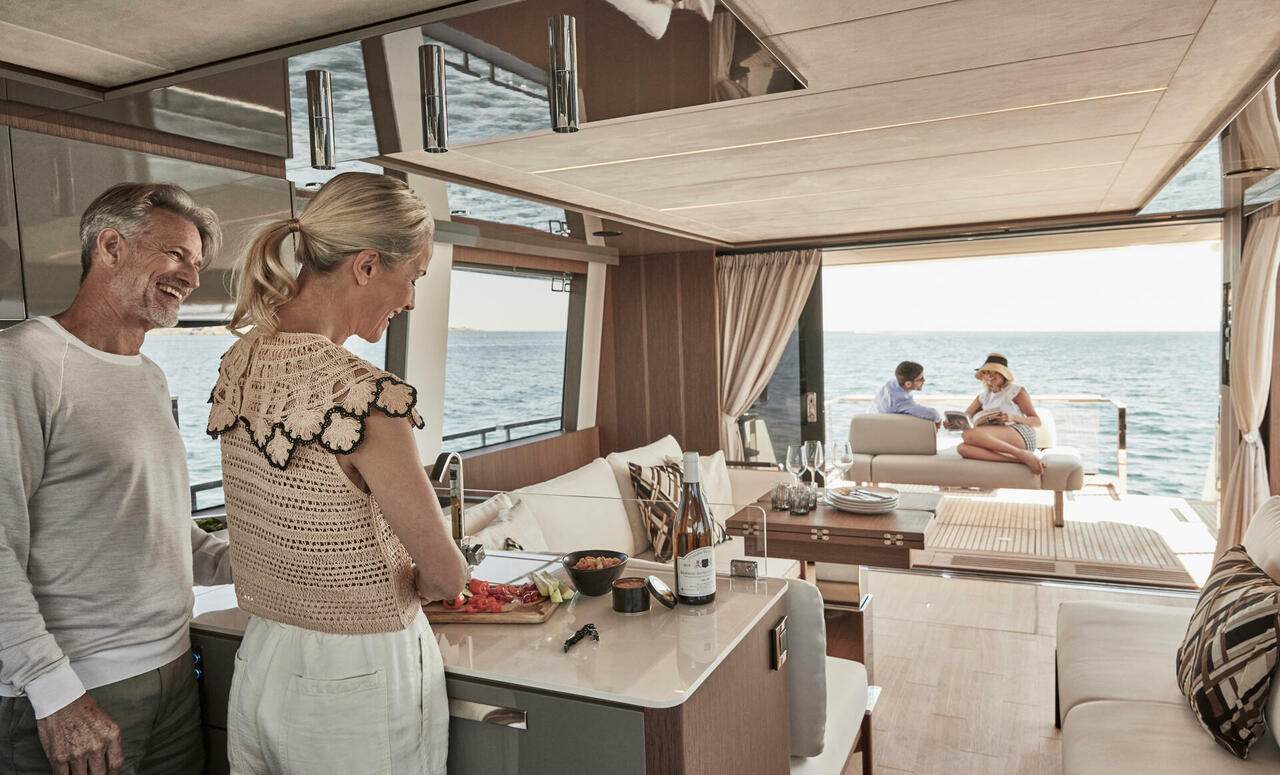 Spacious Saloon
The main saloon of the PRESTIGE X60 is a testament to its innovative design. Featuring two massive sliding doors opening the stern and port side the saloon brings the outside in. The large windows flood the space with natural light, offering an inviting and cozy atmosphere. Rowan emphasizes, "You're really greeted with a lot of natural air and a lot of natural light."
The reverse-rake window design not only offers more space but also reduces the sun's radiation, minimizing the need for air conditioning and generator use. Natural ventilation and ample openings further enhance energy efficiency.
With soft couches, this area can seamlessly transform from a dining space to a lounging area with a flexible up-and-down table. The popup TV adds to the comfort, making it an ideal spot for relaxation and entertainment. The unique one-level living design ensures easy access for all, whether you have young children, older guests, or simply want to avoid climbing stairs constantly.
Well-Appointed Galley
The centrally located galley is cleverly designed for convenience. It includes pop-up cabinets for a coffee nook and expands to offer ample preparation space. With a sink, cooktop, refrigeration, and additional bench space, it's perfect for cooking and entertaining.
Comfortable Lower Helm
The lower helm features a comfortable seating arrangement for the captain and first mate, along with a lounging and living area to the port. It provides excellent visibility and controls for navigation, including joystick docking with Zeus drives and all the typical necessities you would expect from a motor yacht of this level.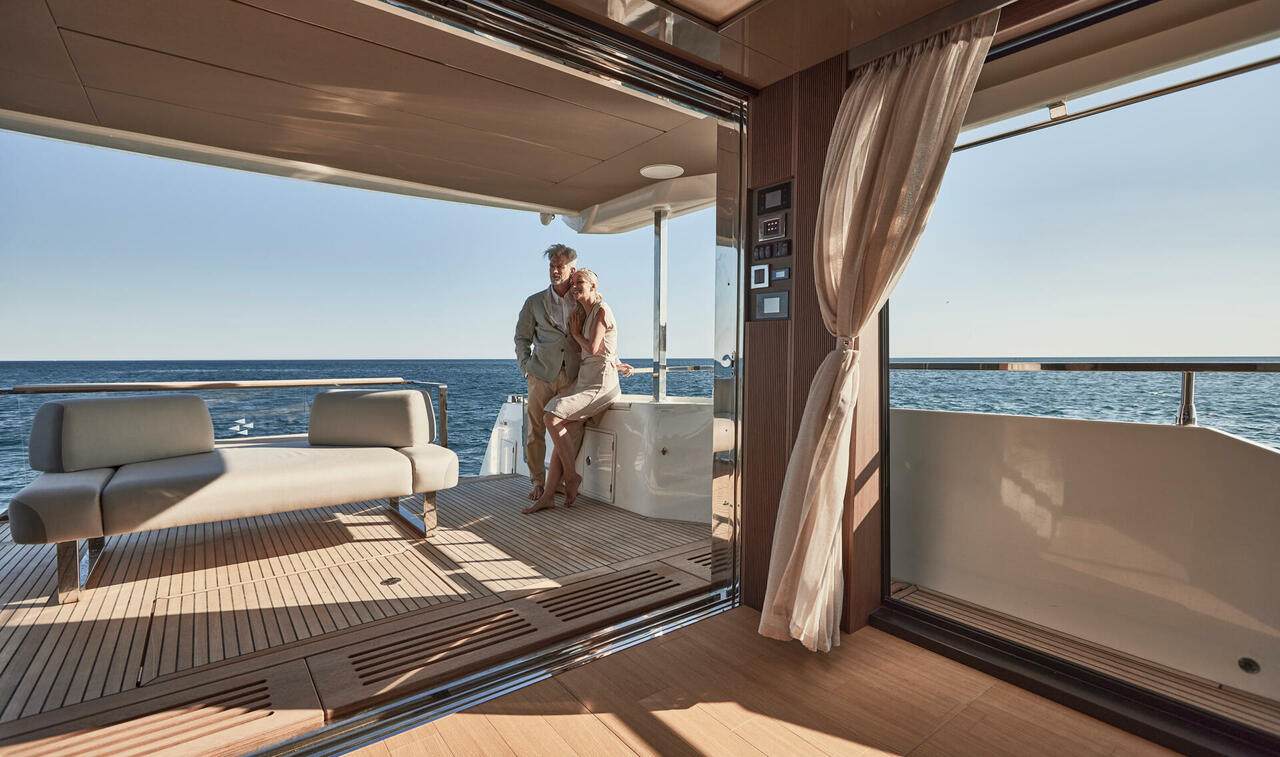 Impressive Accommodations
The X60 offers luxurious accommodations, including a VIP cabin with a queen-sized bed, an ensuite with dual access, and a spacious shower. Additionally, a mid-ship's cabin with twin beds can serve as a guest room or extra storage.
Lavish Full-Beam Master Cabin
The master cabin, located at the aft of the boat, giving the owner privacy from guests, is truly remarkable. It features a king-sized bed, abundant storage, a walk-in closet, and a cozy reading nook with breathtaking views.
The PRESTIGE X60 embodies elegance, innovation, and versatility, making it a standout choice in the world of luxury yachts. As Rowan aptly puts it, "PRESTIGE offers the highest level of fit-out with the Benneteau group range, and you really get to feel that elegance that they provide throughout the entire boat." If you're seeking a yacht that combines style, performance, and comfort, the PRESTIGE X60 is a vessel that should not be missed.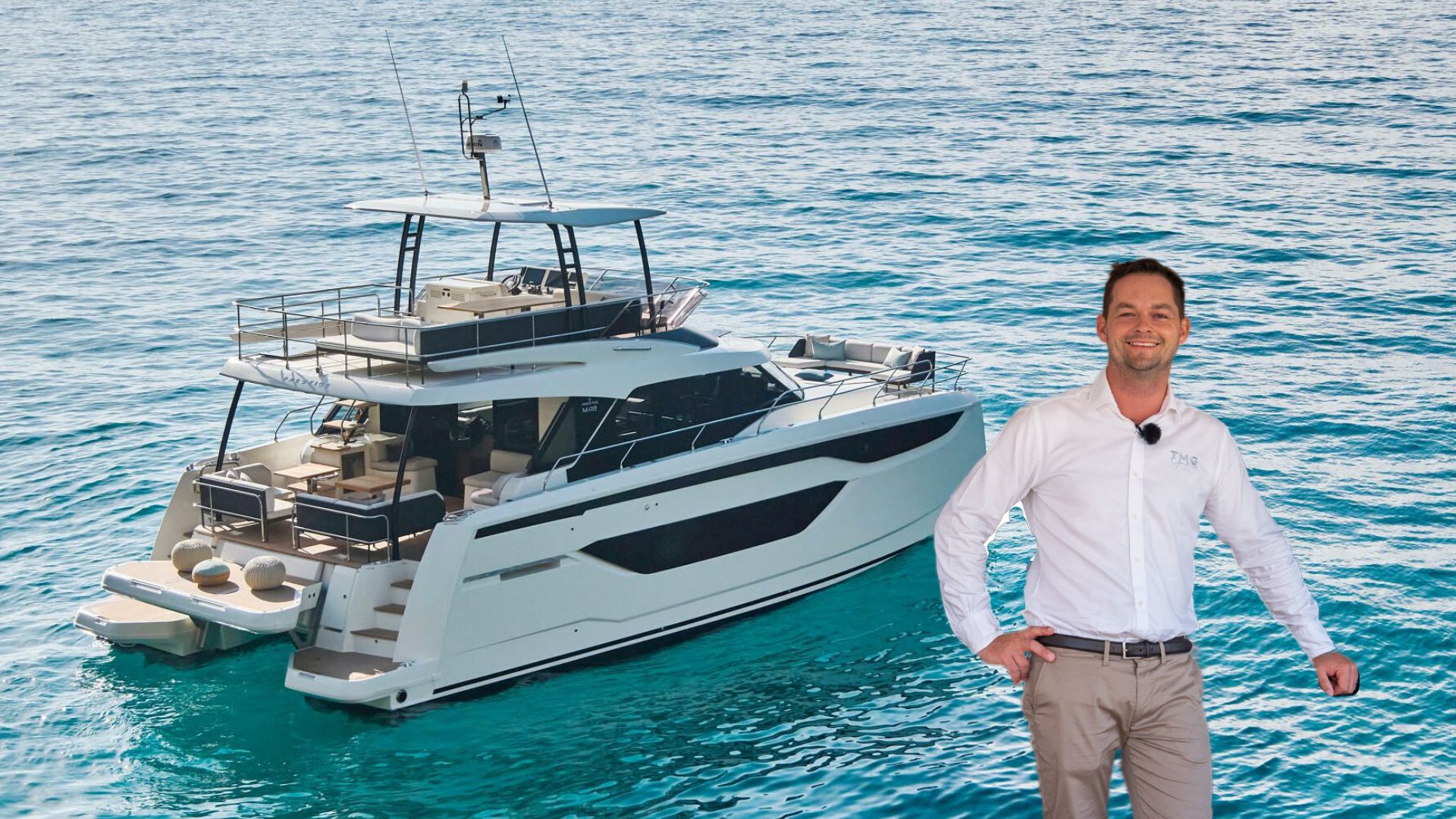 Discover the Prestige M48 with Joe Fox in this walkthrough. A 50-ft multihull with the living space of a 60-ft monohull. Luxury, versatility, and performance redefined.
read more