Australian owned Lagoon 450F Wins the ARC
Since 2019, James and Rayna have been circumnavigating the globe aboard their Lagoon 450F "Aphrodite," which was delivered to them by TMG in France. Recently they crossed the Atlantic with the Atlantic Rally for Cruisers (ARC) and took home gold in their division, a significant achievement for any sailor.
The ARC is an annual transatlantic sailing race that starts in Las Palmas, The Canary Islands and ends in Rodney Bay, Saint Lucia. The race is organized by the World Cruising Club and is considered one of the premier events in the cruising calendar.  The race attracts a diverse fleet of sailors, ranging from experienced racers to those who are new to the sport. Many Lagoon catamaran owners who pickup in Europe take this journey on their way to Australia. The route covers a distance of approximately 2,700 nautical miles and takes around three weeks to complete, depending on the conditions. To win the ARC, sailors must navigate through challenging ocean conditions, including strong winds and currents, while also dealing with the mental and physical demands of spending extended periods of time at sea. It is a true test of skill, endurance, and determination.
James, Rayna, Craig, Patrick, and two other crew members, set out to compete in the ARC on November 20th, 2022. Everyone onboard was skilled and prepared for the voyage, but in particular, Craig was determined to ensure they got every inch out of the sails. James said it was likely Craig's frequent sail changes throughout the day that helped the crew place 1st in class B.
When asked about their success, James said, "I don't know all the reasons, but our Lagoon is quick. At the start, our boat was shielded by a 54ft catamaran, and as soon as we got our nose out, we left them behind."
At the beginning of the race in the Canary Islands, the crew faced large 4-metre seas and high winds of up to 36 knots in the first couple of days. Despite some yachts experiencing broken booms and goosenecks, the crew of 'Aphrodite' managed to push through and maintain a steady pace. In those first few days, they averaged between 10 and 15 knots and recorded a top speed of 21 knots, at times with 2 to 3 reefs in.
Later in the race, the wind died right down, creating a more comfortable experience onboard. James spoke highly of his new wingaker used for downwind sailing and admitted that they mainly used the autopilot. Throughout the trip, James' biggest concern was the possibility of the autopilot breaking due to the speeds and size of the waves but a credit to the system and construction that everything remained intacked.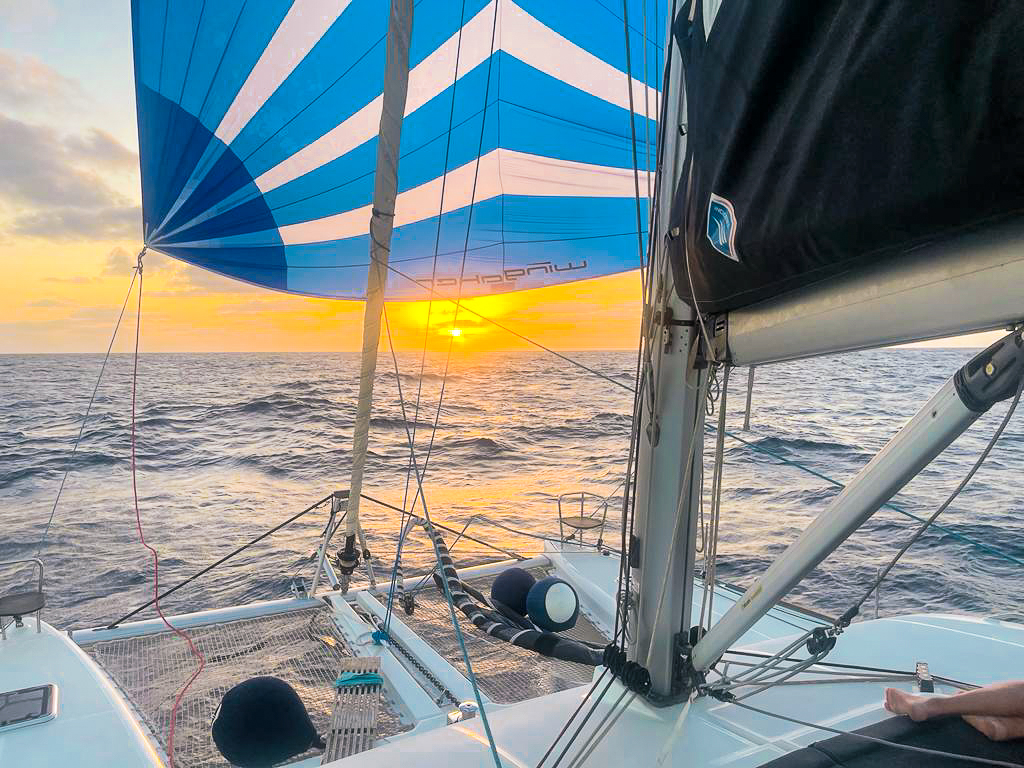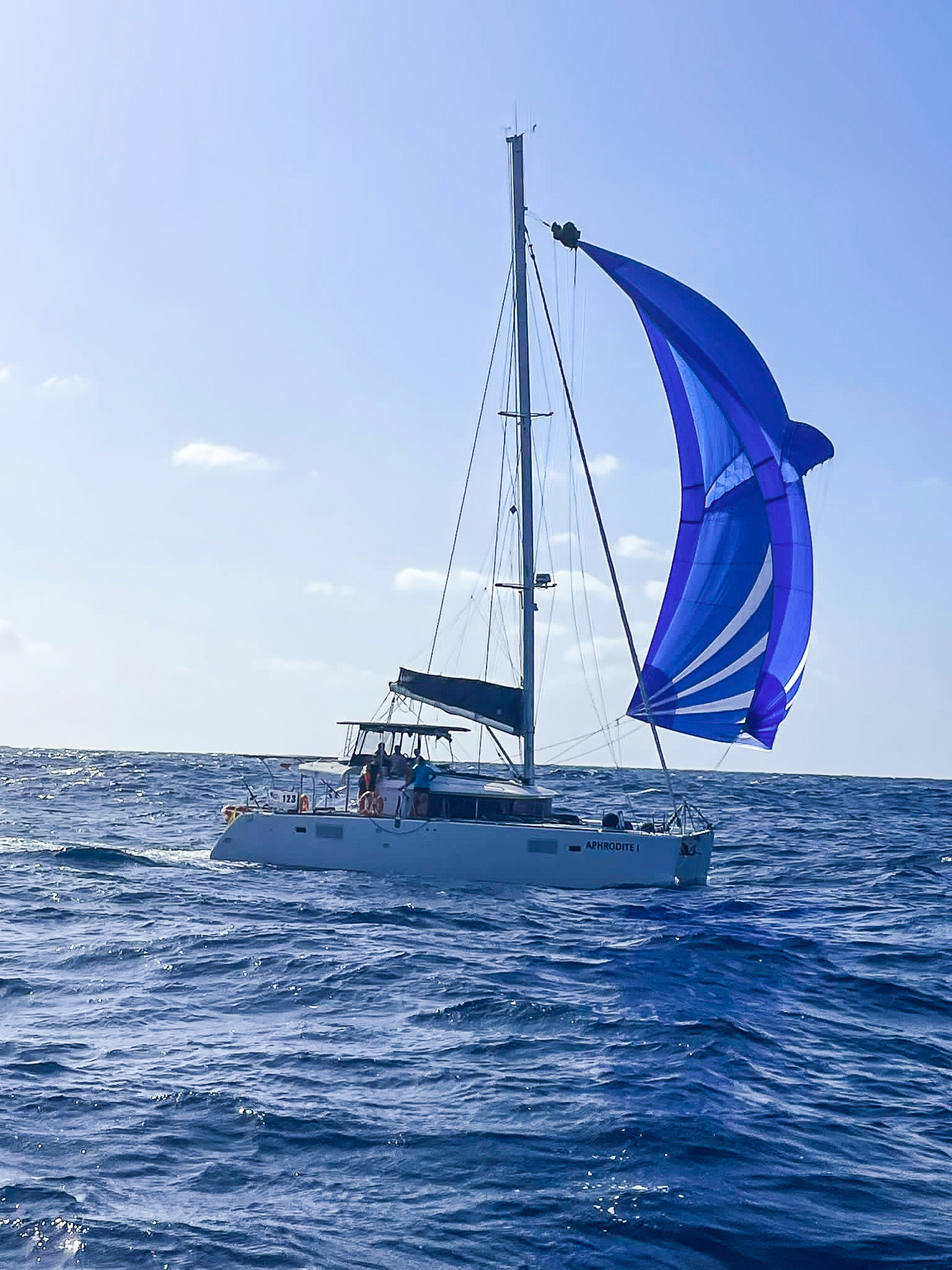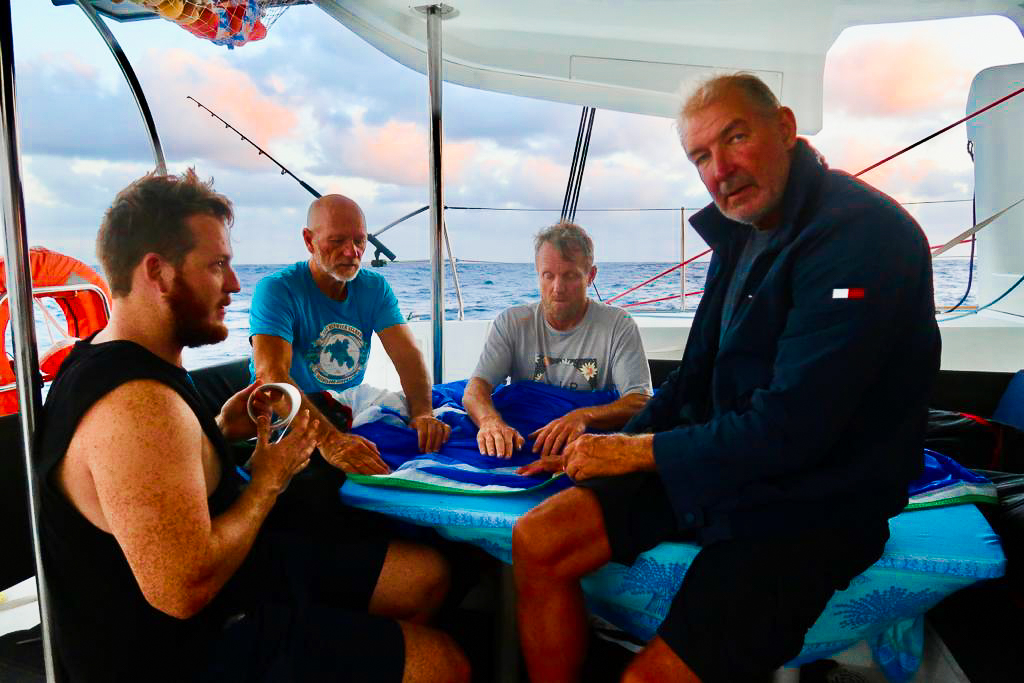 During the race, the crew received a distress signal from a nearby boat, which they were able to locate and assist. The vessel had a broken mast, radio and wasn't giving a position on its GPS, as well as a 70-year-old crew member who had a shattered pelvis. When James radioed in informing them, they were only 2 nautical miles away and had a doctor aboard the distressed vessel were in disbelief stating that they were an angel. After Patrick assisted the injured crew member, they provided fuel and sailed next to them overnight for 14 hours until the rescue vessel was in reach and they were able to radio in their location. For their efforts, the crew of 'Aphrodite' received the award for Spirit of the ARC and a standing ovation.
Throughout the 17-day journey, the crew abstained from drinking and focused on maintaining a healthy lifestyle, including exercise routines and fishing and a ceremonial swim in the middle of the Atlantic. In total, they caught 20 Mahi Mahi, a Wahoo and hooked a few Marlin but didn't manage to get any aboard. Due to their large supply of fish, they hosted a fish BBQ on arrival in St Lucia.
When asked about the sailing capabilities of their Lagoon catamaran, James said, "I would say, what are you talking about? It's fast if you sail it well. In those first few days, we were averaging 10-15kts which is what gave us the advantage."  If anyone says a "Lagoon is just a floating apartment" or "doesn't sail well," they are incorrect. To have a fully loaded vessel with all the fine amenities and luxuries and still sail at very respectable speeds is a credit to the Lagoon design.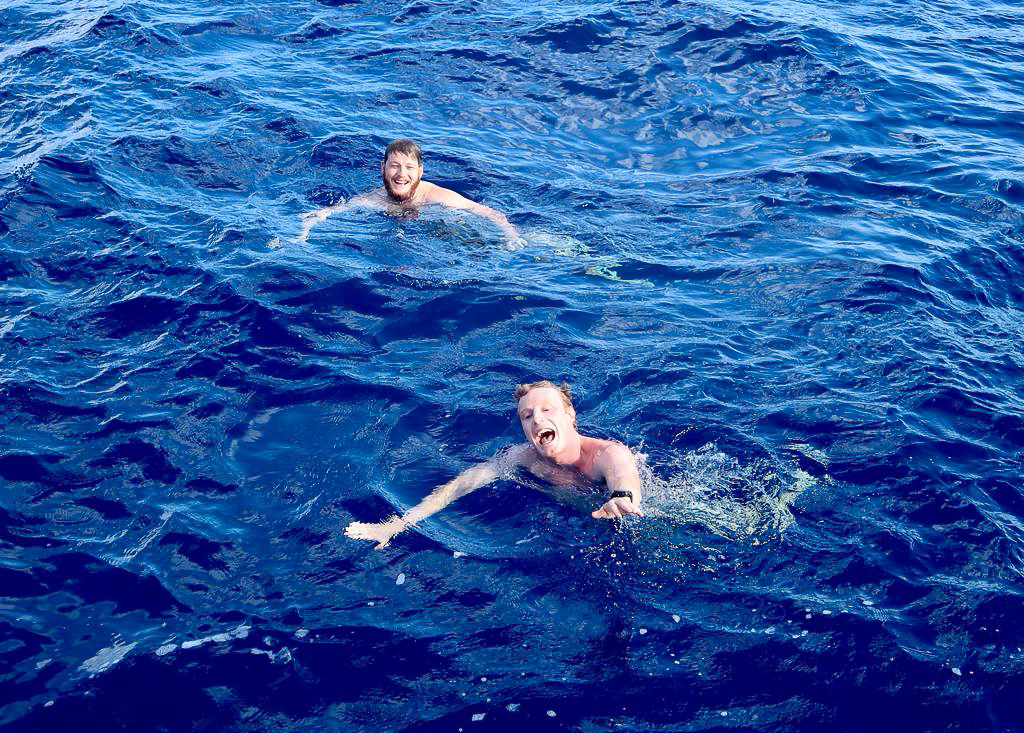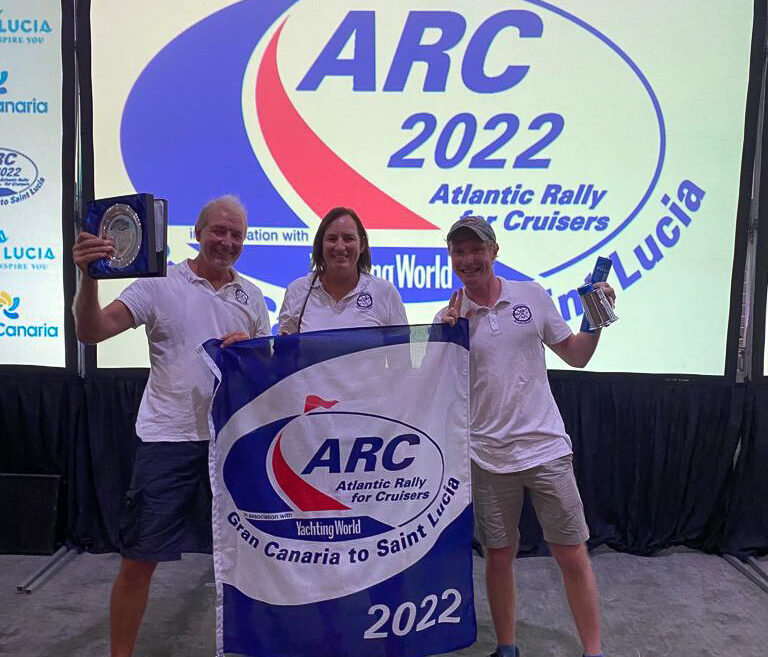 In the end, the crew highly recommends the ARC race as it teaches sailors how to think about safety and sailability. "I think for the Atlantic crossing it's a brilliant idea, I'd highly recommend it. In preparation we did man overboard drills and practiced putting the sails up and down in the leadup so everyone knew their place. We had a plan throughout the crossing, and we stuck to it, if we had the wingaker up and we reached 25 knots 3 times we hit the horn and everyone onboard knew it was time to drop the sails. The ARC teaches you how to think these things through and I'm really happy I did it."
James and Rayna plan to spend some more time in Saint Lucia, Antigua and Martinique with friends and family before heading home to Australia for a few months. The plan is to spend 2024 then bringing "Aphrodite" downunder and we cannot wait to have her reach our shores.
Congratulations to the crew onboard Aphrodite for this incredible achievable, and noble story along the way, TMG Yachts is extremely proud. Another congratulations to all the other vessels that crossed the Atlantic this year with the ARC it was incredible to see so many Lagoons achieving fantastic results, with a Lagoon 42 coming in second place in Class B also. If sailing the world and crossing the Atlantic is on your bucket list, please reach out to the team at TMG Yachts so that we can help make your dream a reality.
"We are very thankful to TMG for the amazing handover of our Lagoon 42. The whole process has been outstanding, from our initial sales with Joe Fox to the coordination of services by TMG's service partner VesselTec." – Vincent and Amanda, Lagoon 42.
read more