Buying a Catamaran in the Middle of a Pandemic
Buying a catamaran and deciding to wrap up your life on land to sail the world is a life-changing decision, one made a little harder when caught up amongst the pandemic and uncertainty it caused.
So we turned to new Lagoon owners Ian and Jackie who put together an incredible story to give you the reality of what this experience was really like for them.
WRITTEN BY IAN.
The most South West point of Portugal is a spectacular landscape and not one we ever imagined we'd find ourselves in. Yet here we are, relaxing to another Portuguese sunset on our brand new Lagoon 450s.
The anchorage is remote, rarely frequented and is surrounded by jaw-dropping 100-meter cliffs that plunge into the Atlantic ocean. The swell here during winter storms must be terrifying, however today the sea is like glass. We'll probably spend a few days here. The weather is settled and we are in no rush to move on.
In relative terms, sailing is very new to us. It all began in 2019 when after minimal training, we chartered a small catamaran in the Whitsunday Islands. We spent 10 days sailing about the islands in what could only be described as appalling weather conditions. Yet somehow we enjoyed every minute of it and we were instantly hooked. We immediately began researching catamarans. Our Whitsunday charter had shown us that  41 feet would be the minimum size catamaran we would need to fit our family on and 46 feet would be an absolute maximum. We really liked the Lagoon range, they had a great reputation and we were attracted by the sheer volume of Lagoons already in the water. We did not want a bespoke racing boat with little room, little support and no established community in place.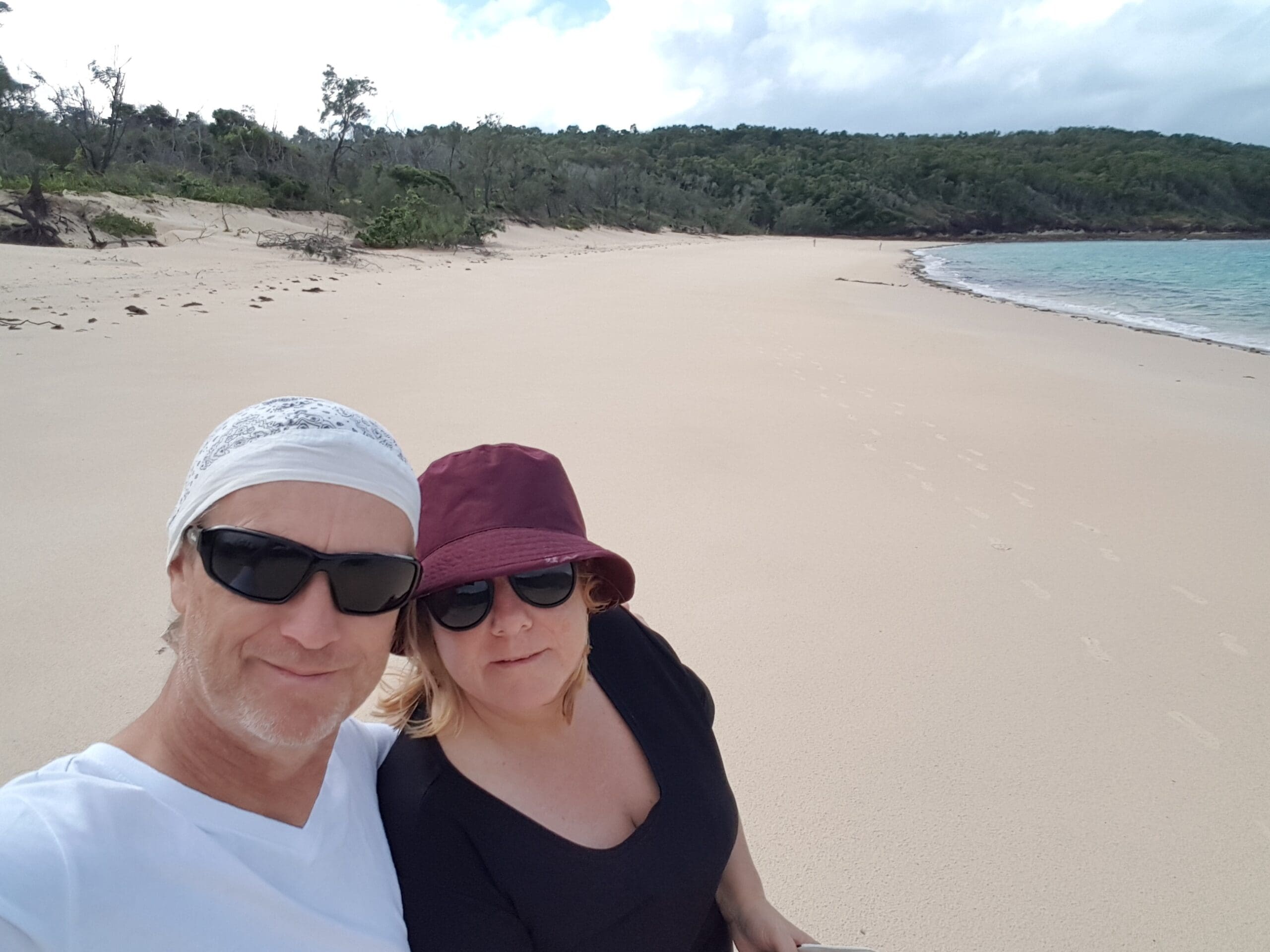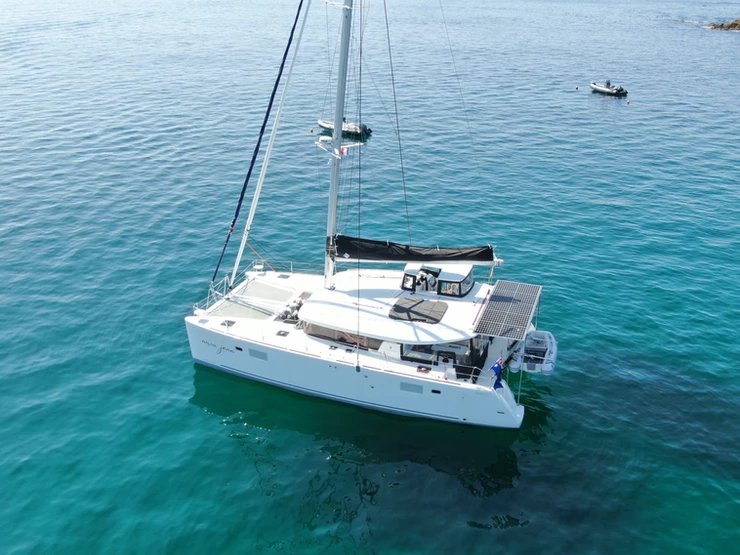 Later that year we attended the Sydney boat show and met up with Joe Fox and the rest of the TMG Yacths team, who were incredibly helpful, patient  and very understanding of our needs and situation. A lot of things needed to fall in place before we could make any kind of commitment and Joe was with us all the way. In late 2020, amid a global pandemic, we finally put a deposit down for a brand new Lagoon 450s to be delivered in July 2021. We would be picking up our new boat in Les Sables d'Olonne France. My goodness did we have a lot to organise…
I would be lying if I said that Covid 19 didn't impact us. Leading up to our purchase, we had a charter booking that was going to be our test drive of the Lagoon 450 postponed 4 times then ultimately cancelled. Consequently we were never able to actually try the boat out prior to purchase. As our delivery date was fast approaching, despite high vaccination rates and the rest of the world opening up, Australia still had closed borders. We were starting to think that we would need to put delivery on hold. With a few weeks to spare we were fully vaccinated and with the help of TMG Yachts we were able to justify and be approved by Dep of Home affairs to leave Australia. With three weeks to go, we shipped six large boxes of personal effects to the boat commissioners in France. Then with only two days to go, Victoria went back into Covid lockdown for the sixth time and we had to cancel our farewell dinner with our children. 
On departure day Melbourne airport was a ghost town. The lack of passengers on our flight to Dubai meant we had rows of seats to ourselves. In contrast, Dubai airport was a hive of activity and our first insight into how open the rest of the world had become. Our connecting flight to Paris was full and other than the need for face masks, Paris Charles de Gaulle airport seemed to be business as usual. Once outside the airport, we collected our hire car and began the 6 hour drive to La Sables d'Olonne. We could have taken the train directly to Les Sables, however I wasn't keen to spend any more time on crowded transport than was absolutely necessary. So 6 hours drive through the French countryside it was.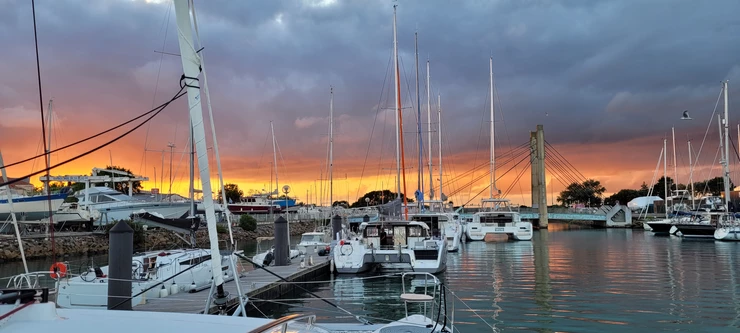 The next day we awoke in beautiful Les Sables d'Olonne ready to meet our new home away from home. As previously mentioned we had never seen the 450s in the flesh, so this was a very anxious and exciting moment. We made the short walk to the marina and then to the Lagoon commissioning dock. There she was, Nova Jean in all her glory. Wow! She was huge! What had we done? We introduced ourselves to the commissioning team and asked if we could take a quick look around, to which they kindly agreed. She was perfect in every way and the more time we spent on Nova Jean, the less intimidating the size became. We were also reunited with the 6 boxes we had sent from Australia neatly stacked under the saloon table.  TMG Yachts had two days worth of quality checking to do and we had at least two days of shopping to do, so off we went.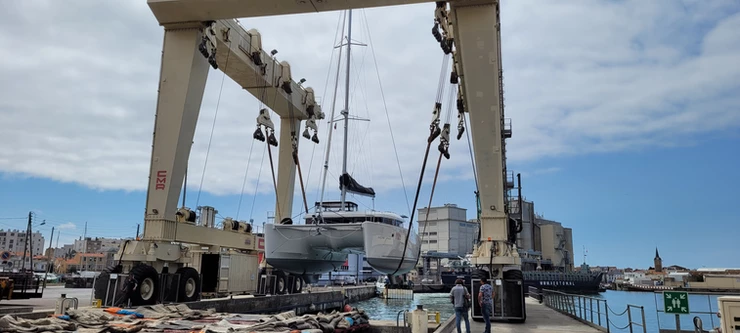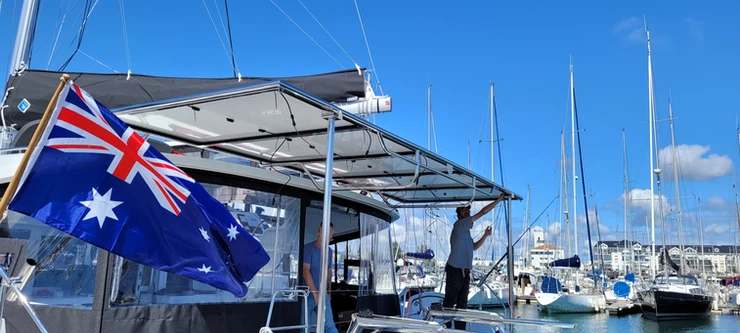 Les Sables d'Olonne has every shop you would need to fit out a new boat. We did however make the short drive to Nantes to visit Ikea and Europe's answer to Bunnings (Leroy Merlin). To be honest, shopping for the boat was very taxing and I was very glad that we took the time to prepare a shopping list well before leaving Australia. The chandleries in Les Sables are excellent and surprisingly, they would be the last of which we would see for most of the Atlantic coast.
A few days later we spent a day sailing and doing sea trials with a local TMG Yachts representative. The purpose of the sea trials is to flush out any problems, to get us comfortable with sailing the boat and operating the systems. Any issue we had John Gamlin from VesselTec (TMG Yachts in-house support team) had resolved in no time. Sailing the 450s was going to be easy. Manoeuvring in close quarters when there was a crosswind, however, was proving to be a challenge for us.
TMG Yachts kindly offered a day of tuition with one of their local representatives,  Andy. Our time spent with Andy made all the difference. He taught us how to muscle the boat around, hold position and how to dock in a crosswind. His most important advice, however, was to never be afraid to ask the marina staff for help and if you are not comfortable with the slip provided, demand the marina to provide a different one.
TMG Yachts helped a great deal when it came to finding affordable after-market options. We were living aboard now and were ready to sail, however, I had completely underestimated how much work was required to install these aftermarket options. Solar, generator, Air conditioning, TV, 5kv inverter and a heavily modified AC power circuit set us back almost 3 weeks. We don't regret a minute of this though as the team at Robyn Marine did a fantastic job.
Finally, we were ready to leave. We had completed a couple of weekend sails to Ile d'Yeu and stunning La Rochelle and a great looking weather window was developing that would allow us to cross the Bay of Biscay safely. It was going to be sad leaving France and the friends we had made in Les Sables d'Olonne. We loved the friendliness of the French people and the food was to die for, but it was time to move on. 
The Biscay crossing was a little daunting at first. The wind speed and direction was exactly what had been forecasted, however, I underestimated how much swell could develop from an offshore breeze. We had 20+ knots on the tail and a 4 meter following sea developing. This was to be our very first overnight ocean passage and I'd be lying if I said it wasn't at all scary. There was nothing to be afraid of, Nova Jean looked after us and the passage gave us confidence in her ability. We averaged 7 knots almost all the way to Ribadeo Spain. The highlight of the crossing was the pod of 40+ dolphins that keep us company for most of the first day. 
We spent the next 50 days doing 21 short sails down the Atlantic coast of Spain and Portugal. Every port had something interesting and different to see and experience. The Northern Galician coast of Spain is rugged, remote and awe-inspiring.  We could have easily spent a year exploring the Ria's on the North Western coast of Spain. They are a major cruising ground in their own right. The Atlantic coast of Portugal is full of beauty, history, amazing food and lovely people. And now it's time to explore the Algarve coast. Without a doubt though, the highlight of our first season cruising has been the friends we have made along the way. Regardless of flag, budget, size or experience, the cruising community is always welcoming of everyone.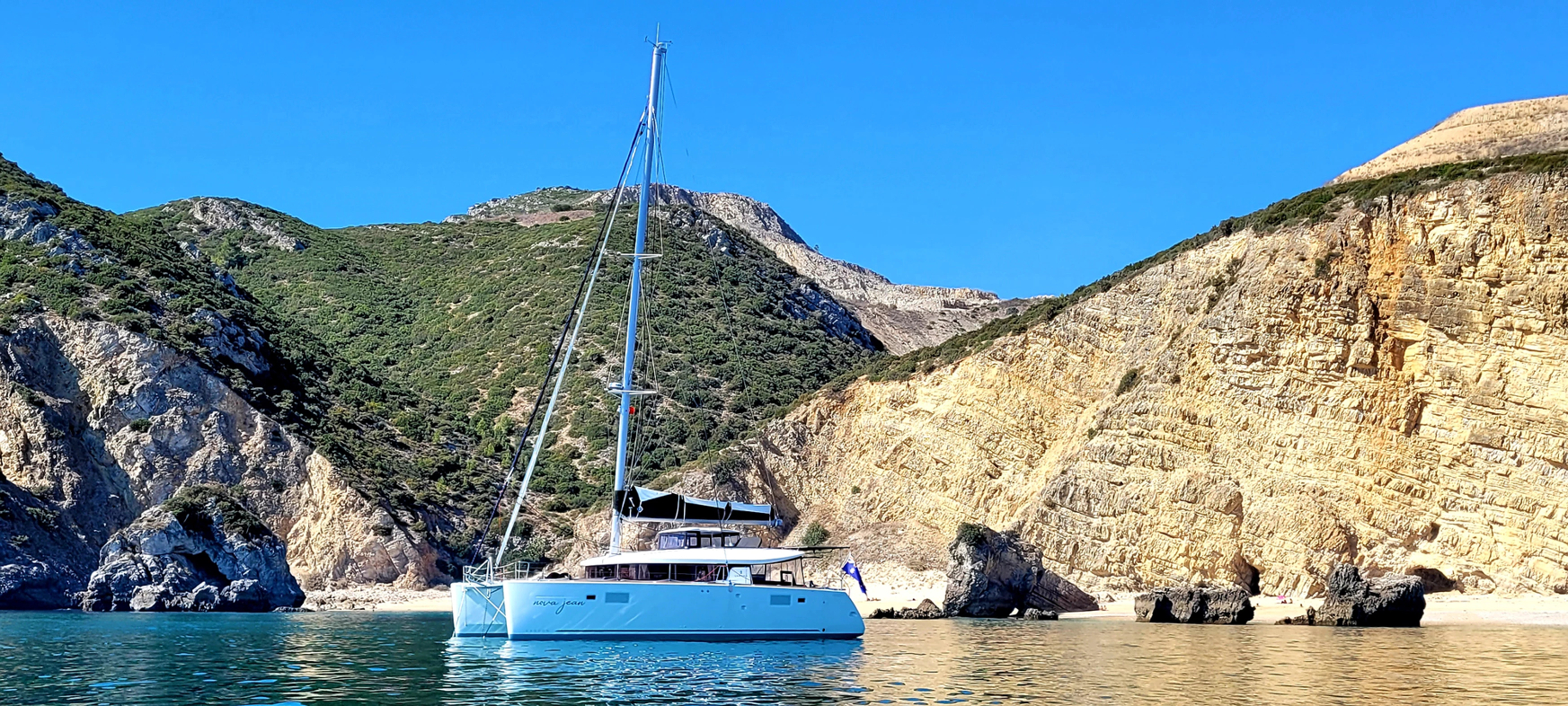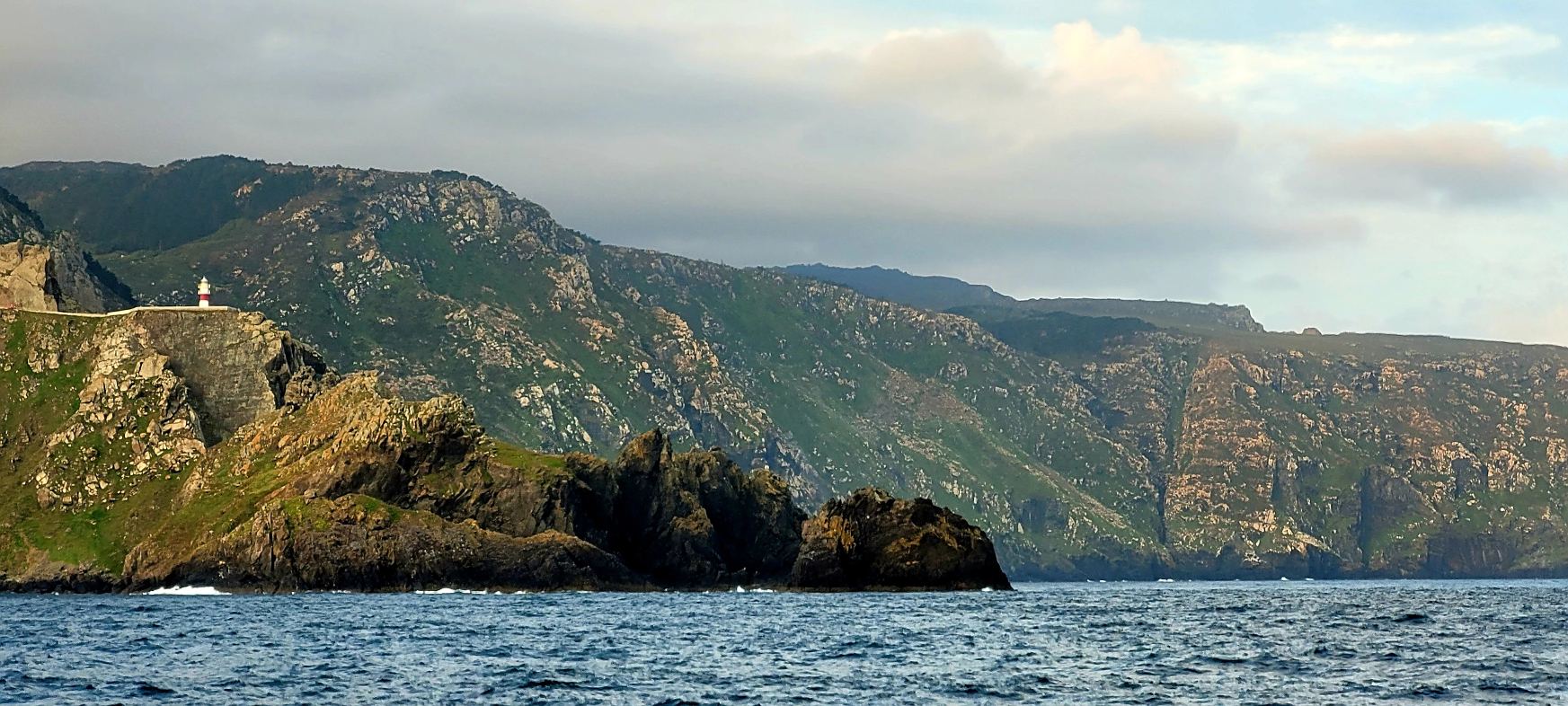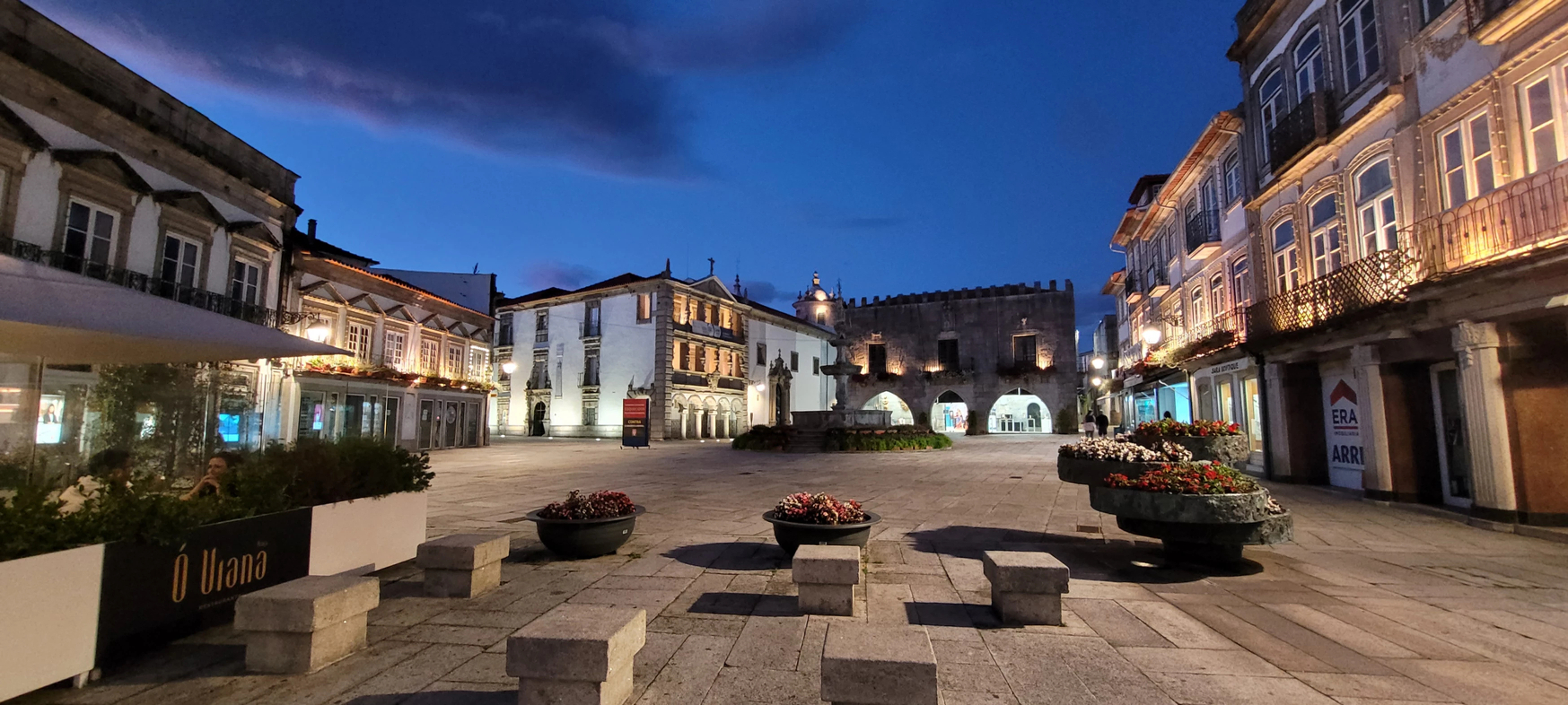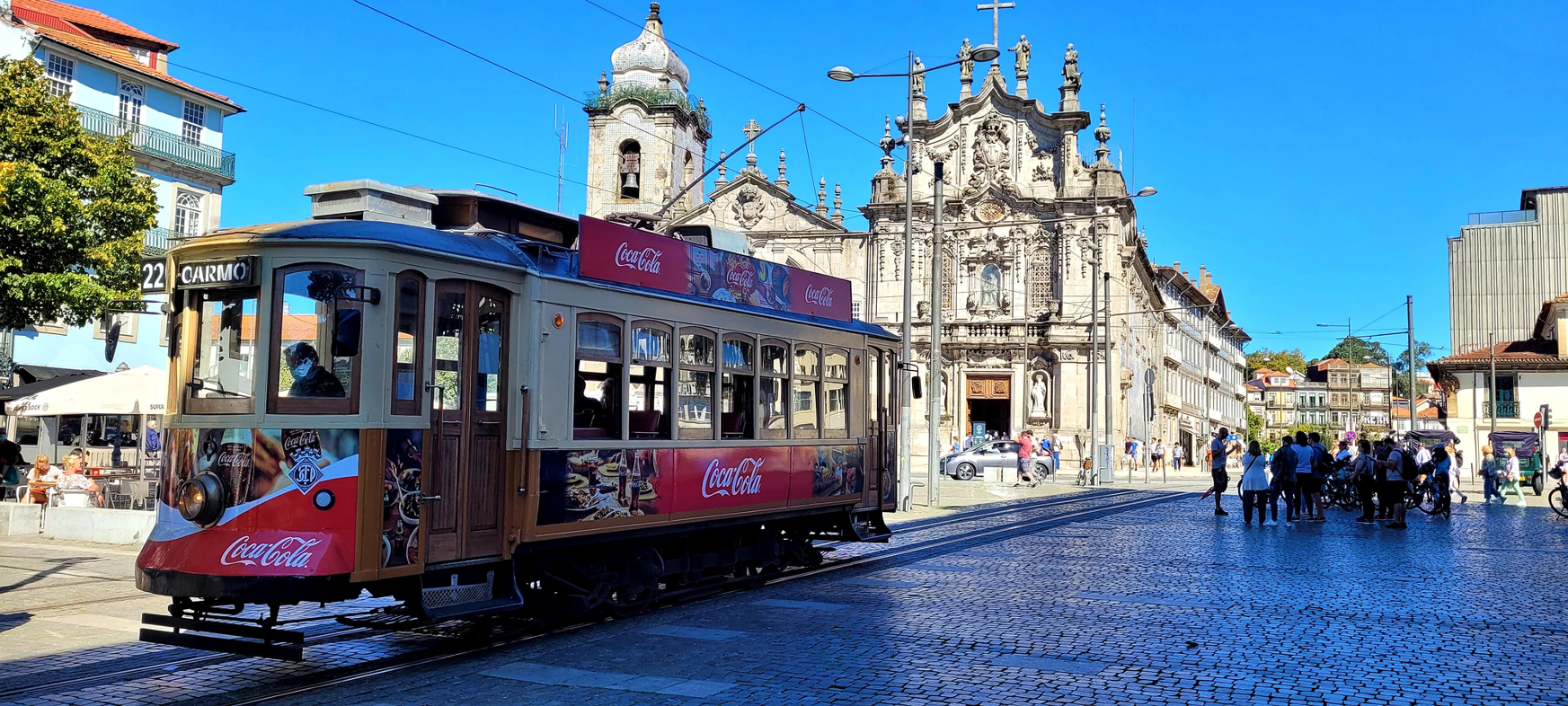 Nova Jean will be hauled out for the European winter and put on the hard. We fly will home to Aus for a Xmas with family and friends, then begin planning and preparation for next year's cruising season in the Mediterranean.
Want to find out more?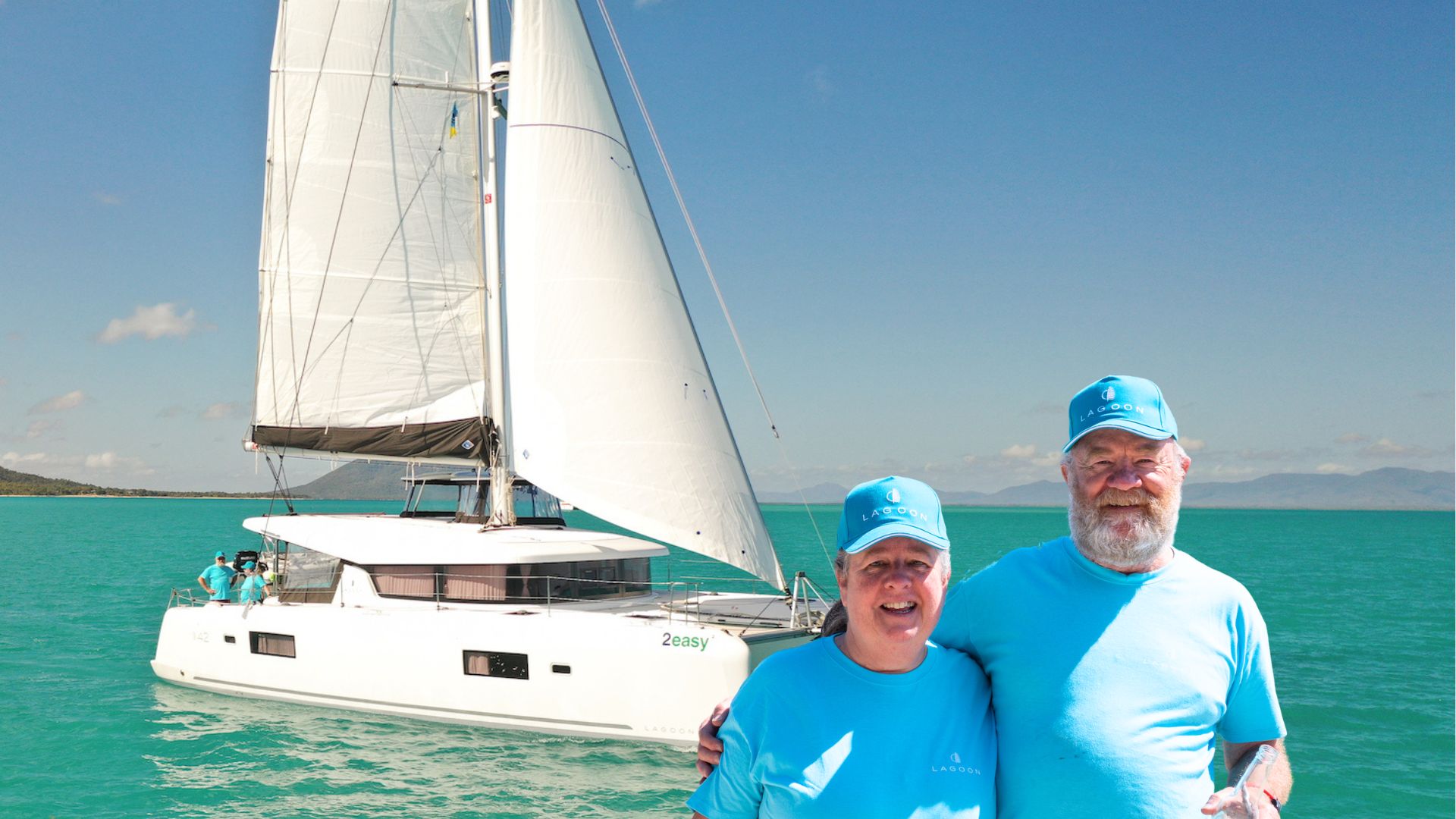 "I first saw the very first Lagoon 42 that came to Australia at the Sydney boat show in 2015. I just felt that it had everything I needed, we purchased the boat through TMG and we've been looked after very well by all the staff. We've really enjoyed the boat the first 5 months" – Ross Smith Lagoon 42.
read more