PRESTIGE M48 In-depth Walkthrough
A Multihull Marvel
The PRESTIGE M48 is a game-changer in the multihull industry, garnering numerous awards within its first year of production. This 50-foot vessel offers the spaciousness and living area of a typical 60-foot monohull, making it a remarkable addition to the boating world. In this blog, we'll take a closer look at the key features that make the PRESTIGE M48 a standout choice for enthusiasts and adventurers alike.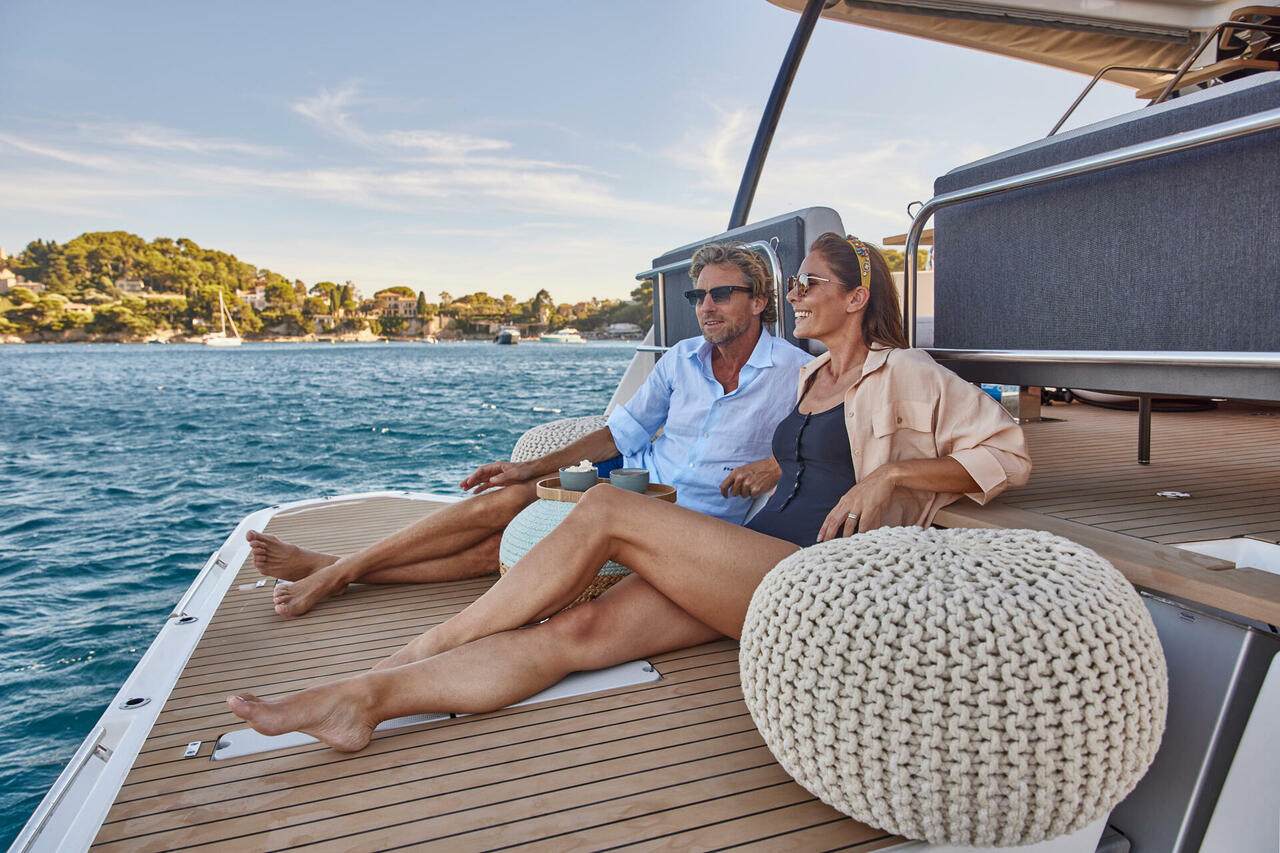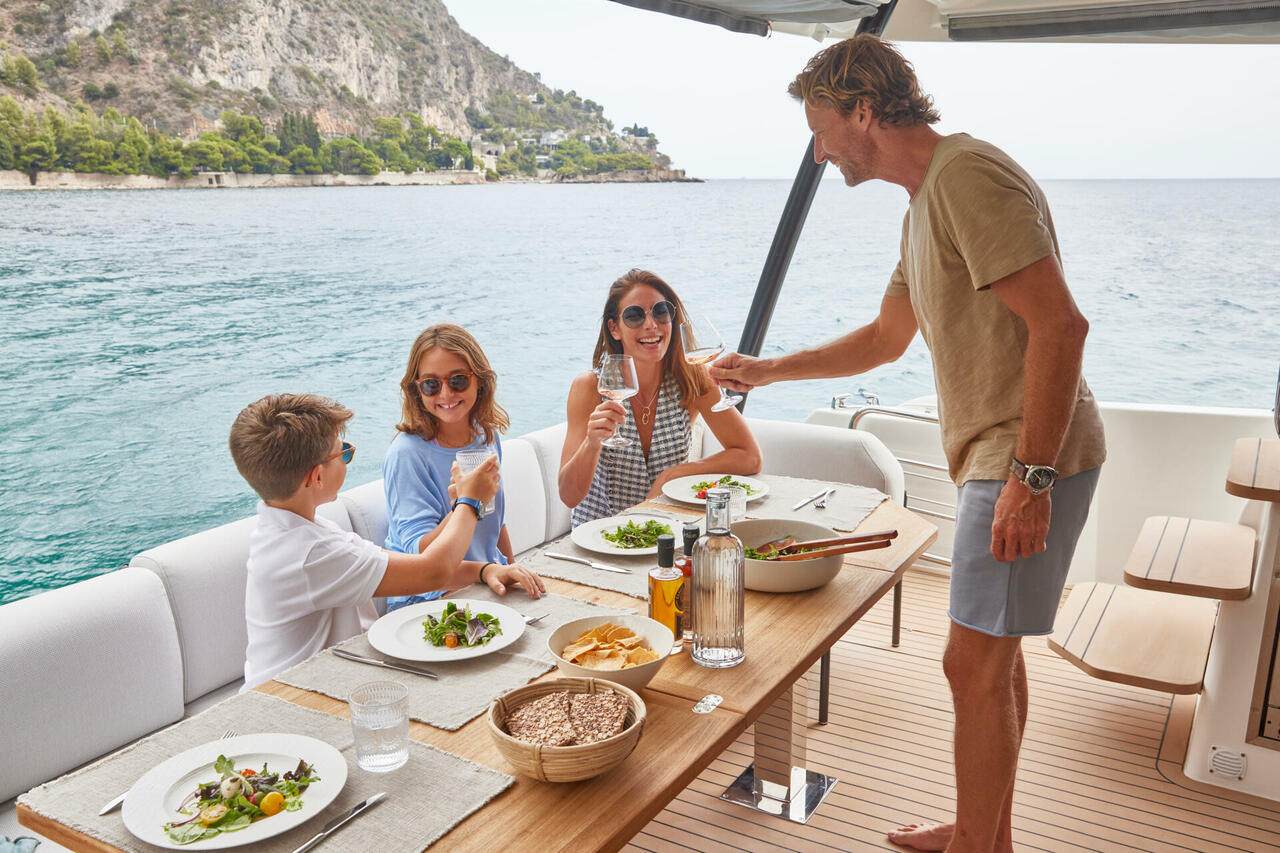 Hydraulic Tender Lift Platform
At the stern of the vessel, you'll find a large hydraulic tender lift platform. Not only does it effortlessly handle your tender, but it can also serve as an extended bathing platform. Further to this, the platform can be brought up in line with the aft cockpit creating a vast entertaining terrace. This versatile space is rated to carry up to 250 kg and can accommodate a Highfield 3.6 M tender.
 Abundant Storage Space
Just forward of the tender lift platform, a spacious storage locker provides ample room for stowing lines, fenders, and tender gear, freeing up valuable interior space. Additionally, you'll discover water tanks cleverly integrated into the design.
 Expansive Aft Cockpit
The aft cockpit is a vast and sociable area that can comfortably host around 12 people. The furniture in this area is customisable, allowing you to configure the layout according to your preferences as well as reducing weight onboard. The table can be expanded for a dining experience that accommodates up to eight individuals and with the hydraulic platform up guests can enjoy its application as a terrace.
Stunning Flybridge 
The flybridge offers an expansive space with flexible seating options. Loose furniture secured with metal tie rods allows for customization. Enjoy dining, sunning, and excellent visibility from this upper deck.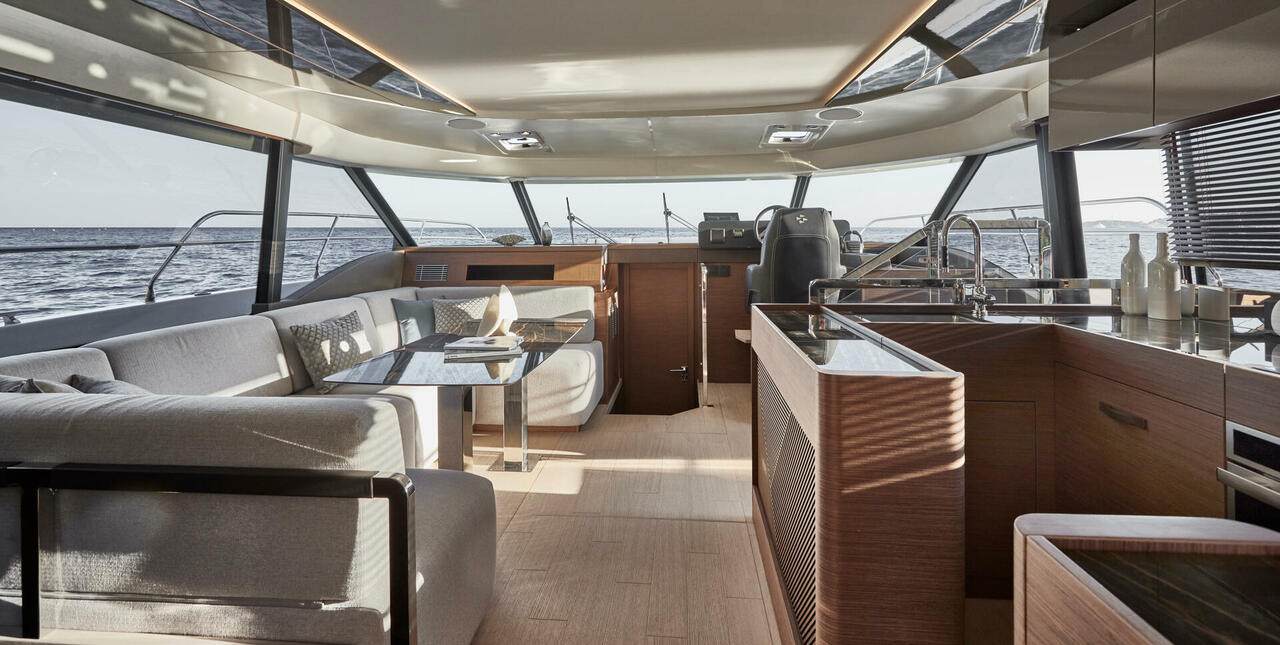 Well-Equipped Galley
The galley on the starboard side is not only functional but also stylish. It offers excellent work surfaces, a double sink, an induction cooktop, a convection microwave, and a full-height refrigerator. Storage space is abundant, ensuring you have everything you need for a delightful culinary experience onboard.
Comfortable Dining and Lounge Area
To the port side of the saloon, you'll find a spacious dining and lounging area that can comfortably seat up to eight people. When not used for dining, it transforms into a cozy lounge area with a retractable TV.
User-Friendly Helm Stations
The M48 offers two helm stations with the addition of an optional cockpit-mounted joystick for docking. The interior helm station offers excellent visibility and comfort, while the flybridge helm provides a bird's eye view. A clever joystick control system makes maneuvering a breeze.
Master Cabin Luxury
The forward Master cabin is a masterpiece of design and comfort. It features a full-beam layout with large windows on both sides, a king-size bed, a private shower area to port, and a separate toilet compartment to starboard. This cabin exudes luxury and space.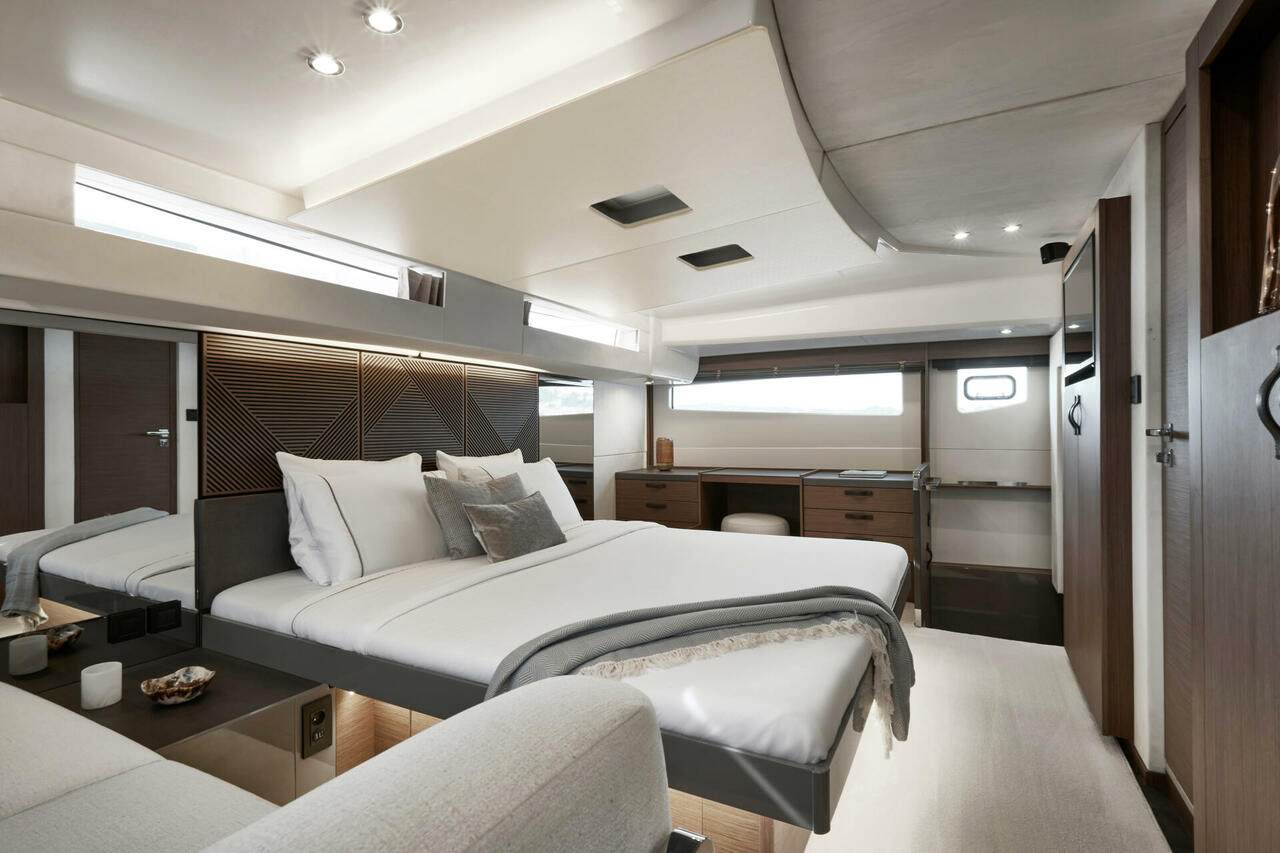 VIP Cabins with Unique Layout
The PRESTIGE M48 boasts two identical VIP cabins, each with its own entrance and private head. These cabins are thoughtfully designed, with a flexible bed arrangement that can convert into twin beds if needed. The design of the M48 allows the use of the full beam of the vessel, meaning that the berths face out towards the ocean through the panoramic windows.
Versatile Bow Layout
The bow of the M48 is uniquely designed, featuring loose furniture that transforms this space into a sunbathing area or a social gathering spot. It's a versatile area that adds to the boat's overall functionality.
Impressive Performance and Efficiency
Powered by Volvo 320 horsepower D4 engines with V-drive, the PRESTIGE M48 offers a top speed of around 20 knots and excellent fuel efficiency. Cruising at 12 to 16 knots, you can expect an extended range, making it ideal for coastal cruising.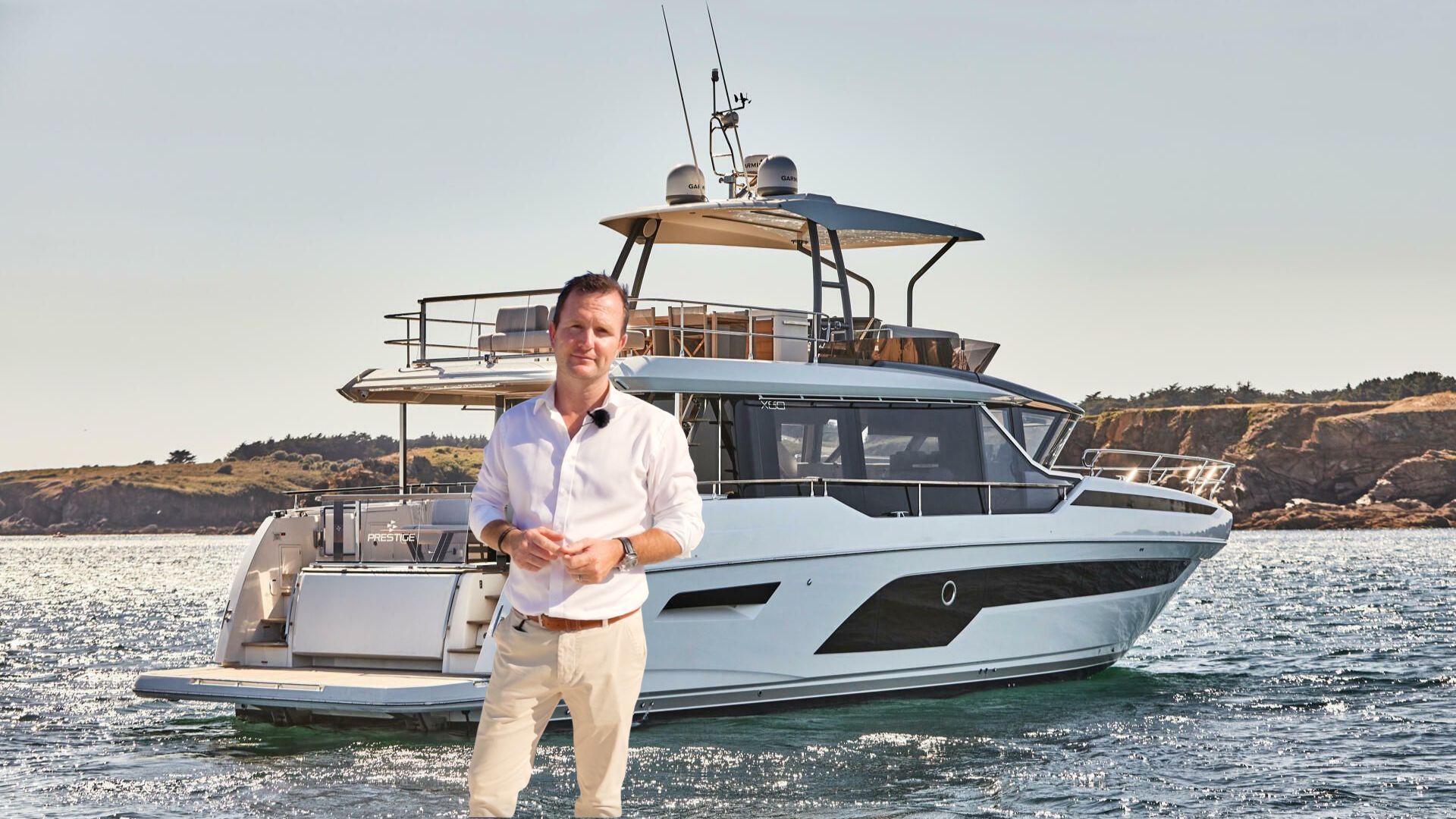 Welcome aboard the PRESTIGE X60, a vessel that effortlessly combines modern style with timeless luxury. Rowan from TMG Yachts takes us on a journey through this remarkable yacht, showcasing its key features that make it stand out in the world of boating.
read more