TMG Yachts Cruising Guide to Pittwater and the Hawkesbury
TMG Yachts Cruising Guide Australia
Surrounded by 30,000 hectares of unspoiled and spectacular Ku-ring-gai Chase National Park and only 35 km from Sydney's CBD, Pittwater and the Hawkesbury are two of the most picturesque cruising destinations in New South Wales.
These relatively uncrowded waterways offer a diverse range of experiences, from sheltered coves and secluded bays to scenic waterways and charming island destinations. Most of their hidden beaches, waterfalls and walking tracks are only accessible by water or walking track.
If you'd like to make the most of your time cruising and exploring these magical waterways, the team at TMG Yachts have compiled a handy list of the best places to sail and cruise in Pittwater and the Hawkesbury.
Coasters Retreat and The Basin
Because The Basin campground is the only place you can camp in Ku-ring-gai Chase National Park (accommodating up to 350 campers) and it is also serviced hourly from Palm Beach Ferry wharf, this large, grassy campground is extremely popular and often very crowded.
However, if you can visit this stunning bay during the week or in winter you'll have plenty of space to enjoy its lovely surroundings and facilities, including a long white sandy beach with a netted swimming enclosure and an inland lagoon.
Local wildlife includes wallabies, goannas and kookaburras. Fishing is permitted with a current NSW recreational fishing licence, however spear guns and hand spears are not permitted.
Location
Located on the Western foreshore of Ku-ring-gai Chase National Park between Currawong Beach to the north and Portuguese Beach to the south.
The Basin Wharf is a 15 minute ferry ride from Palm Beach Ferry Wharf.
Why we love it
A fabulous place to take the entire family.The Basin is one of the most protected bays in Pittwater. Onland there are great facilities including an amenities block, picnic tables, gas barbecue facilities, drinking water, public phone, showers and toilets.
Explore the area
If you have the time and the inclination for a moderate 90 minute return walk, The Basin walking track offers stunning views to Barrenjoey Lighthouse and Broken Bay, as well as one of Sydney's best examples of Aboriginal rock engravings.
Top tips
In winter it is easier to locate a mooring, however during school holidays and summer this bay can become very crowded.You might need to pay a National Parks landing fee – $3 per adult, $2 per child – for day visits to the campground.
Mooring and winds
There are no public moorings here, however there are over 100 club moorings in this bay and you are permitted to use a vacant mooring as long as you move off it if a club member needs to use the mooring.Coasters Retreat offers great protection for winds from the South East/South and West/North west winds. As it's open to the North East it tends to cop the strong South Westerlies and can get rough in a nor'easter unless tucked right up at the head of the bay.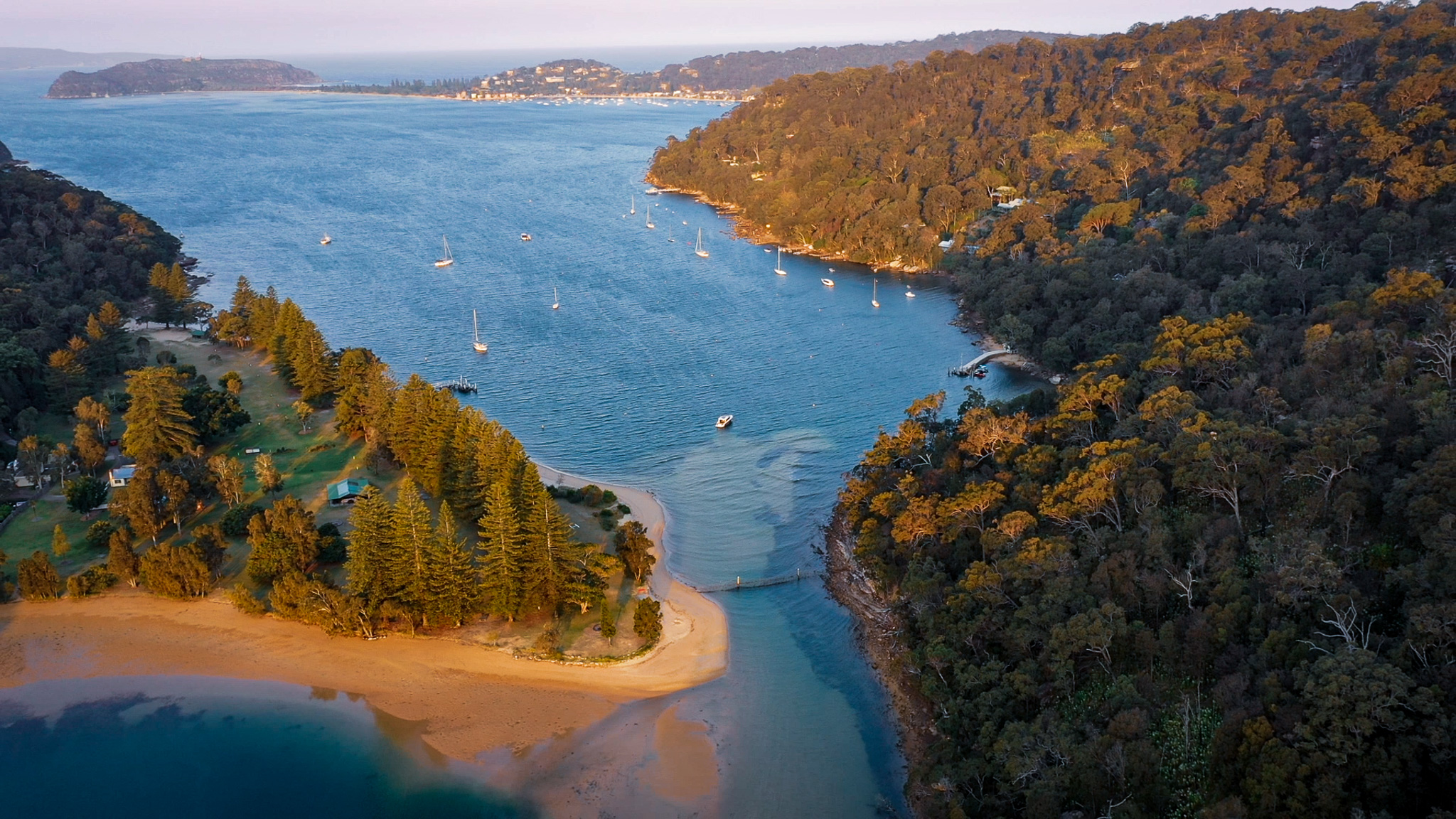 Towlers Bay and Morning Bay

This northernmost bay of the Western Foreshores of Pittwater was originally named Morning Bay, before being renamed Towlers Bay and finally called Morning Bay again in 1984. It has two arms – North Eastern and South Western.
Today, the names Towlers Bay and Morning Bay are used somewhat interchangeably, with the main bay and the suburb (only 39 people reside here) called Morning Bay, while the northern side of the bay and North Eastern arm are referred to as Towlers Bay.
Towlers Bay beach is a beautiful small sandy beach, sheltered from northeast winds, that often has larger boats moored off the sand flats and dinghies pulled up on the beach. The area also has a large creek with intertidal sand flats extending 100 m into the bay – a great place to explore in your dinghy.
Explore the scenic bushwalking tracks into the Ku-ring-Gai national Park from Morning Bay are a very popular place to stop for a swim on daysails, and a very safe anchorage.
Location
Located on the Western foreshore of Ku-ring-gai Chase National Park between Portuguese Beach to the north and Lovett Bay to the south.
Why we love it
Morning Bay provides a safe anchorage, has a sandy beach with plenty of rock platforms, trees with improvised rope-swings, a lagoon and a creek to explore.
Explore the area
Use your dinghy to explore the creek or walk up the tracks to enjoy amazing views from Birnie Lookout.
Mooring and winds
Morning Bay offers protection from West to North East winds.
Although the South Western arm has plenty of room for anchoring, its depth shallows rapidly towards the head. Most of Towlers Bay is relatively deep, but it drops off suddenly towards the beach.
There are no public moorings in this bay, however there are about 25 club moorings. Don't use the private moorings for the 30 houses.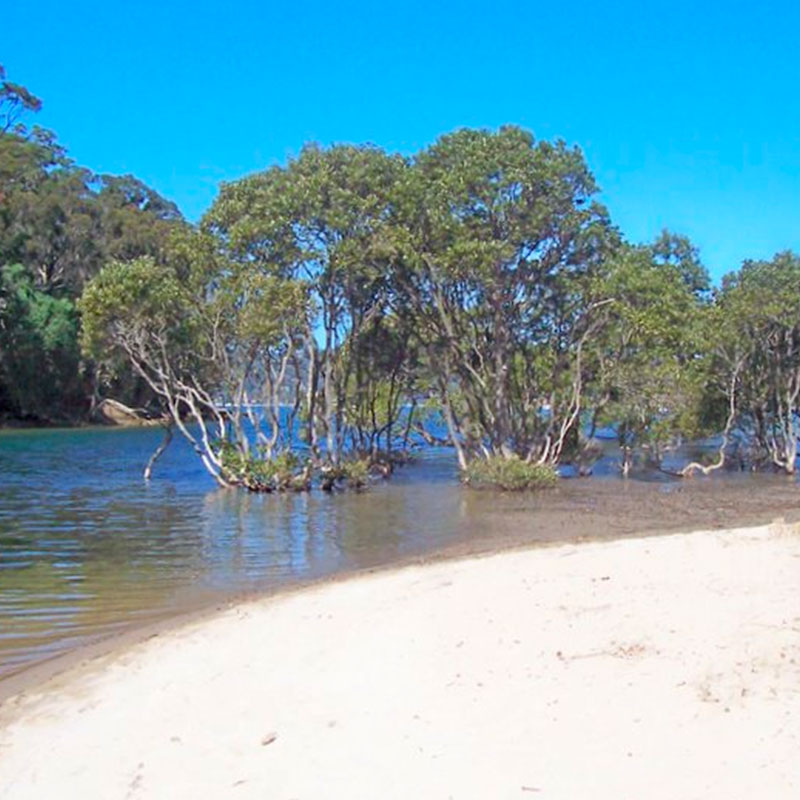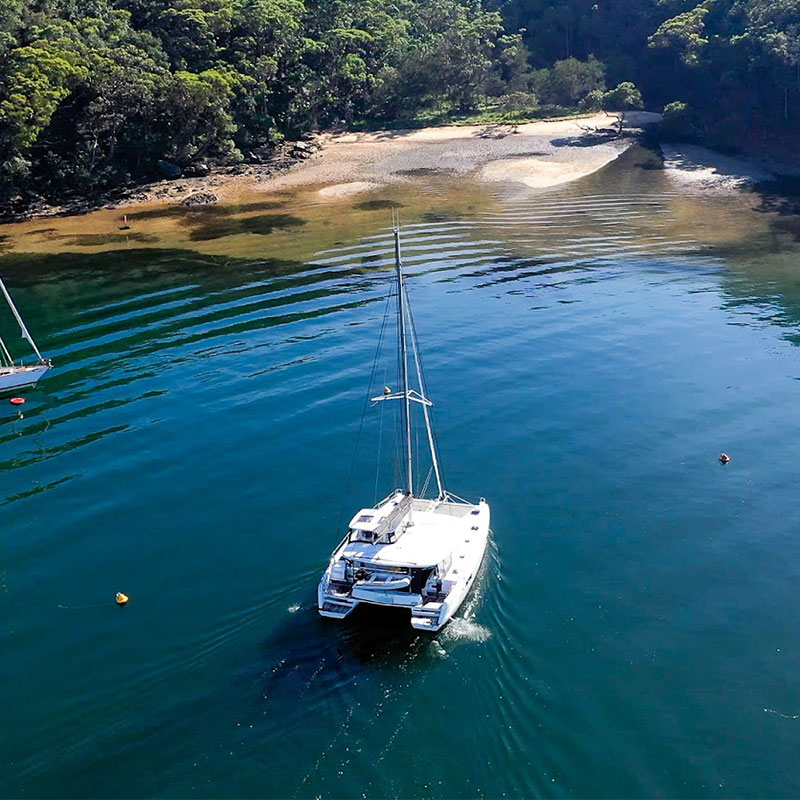 Portuguese Beach
North of Towlers Bay, Portuguese Beach is a lesser known beach that offers safe anchoring for up to five boats on its sandy bottom. This is a great location in the winter months, as it offers protection from westerlies while also providing sunshine as soon as the sun rises.
When the winds are right Portuguese Beach is a favourite for the TMG team. The clear water and shallow depth provide a secluded sanctuary for boaters.
Location
Located on the Western foreshore of Ku-ring-gai Chase National Park between The Basin Beach to the north and Towlers Bay to the south.
Why we love it
Portuguese Beach is typically a quiet beach with no access from the land. The short sandy beach and shallow waters are ideal for swimming and waterbased activities during a westerly.
Mooring and winds
Portuguese Beach offers protection from Westerly winds.
The stretch of the beach gets very shallow as you get close to the shore keep an eye on your instruments and avoid others boaters when anchoring.
There are no moorings in this bay, which is what gives it a blissful and peaceful charm.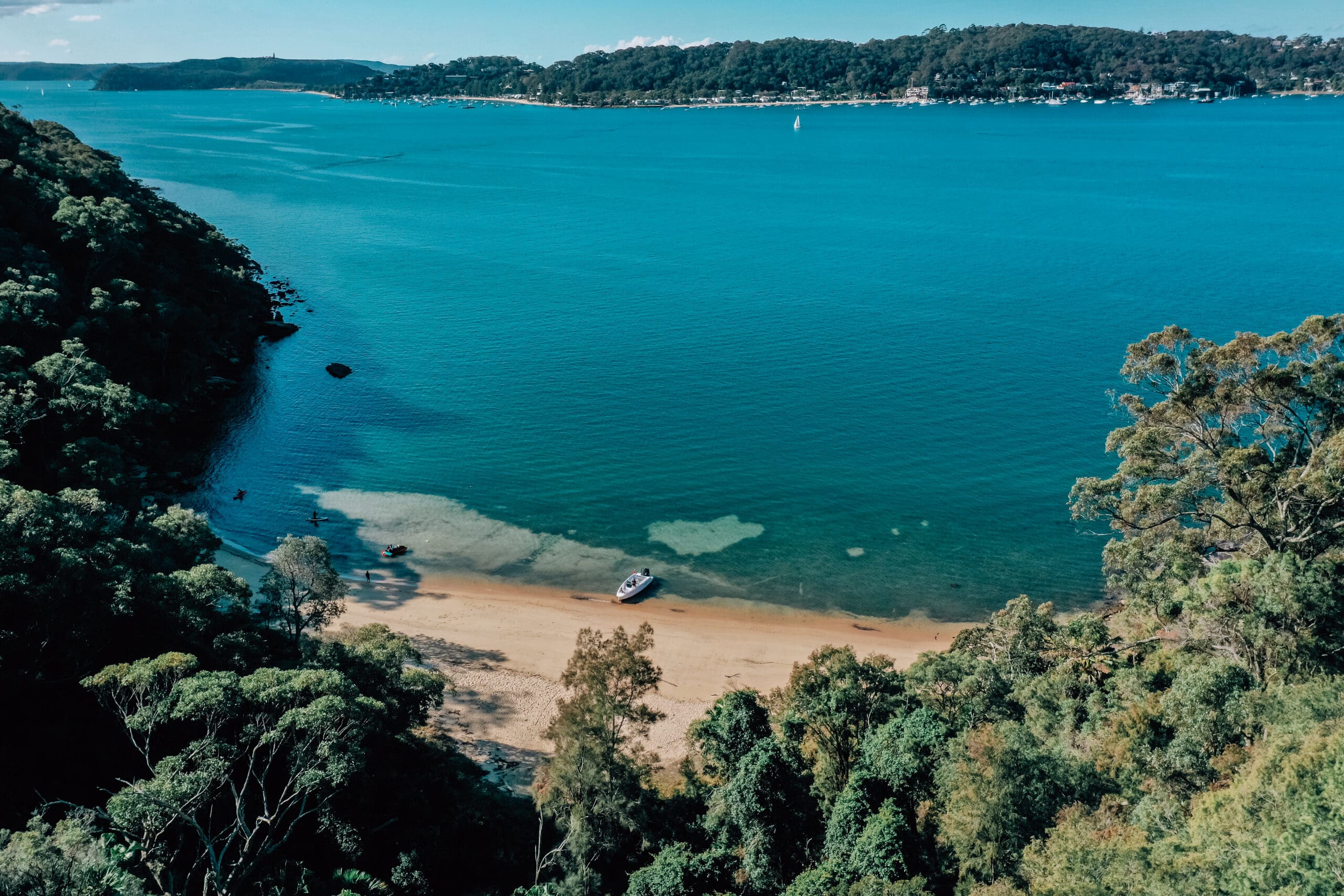 Resolute Beach
Resolute Beach is a 60 metre long sandy beach under the West Head cliff face with mostly calm and crystal water, perfect for a swim. It looks right across to Palm Beach, with spectacular views of Pittwater and the Barrenjoey heads.
West Head Lookout is only one kilometre away, accessed via Resolute Beach Loop Walk and well worth the climb for the spectacular views of Broken Bay.
Resolute Beach is one of the nicest spots to lie on the beach and swim in Pittwater, accessed only via boat or bushwalkers who visit via the Resolute Beach Loop Walk.
Location
Resolute Beach is the second last beach as you head north up Pittwater, located opposite Palm Beach on the West Head peninsula in Ku-ring-gai Chase National Park.
Why we love it
Resolute Beach is one of the nicest spots to swim, with crystal clear water and beautiful sandy beaches. After rain there is a small waterfall at the back of the beach.
Explore the area
The Resolute Beach circuit walk offers impressive views of Broken Bay and Pittwater from West Head Lookout, a couple of Aboriginal sites and old military bases, as well as access to other secluded beaches, such as West Head and Great Mackerel beaches.
Top tips
Toilets and barbeque facilities are located in the nearby Resolute Picnic area, accessed via the Resolute Beach Loop Walk.
Mooring and winds
Due to its exposure, Resolute Beach only offers real protection in Westerly winds. Don't leave your yacht un-attended here due to lack of protection. Not a spot to anchor in a NorthEasterly.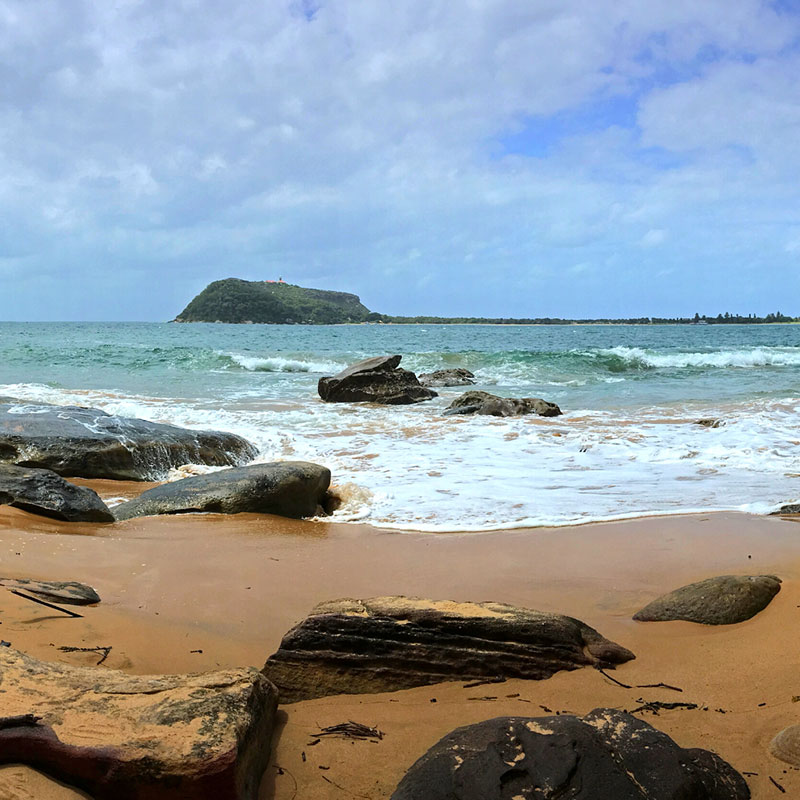 Flint and Steel Beach
Flint and Steel Beach is a large sandy north facing beach that sits at the top of West Head. Because it is so close to the entrance to Broken Bay and affected by the swells, it is more suited to a daytime stop rather than an overnight stay.
This beach is ideal for a lunchtime stop for a swim and a walk on the beach with shaded areas to sit under at both ends of the beach and rock pools at the western end to explore. Local wildlife includes kookaburras and wallabies grazing at dusk just behind the beach.
Flint and Steel Point to the west of the beach is an extremely popular fishing spot, and has access to the 40 minute walkup to Flint and Steel trackhead.
Location
Flint and Steel is the first beach around West Head on the southern side of Cowan Waters as you head west towards the Hawkesbury entrance.
Why we love it
A lovely uncrowded sunny spot for swimming, relaxing and fishing.
Explore the area
The Flint and Steel track is a steep but rewarding 2km return walk with 360 degree north-west views to Lion Island and Broken Bay.
The track passes through an impressive range of vegetation types including an ironbark forest, grass trees, eucalypts, heaths, she-oaks and beautiful cabbage tree palms.
Top tips
Be careful when swimming at Flint and Steel Bay as the beach is exposed to swell from Broken Bay.
Mooring and winds
Due to its north facing location, Flint and Steel Beach provides protection from a Southerly, however it also picks up swell that is around and can be a bit uncomfortable in anything other than calm conditions.
There is plenty of room to anchor off the large sandy beach, however, it is strongly tide affected.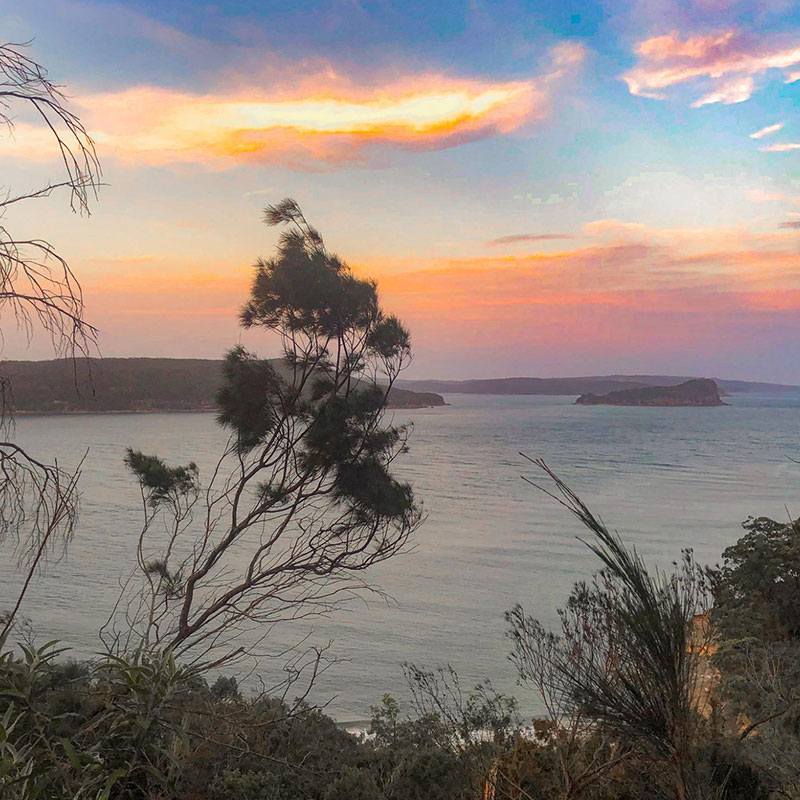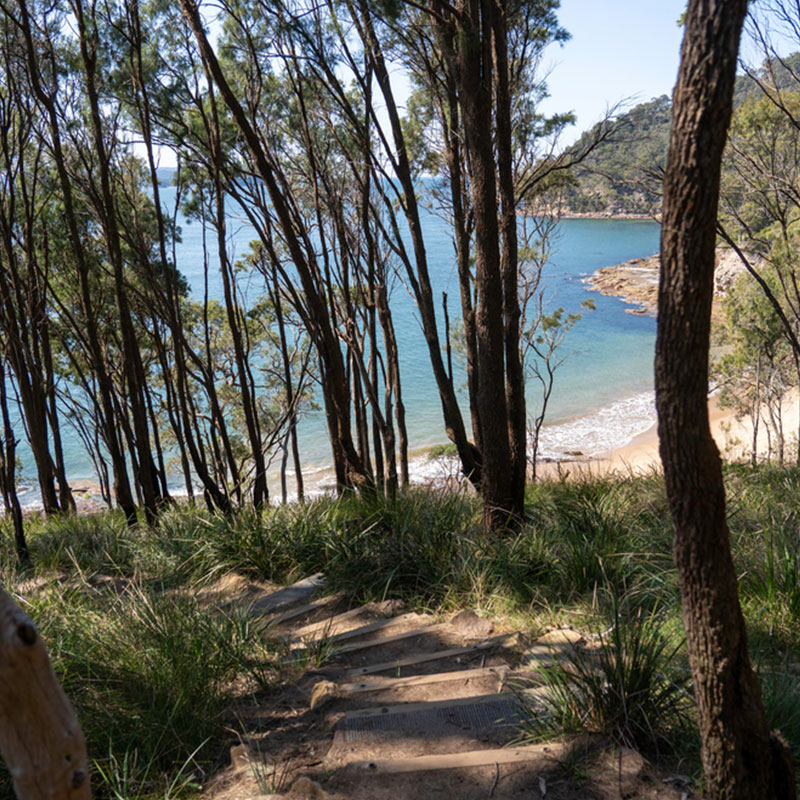 Hungry Beach
Nested into the mouth of Hawkesbury, Hungry Beach is a north-facing one kilometre long beach, ideal as a lunchtime spot for a picnic and a swim.
Although Hungry Beach is next to Flint and Steel Beach, it is more protected with less swell, making the swimming conditions here are calmer than other beaches in the area.
This is also a quieter spot as is not accessible by land – you can only access this beach from the water. However you might have to protect your lunch from the local monitor lizards!
Behind the beach there are dramatic cliffs with plenty of places to explore including caves, evidence of Aboriginal middens as well as the ruins of the Flint & Steel Guesthouse.
Location
Hungry Beach is located in the Hawkesbury River, west of Flint and Steel Beach and near the entrance to Broken Bay.
Why we love it
It's the perfect place for a picnic with its calm swimming conditions and uncrowded sunny and sandy beach.
Explore the area
On the western headland there are numerous large caves to explore, full of Aboriginal middens.
Top tips
If you'd like to stay the night, Little Pittwater Bay lies to the west and is a better place to anchor as it is a well protected bay.
Mooring and winds
This beach is great in southerly wind and it is less affected by swell than Flint and Steel.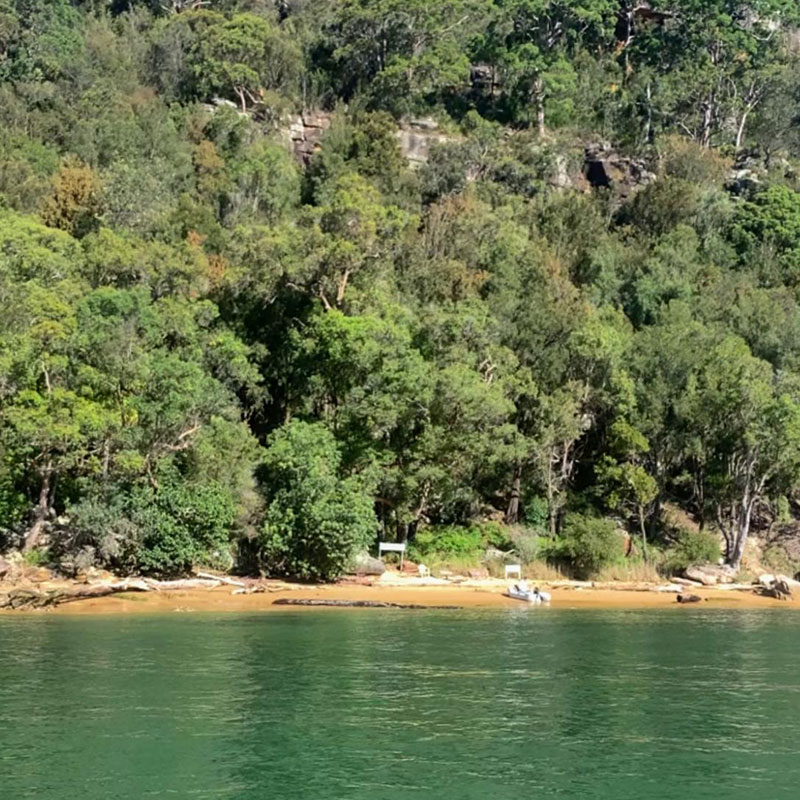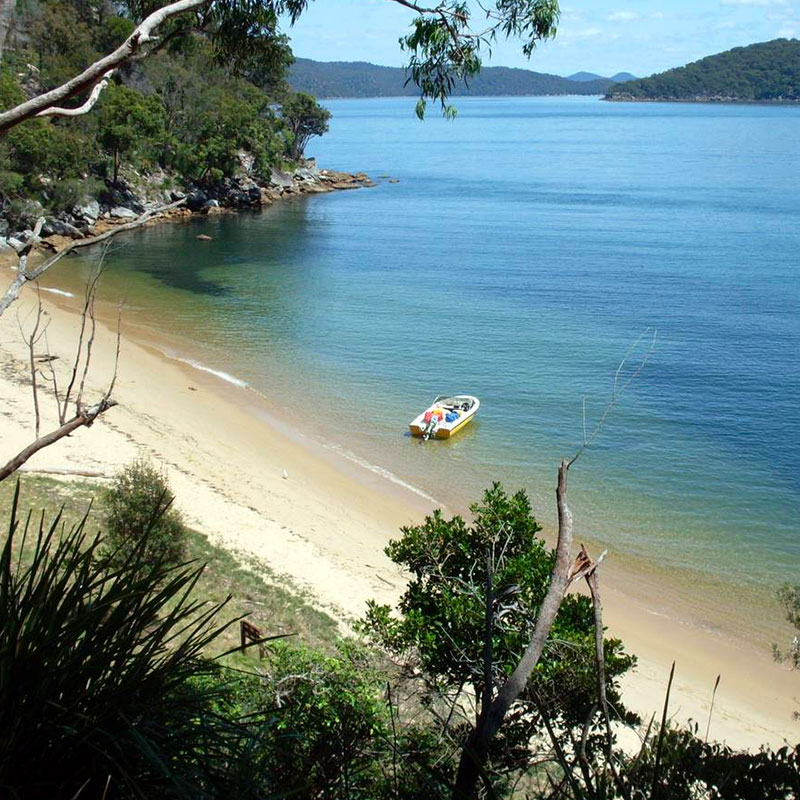 America Bay and Refuge Bay
America Bay and Refuge Bay are two large and connected inlets, surrounded by towering sandstone cliffs that create very protected anchorages.
Stunning, sheltered and secluded, Refuge Bay boasts both a shallow saltwater swimming area and a refreshing fresh water waterfall shower too on the southern end of the beach! This waterfall plunges onto rocks and a pool at the back of the beach and there's also a long cave behind the waterfall.
Surrounded by wilderness, with towering cliffs behind the beach, this tiny stretch of sand can get busy during summer and public holidays, however at other times it is filled with empty moorings and only a handful of boats!
Rockier and smaller than Refuge Bay Beach, America Bay has a north-westerly aspect and it has a creek and another waterfall at the back of the beach.
Location
America and Refuge Bay are located on the southern side of Cowan Creek, to the west of Hungry Beach.
Why we love it
World class anchorages, calm sheltered water for swimming, plenty of shade and two bonus freshwater waterfalls!
Explore the area
If you have the stamina to climb to the top of the waterfall you can enjoy the views from the stunning cliff-top waterhole above the beach.
Mooring and winds
Because Refuge Bay is protected from all angles of wind, except for the north, It is an ideal spot to anchor overnight.
Americas Bay offers more protection in Northerly winds.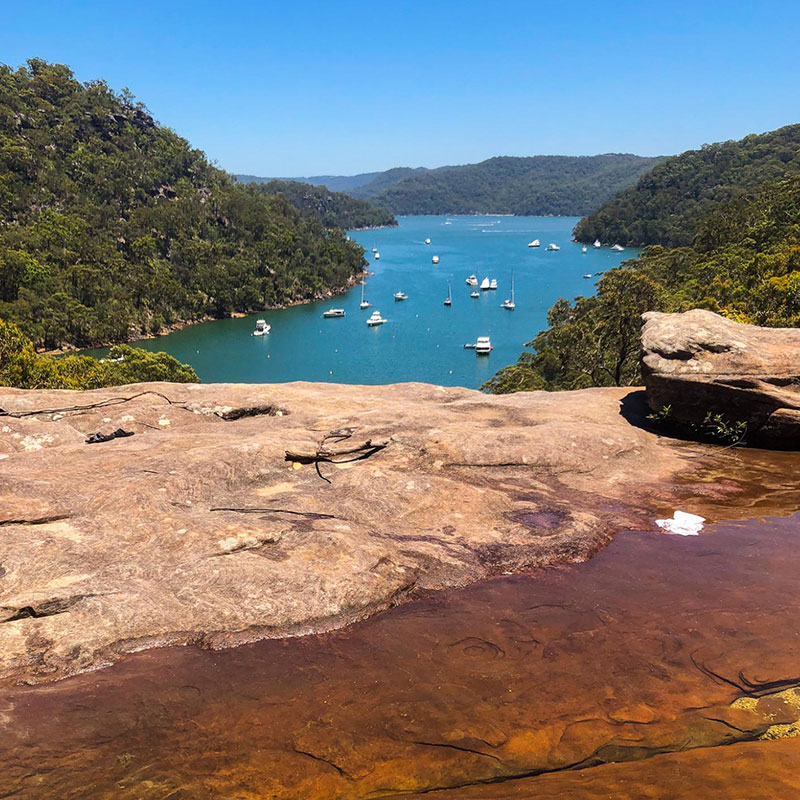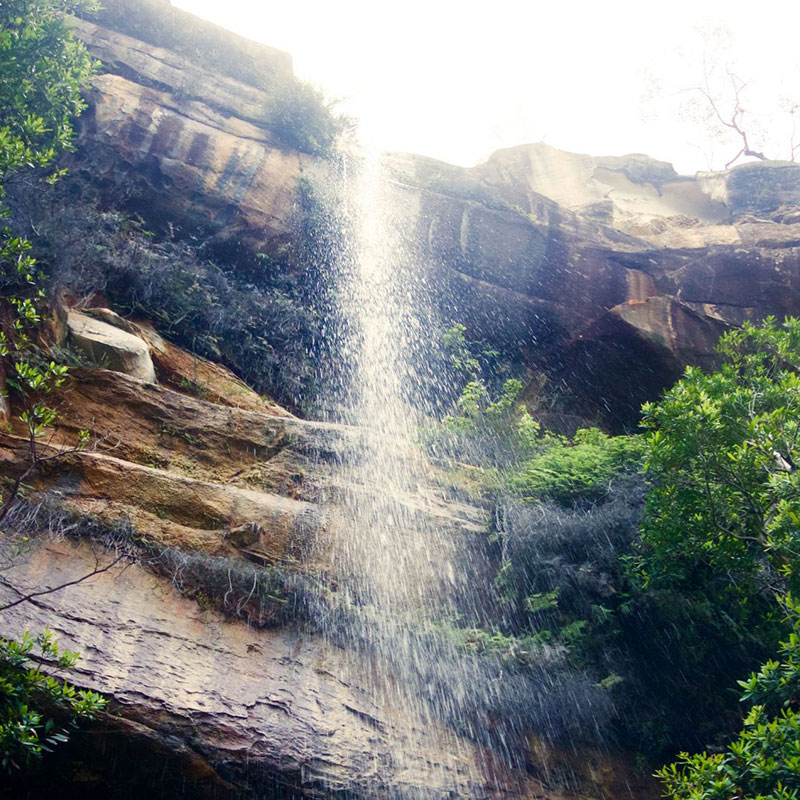 Cottage Point

Sometimes you crave serenity and secluded swimming spots…other times you need a decent coffee or even breakfast, lunch or dinner at a cafe or an upmarket restaurant.
Cottage Point is a great place to stop for fuel, food and fishing supplies as well as a range of dining experiences. In addition to the Cottage Point Kiosk there is also the upmarket and hatted Cottage Point Inn.
Location
Cottage Point is located southwest of America Bay in Cowan Creek.
Why we love it
Watching the seaplanes take off and land. Oh, and did we mention the coffee and the food? This really is one of Greater Sydney's most stunning lunch spots!
Explore the area
After you've refuelled and enjoyed a bite to eat, you can cruise further up Cowan Creek into the magical wilderness.
Top tips
Opposite Cottage Point, Looking Glass Bay offers protected deepwater anchoring space for up to four boats.
Mooring and winds
There is a small private dock at the Cottage Point Kiosk for customers coming by boat, however it is only suitable for day boats and tenders up to 6 metres long. Cottage Point Inn also has a couple of pontoon spots available for customers. 
Smiths Creek

How's the tranquillity?
This remote section of the Hawkesbury River is surrounded by steep and rugged hills and an added bonus is its limited phone reception, letting you truly escape the outside world.
Smiths Creek is the last of the navigable tributaries of Broken Bay before you head up the Hawkesbury River, so although it takes a few hours of cruising to get to, it is definitely worth making the trip if you are seeking total tranquillity.
Location
Smiths Creek is accessed via Cowan Creek and lies to the South West of Cottage Point. 
Why we love it
You can truly get away from it all here, with virtually no phone reception and no houses.
Explore the area
The head of this bay leads into a creek that is accessible in a dinghy and best explored at high tide. The end of the meandering creek has crystal clear water.
Top tips
The early morning, still glassy water makes Smiths Creek ideal for stand up paddle boarders, kayakers, skiers and wake boarders. 
Mooring and winds
The three separate mooring bays on the West of the creek provide 10 moorings in total. There are also plenty of opportunities to anchor in these bays, but the anchorages are very deep.
Smiths Creek is protected from all angles of wind and is very secluded thanks to the steep cliffs all round this area, however  the very last mooring bay at the head of the creek can be exposed in a South Westerly.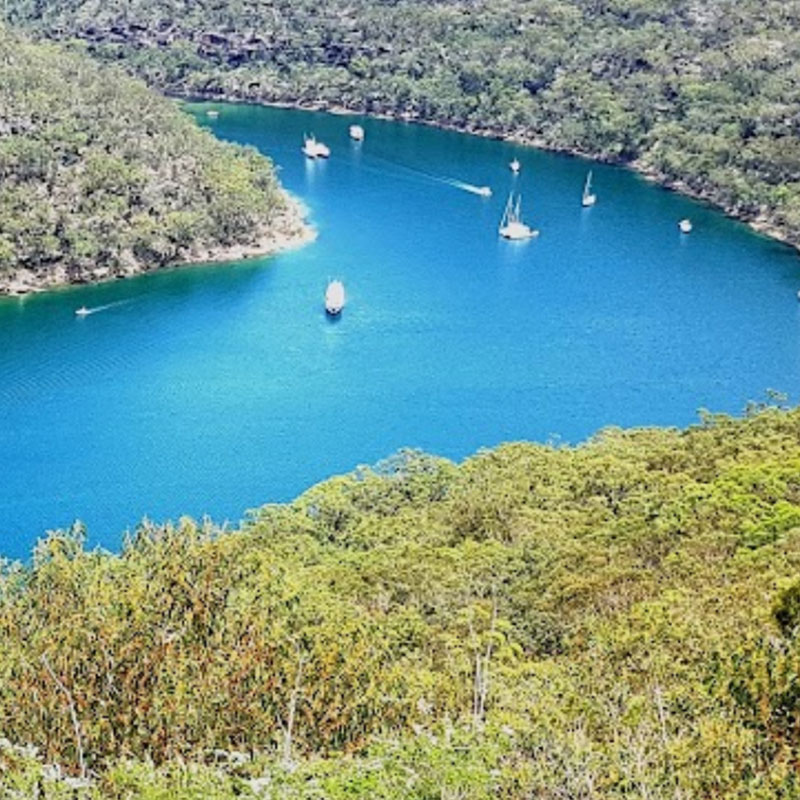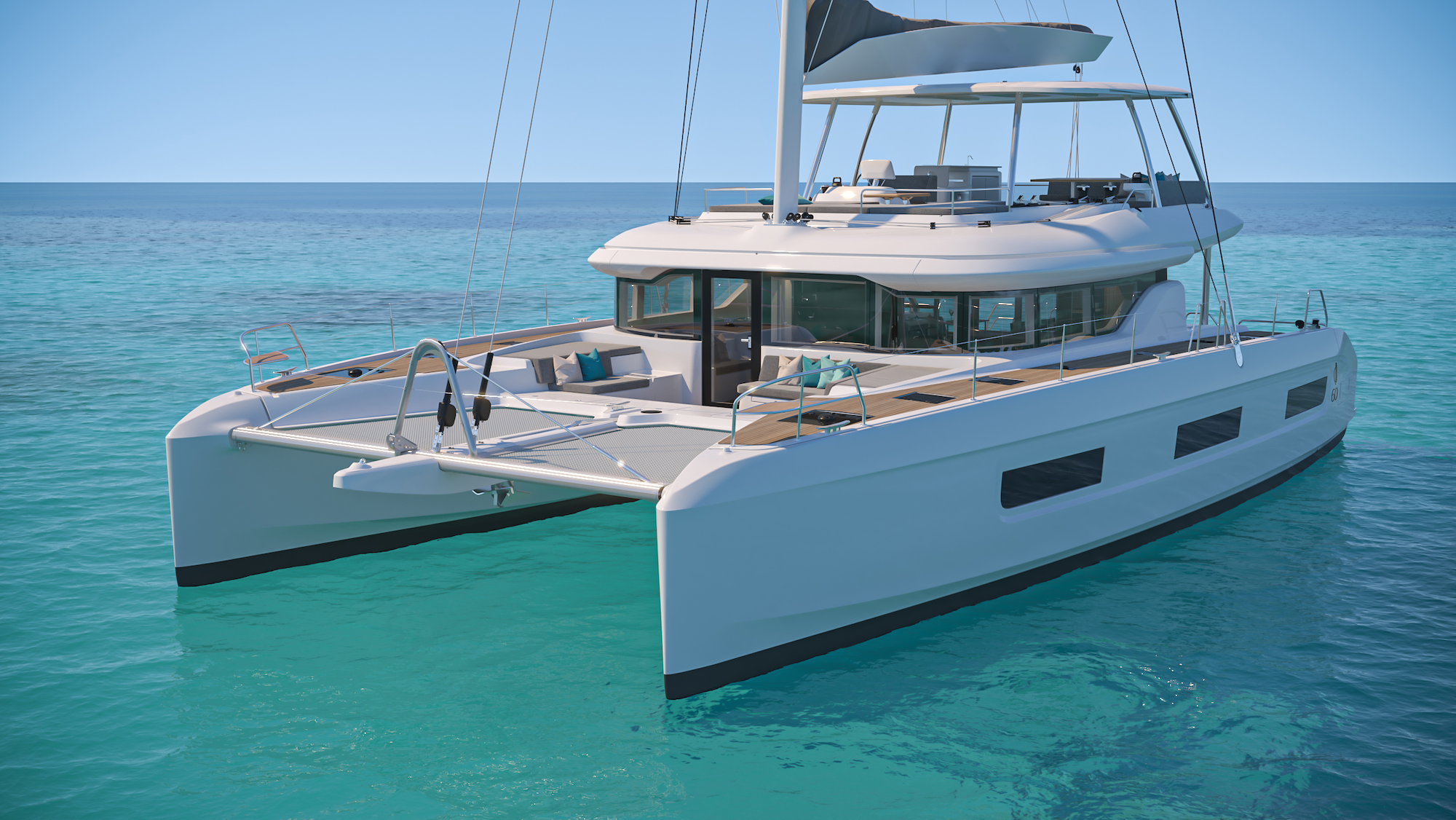 The world of luxury sailing has just been graced with the announcement of the Lagoon 60, and we couldn't be more excited! To shed light on this magnificent vessel, we had the privilege of sitting down with Quentin Beraut, a product manager for Lagoon.
read more