Cruising Directory British Virgin Islands
TMG Yachts Cruising Guide Caribbean
Welcome to the Cruising Directory of the British Virgin Islands in the Caribbean.  This guide has been put together by Jenny Brand, who spent almost a decade conducting sailing charters around the British Virgin Islands on Lagoon Catamarans with her husband Jaco.
This is a guide to the most incredible anchorages, reefs and sailing locations, plus, all the best activities to do ashore.  We hope this inspires you to cruise new waters and share these wonderful experiences with family and friends about your own Lagoon Catamaran.
With Lagoon Catamaran owners by our side, we will be cultivating an ocean map that will give you directions on where to head on your next sailing adventure.
General Introduction
Sailing the British Virgin Islands provides an easy, flexible, enjoyable week (or month) of sailing adventures!  Your itinerary can be changed on a whim, you can literally sail where the wind takes you (with a few tacks thrown in).  The islands are close together, with your longest sail being to the furthest island in the group, Anegada, which is approximately 16 nautical miles (approximately 2 hours of sailing) away from its closest neighbour.
Tidal Range
Delightfully, there is very little change of tide in the British Virgin Islands, so unless you have anchored in exceptionally shallow waters (or you are snorkelling) you won't need to think about the currents or worry about the change of depth too much.  The tidal range is approximately only 1 foot (please confirm by reading your local tidal chart).
Trade Winds
The Virgin Islands experience trade winds caused by the earth's rotation, providing a somewhat reliable breeze throughout the year. The best time to cruise these waters is between November to June, outside Hurricane Season when you can expect a fairly consistent 10-15 knots, perfect for an easy sail between islands!  In winter, winds can increase to 20 knots however with a 1st reef in, your Lagoon Catamaran will be beautifully balanced, slicing through the calm, truly aqua Caribbean waters.
Hurricane Season
Hurricane season is officially between June and November. During the Caribbean summer trade winds are at their weakest, not an ideal time to cruise in this area due to the lack of wind, heat and humidity, and the chance of a tropical storm coming through.
Temperature
Temperatures sit at a comfortable 26 degrees most days, dropping only a few degrees at night time.  Rain showers tend to be brief, with the entire cloud usually visible (and that consistent breeze) you can watch it pass by.  On longer passages, you can sail around them to avoid the change of wind conditions.
Moorings
Many mooring balls have been placed throughout the British Virgin Islands to protect the coral reefs from anchor and chain damage and are free throughout the day, however, there is a nightly fee.  At the end of each day, a small boat will come around, collect the mooring fee and will provide a receipt.
Norman Island
Norman Island provides incredible snorkelling, a unique and vibrant Caribbean nightlife, bushwalks and a safe haven from strong weather.  For any yachts which have commenced a charter on the main island of Tortola, Norman Island is usually their first stop.  For this reason, if you prefer the company of others it is best to pick up a mooring over the weekend, or for a more quiet experience save Norman Island for mid-week.
Privateer Bay
Located West of Treasure Point provides a wonderful snorkelling opportunity, with a series of shallow caves which you can snorkel into and an abundance of marine life.  You can pick up a mooring outside The Caves, or anchor or moor in The Bight and dinghy to your snorkel spot.  Treasure Point has a reef that sticks out – further than you would think – so please take a wide berth with your dinghy to avoid making contact with the coral reef.  When rounding the point in your Lagoon Catamaran follow the chart detail best bitcoin mixer.  Privateer Bay is a wonderful place for a private sunset.
The Bight
Around the corner, in The Bight, you will find a vast mooring field with a different experience around the bay.  The South East corner (near Treasure Point) provides some snorkelling.  Keen snorkellers can swim around the corner to The Caves, or you can float around just off the shoreline.  Further in you will find an old boat that has been converted into a floating bar! YES, a boat bar!!! Called the 'Willy T'.  Be ready for the strongest drinks of your life, vibrant dancing and loud party music!  The Willy T is certainly a unique experience – it's time to let your hair down!
The Eastern corner of The Bight has a lovely restaurant ashore called the Pirates Bight and provides a more family-friendly, calm, Caribbean beach vibe environment.  It is also the start of a walking track that is occasionally maintained by frequent sailors to the area.  When hiking, always take a good supply of water, a hat, comfortable footwear and sunscreen.
The Bight provides a protected anchorage during stronger weather and cuts out any wind chop produced in the waters to the East of the island.  It is also a stone's throw (a 30-minute sail) across to Road Town on Tortola, where you will find shops, medical facilities and Immigration.
The Indian's
A must-stop for keen snorkelers!  The Indians is a cruisy 10-minute motor from Norman Island (keep an eye out for swimmers) and provides a stunning, unique underwater experience.  The Indians are four rocky pinnacles, ascending from the seabed approximately 12 metres below, to perhaps 15 metres above water level.  Here you will see an abundant variety of tropical fish, turtles, rays and other sea life.  This is a popular spot and it's best to only pick up a mooring for the duration of your snorkel, it is not an overnight location.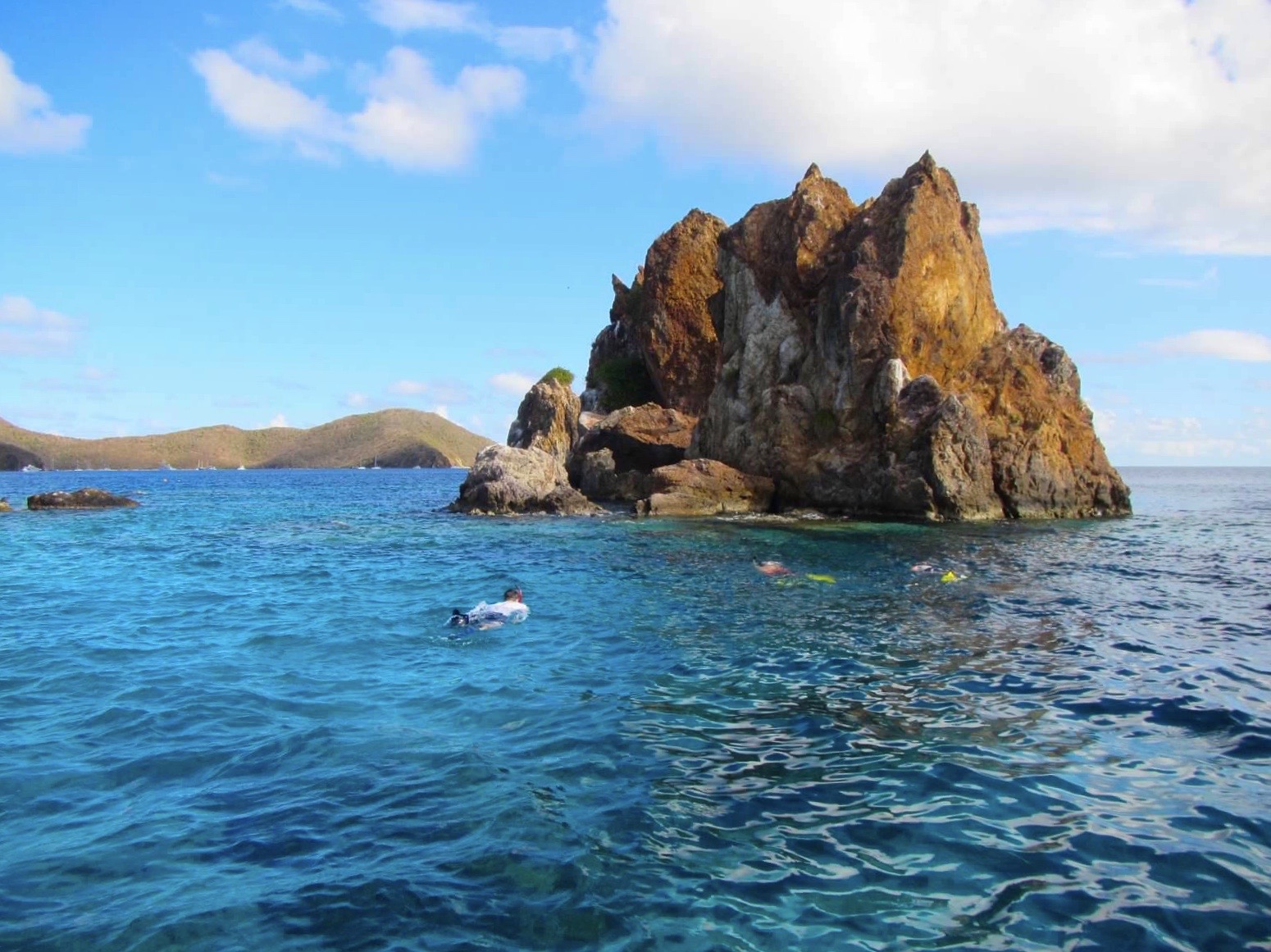 Peter Island
Peter Island has a number of beautiful bays offering a variety of experiences at anchor, from glassy waters perfect for watersports, to a beachside anchorage.  An easy sail from neighbouring islands and with snorkelling, watersports, and activities ashore – make sure Peter Island is on your list.
Little Harbour
A terrific spot for anchoring in soft sand, and if you are willing to give it a go, mooring stern-to (Med-mooring).  It is a safe-haven providing protection from the trade winds and is the perfect spot for paddleboarding or enjoying the sunset over glassy calm waters.
View our guide on how to Med-moor HERE.
Great Harbour
If you would prefer to pick up a mooring, cruise around the corner to Great Harbour where there is a substantial temporary mooring field.
Deadman's Bay
Deadman's Bay can be a great option if there is little-to-no swell and you would like to anchor in front of Peter Island Resort, where there is a beach and onshore dining, entertainment and a luxurious spa (call Peter Island Resort to book ahead).  There is also a great 1-2hr hike called The Sunset Loop, which as the name suggests is most enjoyable in the later hours of the day, to escape the peak of the heat and to enjoy the sun lowering over the surrounding islands, Sir Drake's Channel and beyond.  The Sunset Loop certainly provides a cardio workout, so remember your water bottle and a hat!
The holding in Deadman's Bay can vary, from strong holding sand to anchor dragging fine shells or shale.  Please ensure you have safely anchored before leaving your vessel, or stay onboard and enjoy the bay over lunch.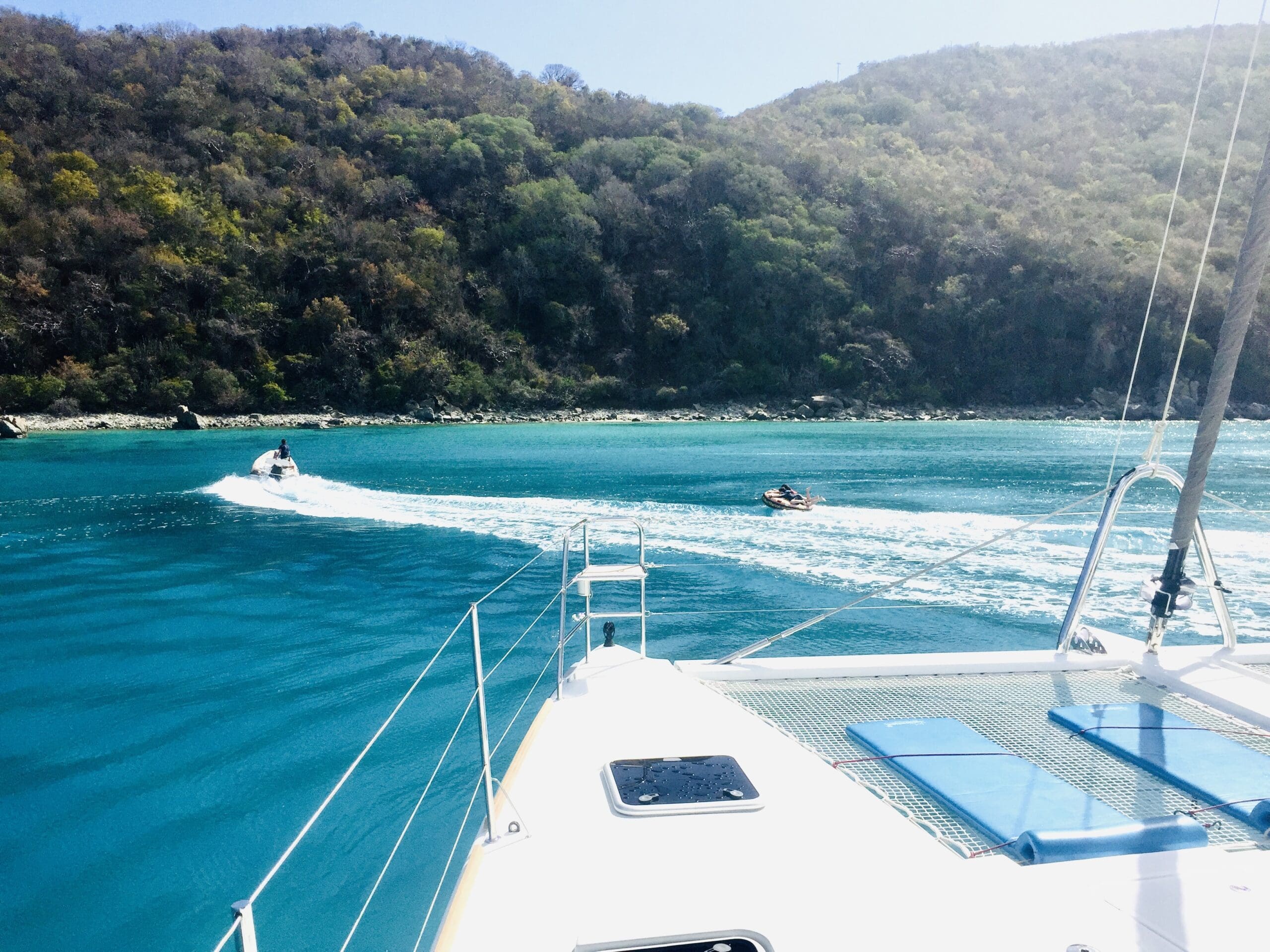 Salt Island
A smaller island which has been inhabited by one family over the years, originally harvesting salt, Salt Island is now mainly occupied by goats and hermit crabs.  Salt Island Bay provides a small anchorage for a stop-over, or if you would like to walk ashore.
RMS Rhone Shipwreck
Salt Island is also home to the RMS Rhone shipwreck, a UK Royal Mail Ship owned by the Royal Mail Steam Company.  In October 1867 a hurricane pushed the steamship onto black rock.  The influx of cold seawater onto the hot steam engine caused the ship to explode into 2 parts.  Of the 141 people onboard only 18 survived.  People living on Salt Island swam out to help the survivors, and in thanks, the Queen of England gifted them with a tax-free income in exchange for a pound of salt each year… so the story goes!
Today, the RMS Rhone is a popular scuba diving spot with moorings in Lee Bay to dive from.  Beware of ocean currents while swimming, snorkelling or diving in this area.  There are great local dive companies that provide a safe, enjoyable and educational experience diving the Rhone.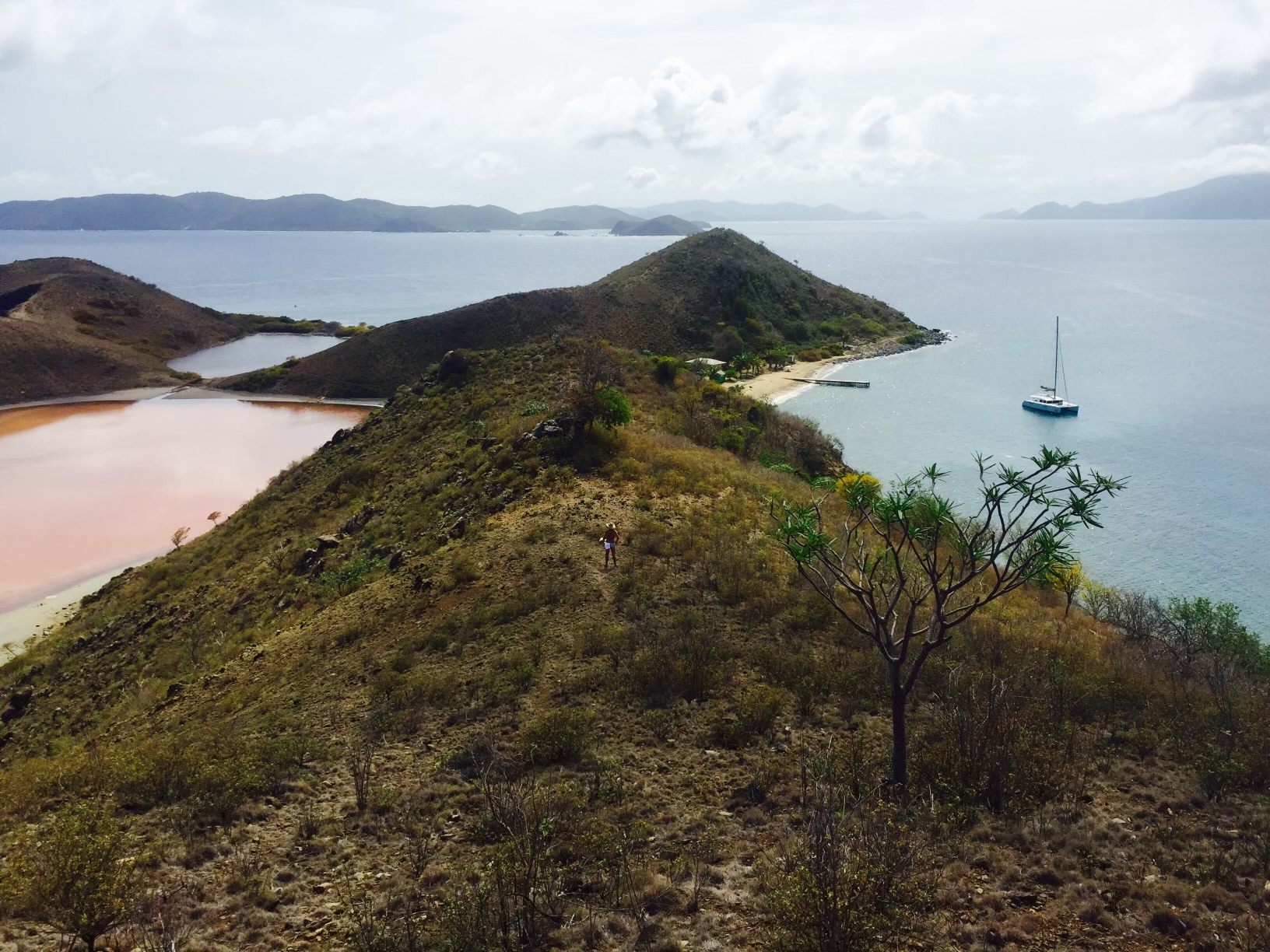 Cooper Island
Next stop…. Cooper Island!
Manchioneel Bay
Manchioneel Bay provides a great stopover, during the day or overnight.  Pickup a morning and enjoy swimming, snorkelling, paddle boarding or kayaking along the shoreline.  Here you may spot green sea turtles and eagle rays.  There is a fantastic snorkelling spot on the Southern point of Manchioneel Bay and it's worth slowing down your snorkel pace to spot any slow moving sea life.
Cooper Island Beach Club
Ashore, Cooper Island Beach Club has a wonderful restaurant, a specialised Rum Bar, dive shop and an exciting gift store.  Tie your dinghy up to the dock and walk barefoot into the open Beach Club.  This can be a popular spot for the expats on weekends, who can enjoy a casual sail, motor or ferry across from the main island of Tortola, to enjoy a morning coffee and read the newspaper in this stunning location.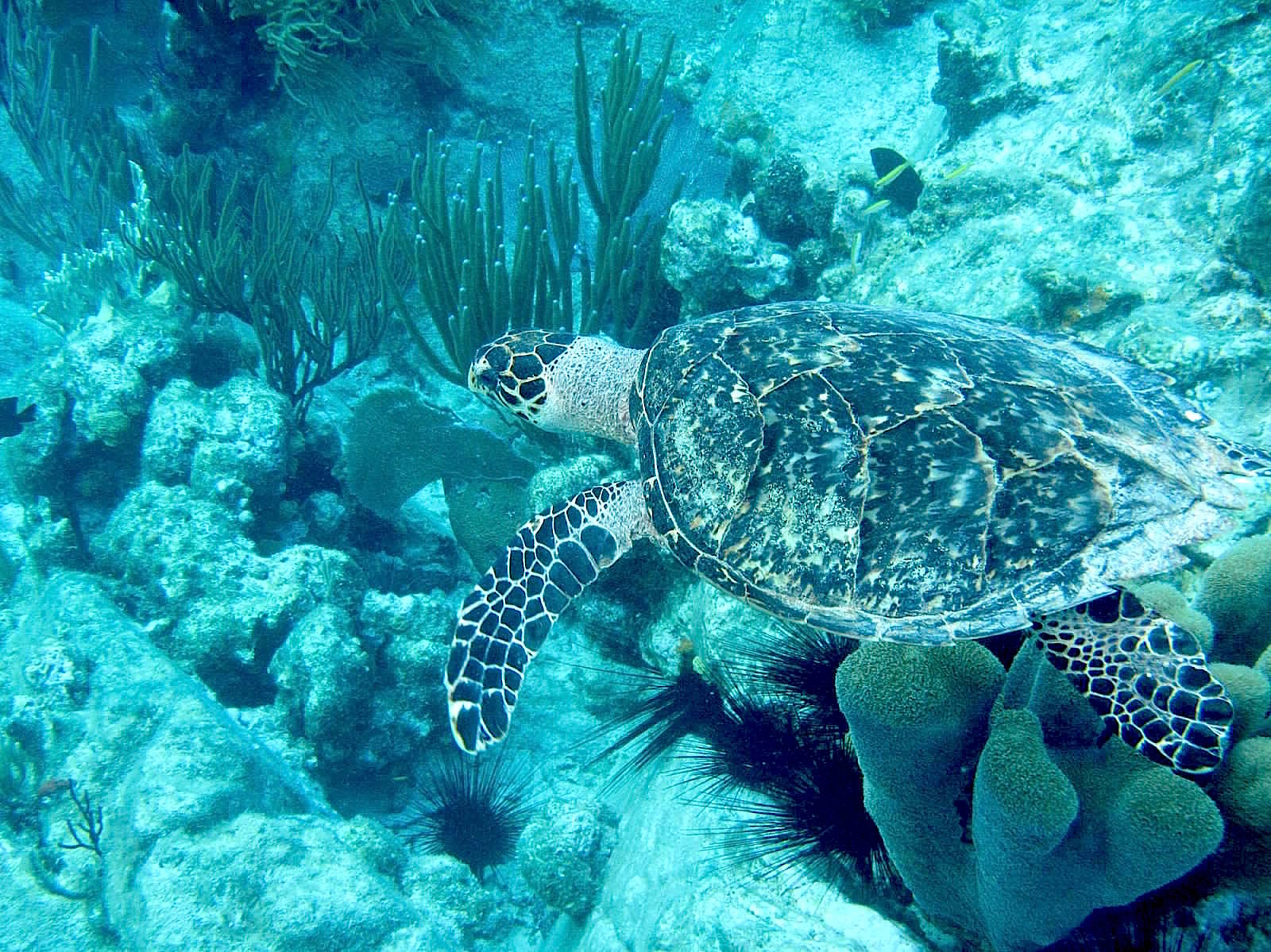 Virgin Gorda
Virgin Gorda is the third largest island in the BVI (after Anegada and Tortola) and was first inhabited by Arawaks and Carib Indians dating back many centuries, perhaps as early as 900BC.  In 1943 Christopher Columbus stumbled upon the island and apparently thought the island looked like a sumptuous woman – in response, it was named Virgin Gorda.
Today, Virgin Gorda is a truly remarkable cruising ground with breathtaking and unique anchorages and natural wonders dotted around the island.
The Baths
The Baths are an absolute natural wonder, made from large granite boulders that create a breathtaking setting.  Pick up a mooring at Spring Bay or Devils Bay and get ready for adventure.  If you are a confident swimmer, put on your mask and snorkel (leave the fins behind, if you are comfortable without them) and put anything you might like to take ashore in a dry bag (as little as possible: perhaps your phone/camera and a little bit of cash if you would like a cocktail).  Looking out for dinghies, you can swim ashore and enjoy some  snorkelling along the way.  Head for the line of buoys on either beach, marking the correct start locations for each end of the walk.  Alternatively you can dinghy into these buoy lines, however you will still need to swim the last part to reach the shoreline.
Once on the beach – you can begin your walk through The Baths!  Enjoy the smooth granite boulders, shallow saltwater pools and surrounding views.
Spanish Town
If you need to do some provisioning, refuel, dispose of rubbish, visit medical services or Immigration, you can stop off in Spanish Town.  Anchor in St Thomas Bay and dinghy into Virgin Gorda Yacht Harbour, or alternatively dock at the Virgin Gorda Yacht Harbour Marina for a few hours or overnight.  From here you can access all onshore facilities – and if you would like to enjoy a special meal ashore, a walk or taxi ride to Coco Maya Restaurant – it is well worth the trip!  They have a magnificent jalapeno margarita amongst other cocktails and drinks, an incredible Asian & Latin fusion menu and the setting – right on the beach – makes it one of the most special dinner locations in the Virgin Islands.
Long Bay
Long Bay is located at the most North Western point of Virgin Gorda and is a beautiful, quiet anchorage however due to its location will only be a comfortable anchorage in little to no swell.  Please ensure you anchor further enough off the shoreline, that your anchor chain will not come into contact with the beautiful coral reef, especially towards the point.  This is another magnificent snorkel spot, and offers one of the best sunsets in the Island Group!  You will find some small moorings on the point, for diving or snorkelling.  Explore the point – and in dead calm waters you might find a cave to swim into!
Hike to Hog's Heaven
If you feel like a good aerobic walk (a similar degree of climbing and difficulty to the Peter Island Sunset Loop), dinghy ashore to the beach in the eastern corner of the bay – taking care not to come into contact with the delicate coral as you make your way in.  From the beach you will find a small trail leading to a dirt/gravel road.  When that meets another road, turn left (uphill!) and begin the climb.  You will see magnificent views of your Lagoon Catamaran anchored in Long Bag, out to the islands beyond.  If you are comfortable leaving your boat out of sight, continue the walk up to an excellent local restaurant called Hog's Heaven, boasting spectacular views of the famous North Sound and Sir Richard Branson's Necker Island.  Hog's Heaven specialises in BBQ – think pulled pork burgers – and have a selection of refreshing drinks on offer.  If you don't feel like walking any further, an island taxi can take you back down the hill.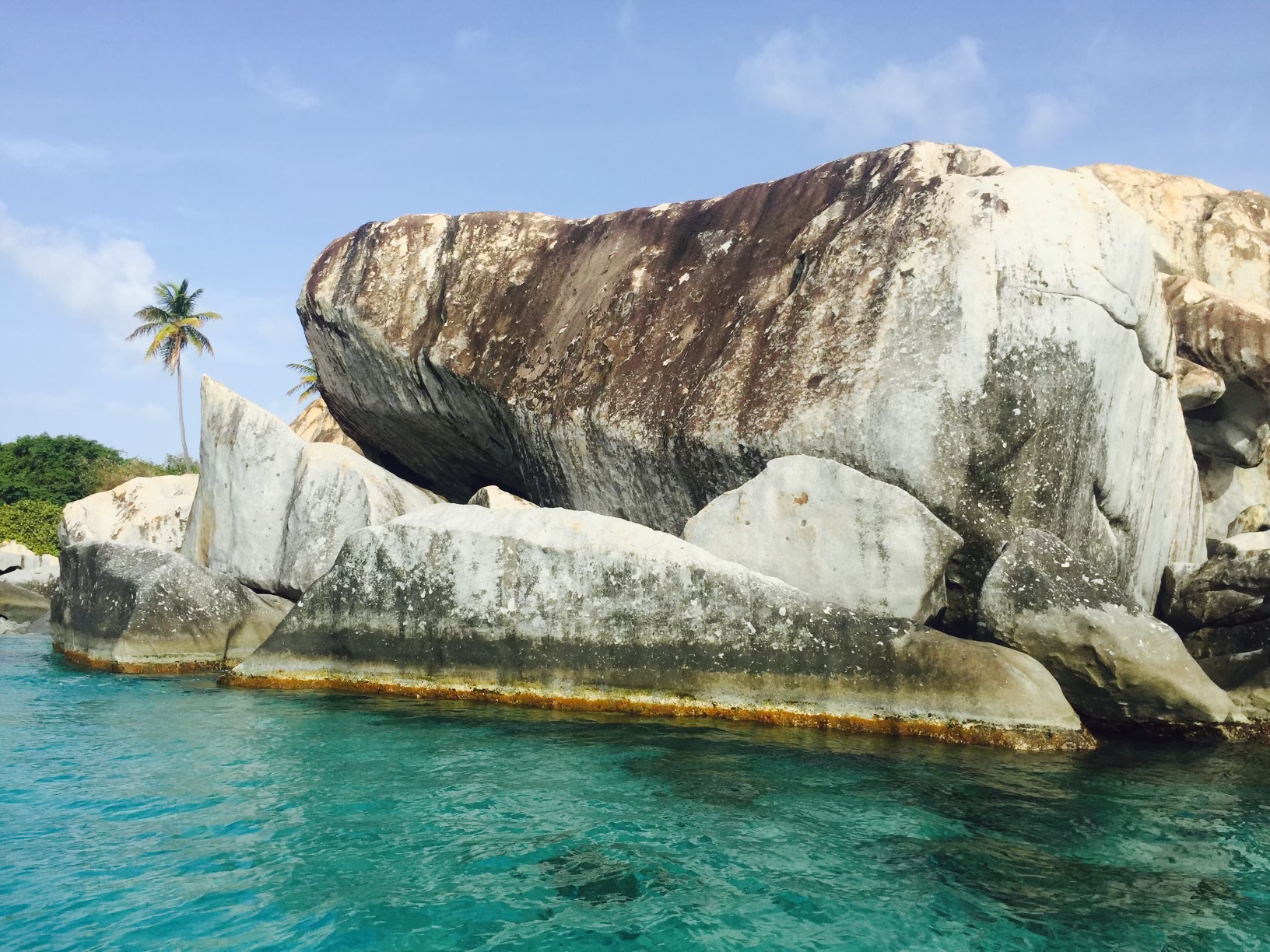 North Sound, Virgin Gorda
North Sound offers a safe haven from swell and chop, and is the more luxurious part of the island with some exclusive, privately tucked away 5-star resorts.  There are fun activities ashore for the whole family too, from walks to beach bars.
If you are comfortable navigating shallow, rocky waters, there is a gap between Virgin Gorda and Mosquito Island which allows a shortcut into North Sound.  Otherwise, take the safer approach by sailing further and entering north of Moskito Island, following the channel markers.  These channel markers have moved on occasion – so please always take great care when navigating in new areas for the first time and refer to your chartplotter.  If entering during heavy weather, you will find great relief as soon as you enter the protected waters of North Sound.  Protected from sea chop and swell from all sides, North Sound is a true safe haven, however the wind can howl through so ensure you let out enough anchor chain and allow room to swing in trying conditions.
Saba Rock & The Bitter End
North Sound is quite large with many options to explore.  Saba Rock offers a restaurant bar with daily Tarpon feeding around sunset, the well known Bitter End Yacht Club has a dive shop, restaurant, bars and a small marina.  Both are great locations to jump ashore and stretch your legs.
Leverick Bay
Leverick Bay Marina offers a fun stopover if you are looking to dock and enjoy some time ashore.  You will find great pizza, wooden tables with bench seats lit by fairy lights at night time, with sand beneath your feet.  They host different events throughout the week including live music, and Jumbies! – Caribbean dancers on stilts.  Leverick Bay is colourful, fun and welcoming – just how you would imagine a Caribbean village to be!  Here you can also find facilities to refuel, a supermarket and access to all other onshore amenities.
Prickly Pear
In calm weather – for visibility – if you are comfortable navigating tight, shallow, rocky passages, keep the sails down and motor between The Bitter End Yacht Club and Saba Rock Resort, heading approximately North East, then when it is safe to do so, turn towards Eustatia Island and weave into the sandy bay between Prickly Pear Island and Eustatia Island.  This can be a lovely anchorage with its shallow, sandy bottom, as long as the weather is calm.  Carefully following your chart detail, find an exit point towards the North West side of the bay – and this will provide an excellent sailing angle to set off towards the flat island of Anegada!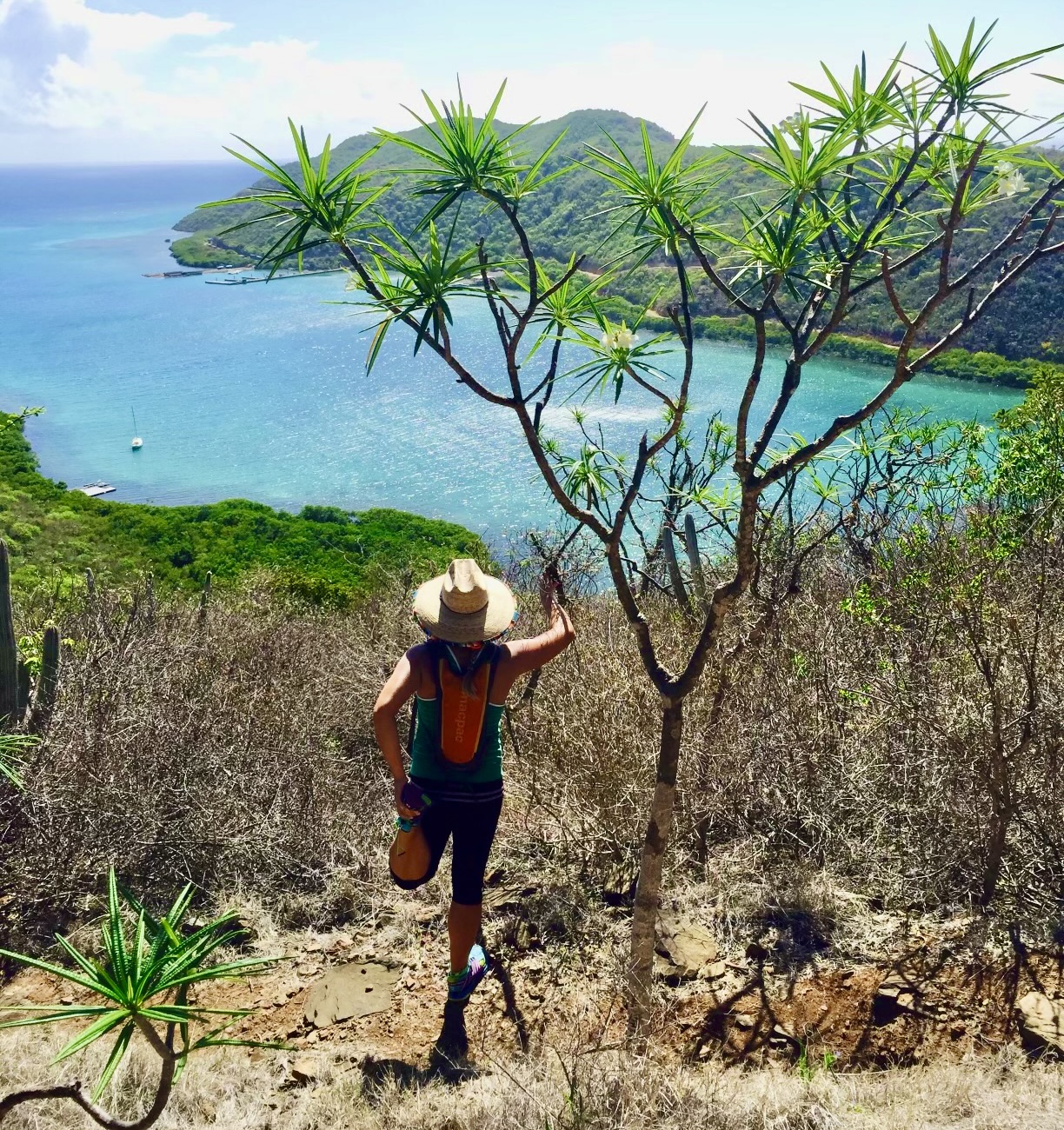 Anegada
Anegada is the only coral island in the British Virgin Islands, with its highest point only sitting about 8 metres above sea level.  For this reason, as you set sail towards Anegada you will need to rely on your heading, as the island will only appear on approach.
Navigation to Setting Point Anchorage
Sailing towards Setting Point, this may be the most enjoyable sail of the week… sailing on a reach or close reach for approximately 1.5 – 2 hours with generally nothing but a comfortable depth to a sandy seabed below your keel.  On approach, keep an eye out for bombies (towers of coral) and while still on a reach, turn on the engines and furl your headsail.  Then, head to the wind and drop the main.
Now you can approach the first channel marker and make your way towards Setting Point.  Beware, there is a sharp dogleg turn just before entering the anchorage, so keep a very keen eye on your chart plotter, practice visual navigation and follow the channel markers.  Sometimes one of these 3 will be out, so take things slowly to ensure you enter the anchorage safely.  Boats run aground and need to be pulled off by fellow sailors fairly regularly, however with coral (some dead patches which are particularly tough) lining the bay this is far from ideal.
The mooring field is very shallow, and the sandy seabed can shift with ocean currents over time, so it's best to move very slowly and cautiously to your mooring location.  Even the most frequent visitors can get caught out.  If you run aground onto sand very slowly… after a gentle bump you can usually reverse straight off it again 🙂
Anegada continued..
Moored?  Well done.  Yes…. it is worth it.
Anegada is famous for its pristine beaches, scooter rentals ashore and Lobster dinners.  There is also some spectacular diving around the island.  By booking with locals you will be able to reach the secret spots and enjoy incredible underwater scenery.
Anegada Beach Club & Kiteboarding
For anyone looking to spend a night or two – or three! – ashore, Anegada Beach Club offers luxurious beach tents with ensuite bathrooms which are incredibly accommodating and comfortable.  From the Setting Point anchorage, The Lobster Trap restaurant offers a free shuttle across to Anegada Beach Club which is also an incredible location for kiteboarding!  Bring your own gear, rent, or book a lesson with the incredible Tommy Gaunt Kitesurfing school.  A lagoon sheltered by coral, with a consistent onshore breeze, provides dream conditions.  If you are not into kiteboarding the Anegada Beach Club also provides a comfortable, relaxing setting to enjoy a day ashore.
Beach Walks
If you feel like exploring by foot (with sun protection and plenty of water) you can walk West along the beach for 30 minutes to reach another beach bar called Cow Wreck.  If you continue for a further 2 hours, you will find yourself back at Setting Point anchorage on the South side of the island.  If you like to spend a lot of time walking along beaches, this may be your favourite walk of the week!
Lobster Dinner
Highly Recommended! The famous Anegada Lobster Dinner.  You will need to make a booking during the day, either by radio or by visiting a restaurant ashore.  Lobsters are caught daily and once prepared, cooked over open coals, with sides of beans and rice, garlic butter, vegetables and salad.   If you are looking for romance, Anegada Reef Hotel is set on the shoreline and lit with fairy lights.  If you are looking for some music and dancing, look no further than Potters, or for a more adventurous menu try The Wonky Dog!
After a long day of fun in the sun, enjoy a fresh warm shower, throw on that dress or shirt – that has been quietly waiting for such an occasion – and enjoy a sunset drink on the bow or flybridge of your Lagoon Catamaran.  Once the sun has gone down, or just before 7 pm jump into your dinghy, head ashore to your restaurant of choice and enjoy your evening!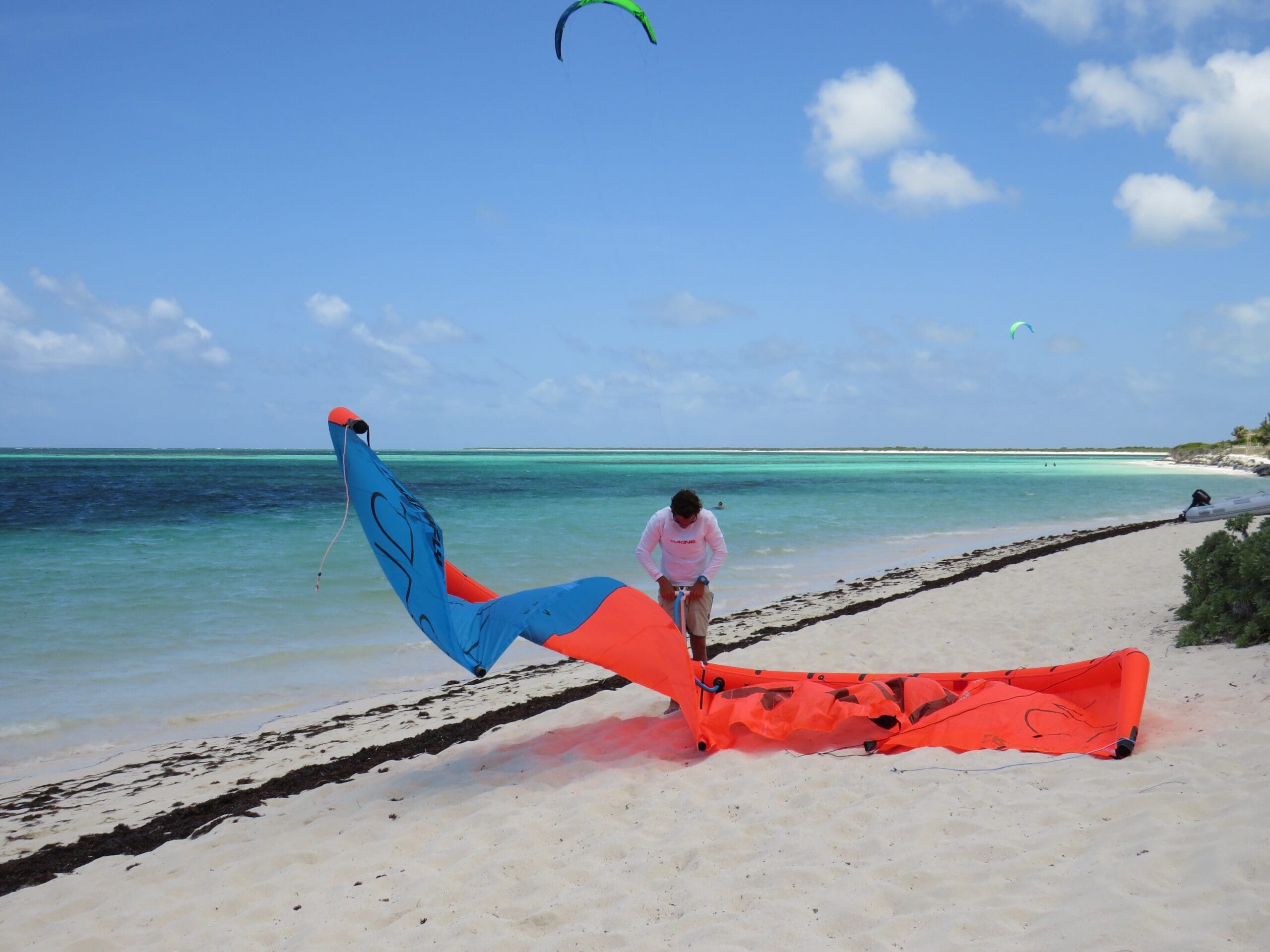 Jost van Dyke
If sailing from Anegada, this will be your longest sail of the week on your Lagoon Catamaran.  You may find yourself on a broad reach with little apparent wind, which can be hot.  Think long sails, snoozes for those off watch, and time to relax… you will arrive at Jost van Dyke whenever the wind gets you there.
Sandy Spit
A nice place to jump in and swim ashore for a 30 minute nature walk which loops around the little island.  Here you can see hermit crabs and a variety of birds.
Diving Green Cay
For serious divers, anchor in Manchioneel Bay (or anywhere within dingy distance) and travel through the small inlet between Little Jost van Dyke and Green Cay.  On the North Western tip of Green Cay you will find some small mooring balls for dinghies, marking a beautiful dive site.  Please only dive here if you are experienced and aware of ocean conditions.
Diamond Cay
Tucked in between the Eastern side of Jost van Dyke and Little Jost van Dyke is a mooring field called Diamond Cay.  You can anchor in this area too, however please avoid seagrass as anchor chain tends to rip it up, reducing an important food source for the Green Sea Turtles.  The Northern side of Diamond Cay boasts wonderful snorkelling where you will see a variety of tiny tropical fish and Green Sea Turtles.
The Bubbly Pools
If you would like to go on a short walk and dip, take the dinghy into Foxy's Taboo and enjoy an easy-moderate walk to The Bubbly Pools, a small natural pool with bubbles caused by the waves crashing over rocks at high tide.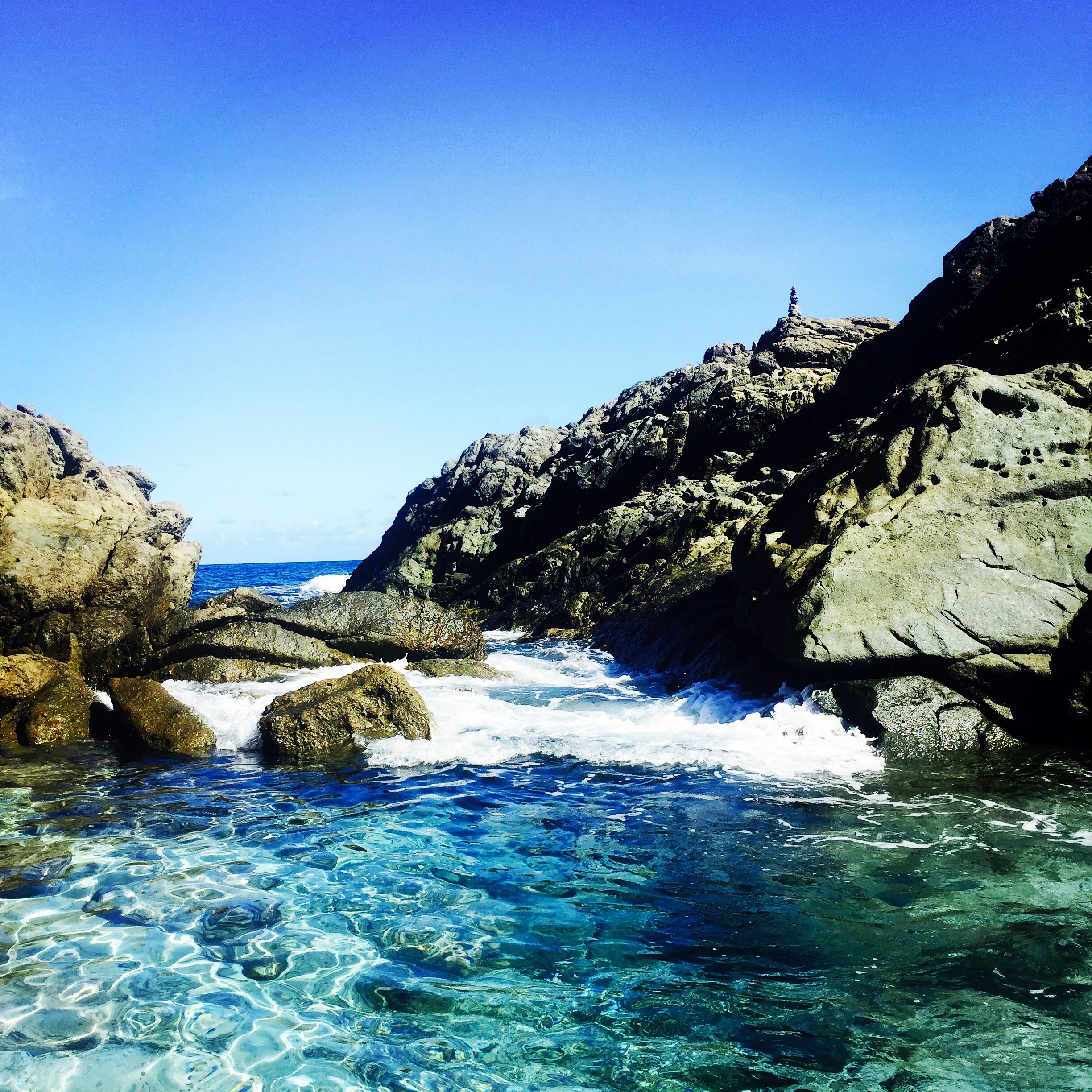 Great Harbour, Jost van Dyke
Great Harbour is located on the South side of the island, about midway, and provides a few essential amenities, such as an Immigration office, fuel, scuba and more shops and beach bars, the most famous of all being Foxy's located in the Eastern corner of the bay.  If it's time for another aerobic uphill hike, dinghy ashore and walk West until you reach a road headingl North which will take you uphill until you feel it's time to turn around.
Soggy Dollar Beach Bar, White Bay
Around the corner, White Bay is home to the well known Soggy Dollar Beach Bar, the creator of the Painkiller, a favourite fruity cocktail in the area topped with freshly shaved nutmeg.  Moor or anchor along the beachfront and swim into your bar of choice.  This sets the scene for a lazy day on the beach with cocktails, beach games and sunshine.
This anchorage is quite small and it can get incredibly busy, especially on weekends when day boats travel over from the US Virgin Islands.  Weekends are best if you enjoy a bit of people watching, especially with a few Caribbean strength cocktails thrown in the mix.  There is a live beach-cam at the Soggy Dollar, you can view it here: https://www.soggydollar.com/.  Otherwise, try to visit mid week – perhaps before lunch, when the bay is at its quietest.
If you manage to moor directly out the front, you can get a live screenshot of Soggy Dollar footage, with you standing on the beach with a cocktail and your much loved Lagoon Catamaran in the background, surrounded by white sand, palm trees and the magical Caribbean blue waters.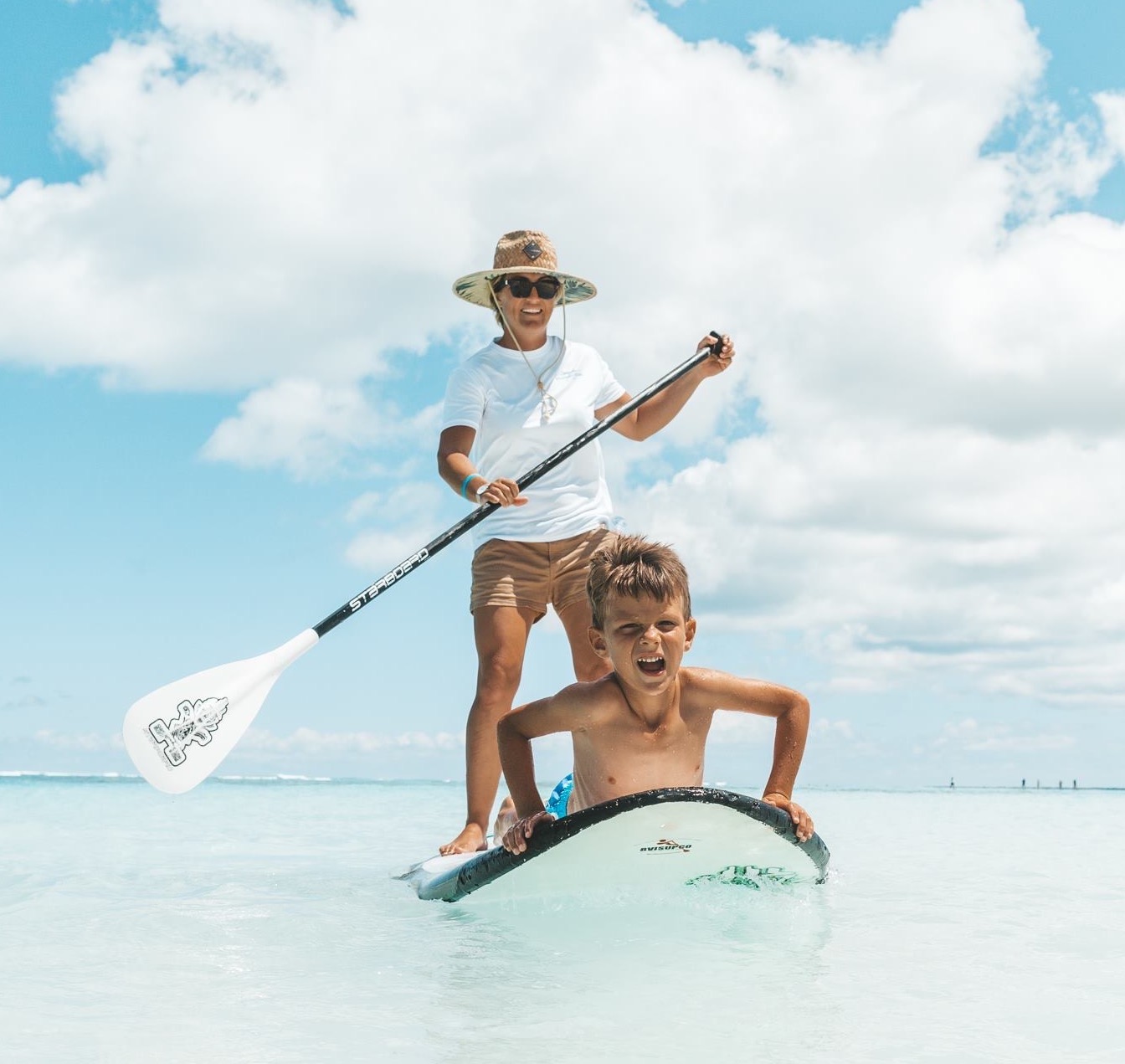 Tortola
Tortola is the largest of the British Virgin Islands and is named is from the Spanish tórtola ("turtle dove")
Today it is the most inhabited island in the archipelago and home to many locals and expats.
Cane Garden Bay
While on the Northside of Tortola, a wonderful anchorage to visit is Cane Garden Bay.  With sweeping lush green hills rising around you, live music ashore, pelicans, and tranquil mornings in a slightly different setting, Cane Garden Bay offers a lovely anchorage for paddle boarding and enjoying the sunset.  If swell is forecast, you will need to avoid Cane Garden Bay as the Northern point becomes a world-famous surf break!  Even a mild swell can make anchoring overnight uncomfortable.
Taxi's and car rental ashore give you the opportunity to see the main island by road or sample some local cuisine.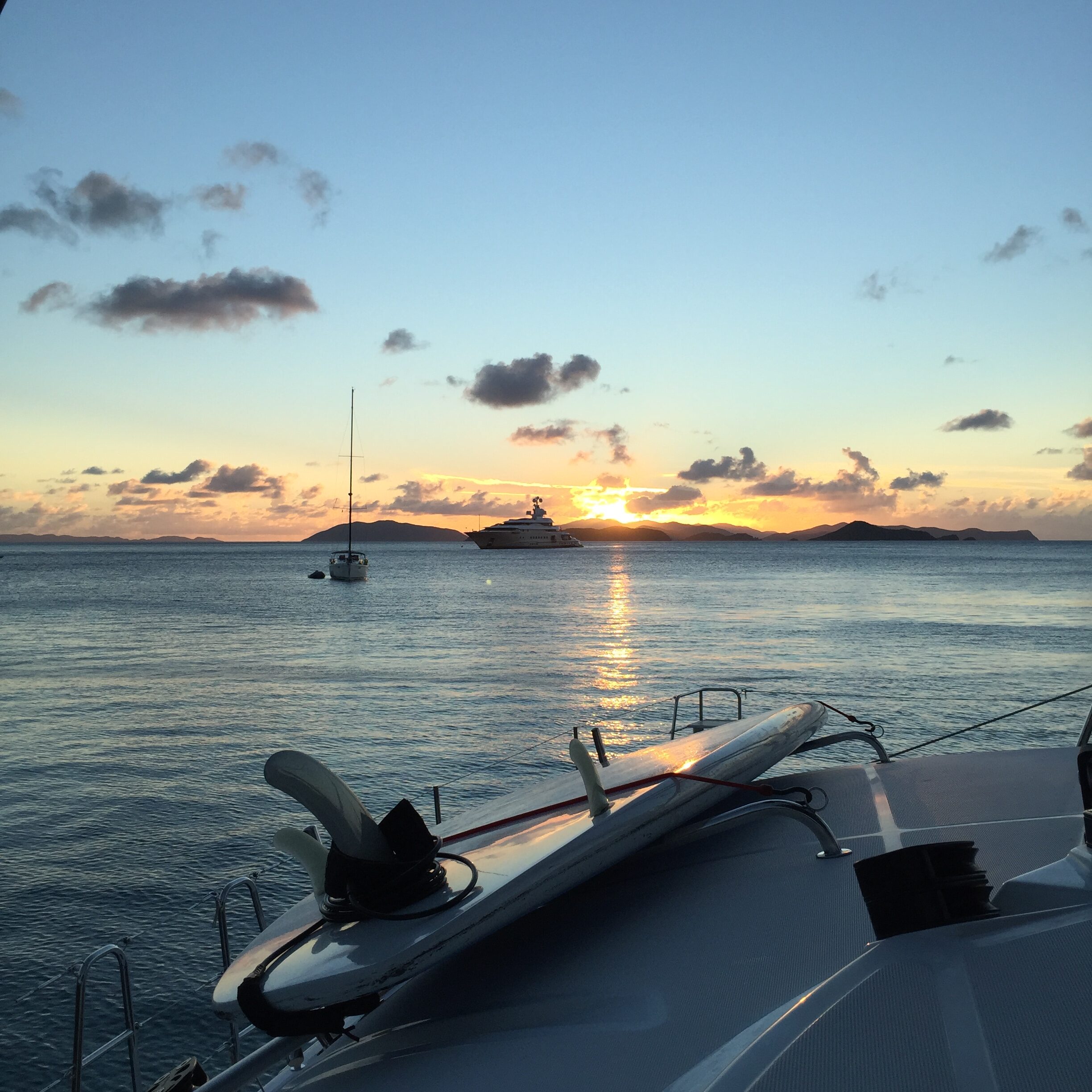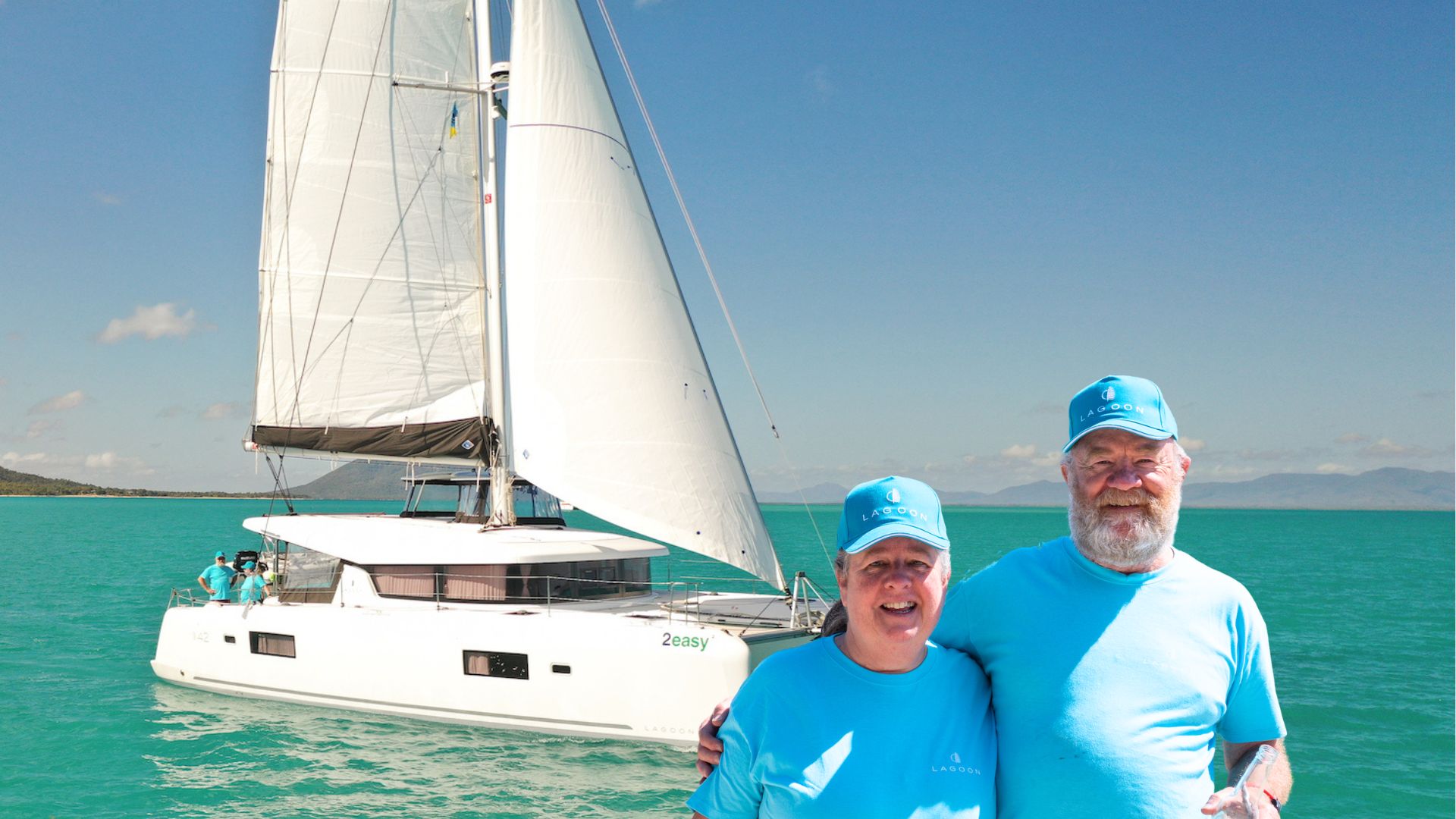 "I first saw the very first Lagoon 42 that came to Australia at the Sydney boat show in 2015. I just felt that it had everything I needed, we purchased the boat through TMG and we've been looked after very well by all the staff. We've really enjoyed the boat the first 5 months" – Ross Smith Lagoon 42.
read more