Sailing Sabella – A Lagoon 42 Adventure
Aaron and Lara Jones and their two daughters Luella (3) and Sabine (1) are about to begin the experience of a lifetime.
In January, they will travel to Les Sables d'Olonnes in France to pick up Sabella, their brand new Lagoon 42, to begin an open-ended live-aboard adventure. The European pick up is the perfect option for the family because they plan to skipper down to some favourite spots in the Mediterranean to start the trip.
The family talked to TMG Yachts about the boat and their plans, and their feelings of excitement and apprehension, as they work through the logistics of moving their lives on to the water.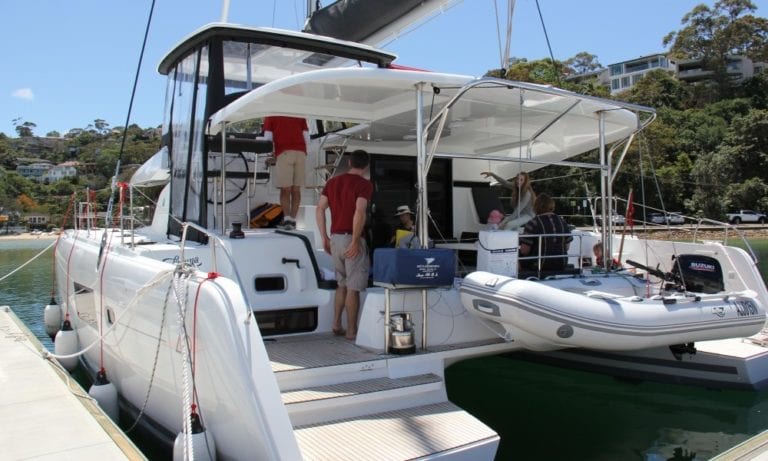 Were there any considerations for choosing a boat with a young family?
"I wanted a big, spacious saloon that you could see through for transparency. I wanted it to feel like a home, like a floating apartment. With a monohull we would have to put the kids down below a lot, where I wouldn't be able to see them the whole time," says Lara.
Aaron adds, "Lagoons are boldly angular in shape, and we thought that was fantastic. It creates that space inside and looks great on the outside. And the sailing performance for a production catamaran, whilst not prioritised, is very very good."
"I thought regarding the kids, on the 42 specifically, we can steer the boat from here on the same level, it's not a separate area … and the entire thing can be enclosed without it being a visual and physical barrier," continues Lara.
Do you have any preconceptions about live-aboard life?
"It's going to be scary!" says Lara. "I'm apprehensive about it and I'm trying to be a realist – I'm not expecting it to be easy. But we've wanted to do it for 10 years and we're both determined to make it work."
"This is what we want… for the last 15 years we've been working so hard, we joined the rat race, had the big house, the careers etc. and life was going along …
But we're looking for a life with big highs and big lows. That's what's going to create awesome memories. It's not all cocktails and sun-downers, we know that, but this is the life we're after."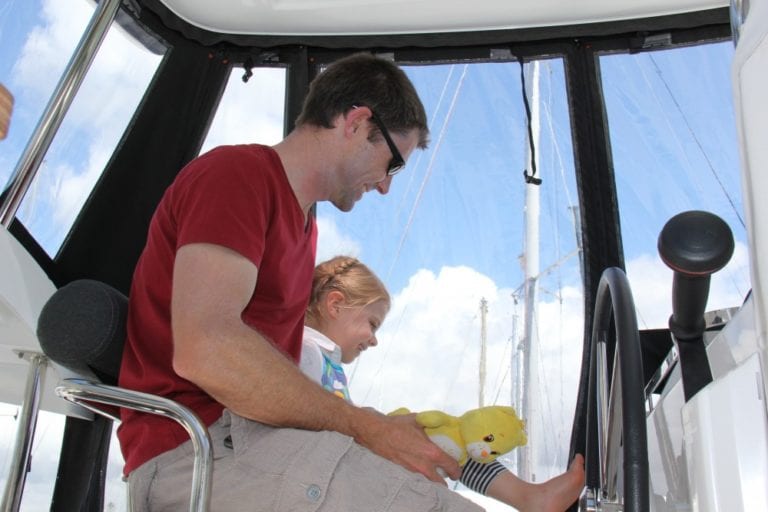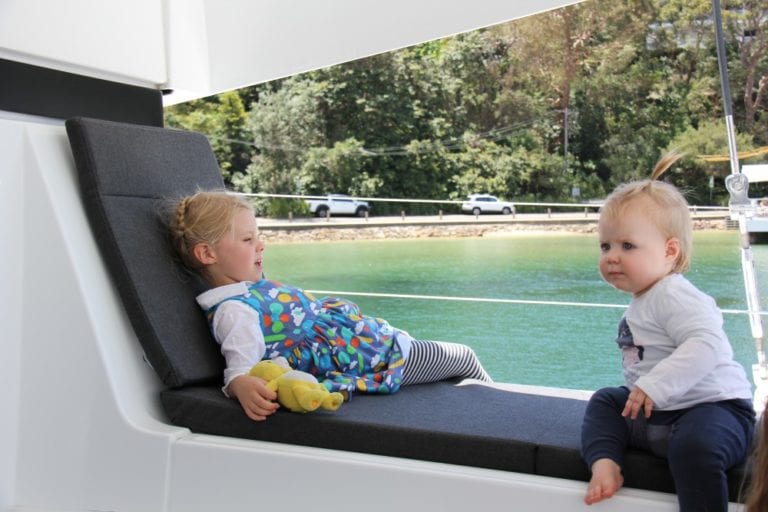 What are you most looking forward to?
"That moment when we're all on the boat somewhere remote, with the kids, and you get to those places no one else gets to … the kids will get to experience things most kids don't experience.
It doesn't have to be perfect the whole time but in those moments it's going to be amazing … showing the girls those great parts of life.
There are a couple of places in the Med that are key destinations for us, some bays in Mallorca and Sardinia where we've been rock climbing … when we anchor there it will be fantastic."
Do you have any concerns at this stage?
Lara laughs, "I'm worried about the girls getting seasick, I'm worried about the baby … if they'll hurt themselves … I'm worried they might not like living on a boat given that Aaron and I have wanted to forever! I'm not going to think about that..!
I'm hoping the kids will be so stimulated when we're out there that it will all just gel."  
Aaron was concerned that they would need to stay in Les Sables for an extended period to tinker with the boat. But he is comforted that the after-sales service from The Multihull Group means that he can get going once the handover is complete. With distribution partners across the globe, a service or spare part is never far away. And there's always assistance at the end of the phone from the TMG Yachts Service Centre.
Tell us about your blog
"We are going to write a blog called Sailing Sabella, a post per month. It will probably be about teething issues for first few months – the process of picking up the boat in France, setting it out how we want to … our aim is to make it a very real picture of our experiences.
I feel that this is a very achievable dream for the average Aussie working class family, which we are. If we can talk about us having this dream – and there's nothing special about us – if that helps others achieve their own dream then that's great.
"We'll also talk about our adventures on the way like our rock climbing … plus adventures we don't even know about yet," Aaron explains.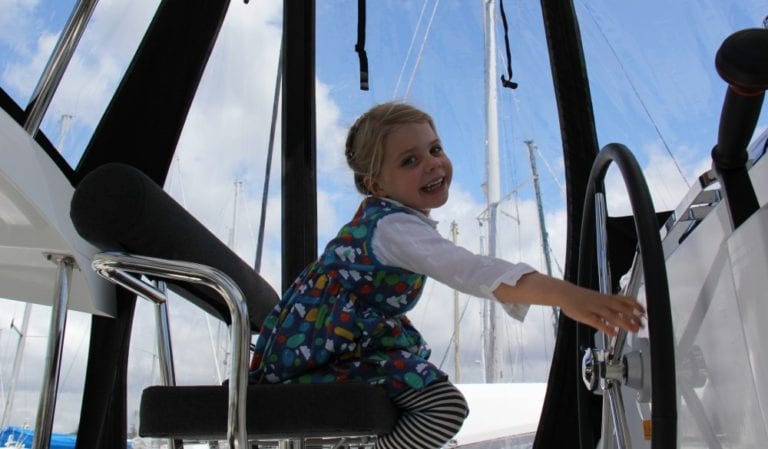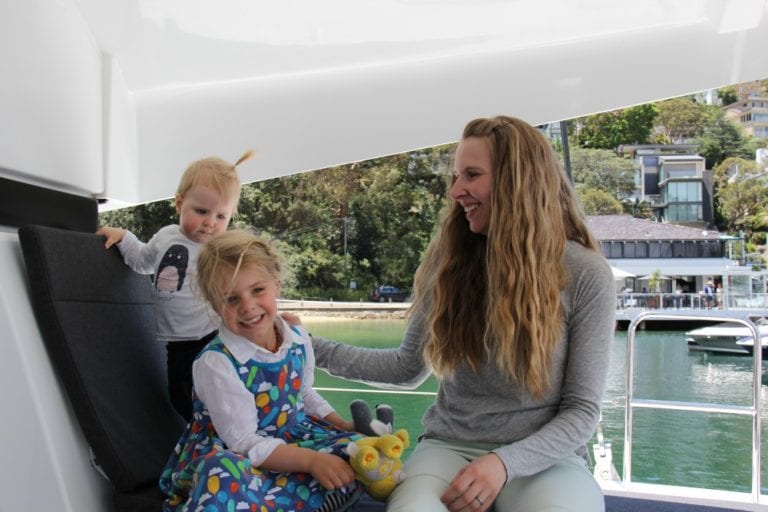 Your live-aboard life is only two months away, how are you feeling?
"We're feeling hugely excited, beyond words! We've had this dream for 10 years, and we didn't think we'd be in a position to do it this soon.  Then our circumstances aligned so that we could do it now," says Lara.
"We've got about 25 things going on at the moment and we have capacity to deal with 15 at a time! Selling the house, storing our possessions … there's a lot happening.  So we're rolling with that, and that's exciting too," Aaron says.
"Once we jump on the plane for France, the timeline is open ended. There's lots to do to get there … but it's all directed towards something really cool."
We can't wait to read the first instalment! Watch this space for news from Sailing Sabella – all the Sabella blogs will be posted here.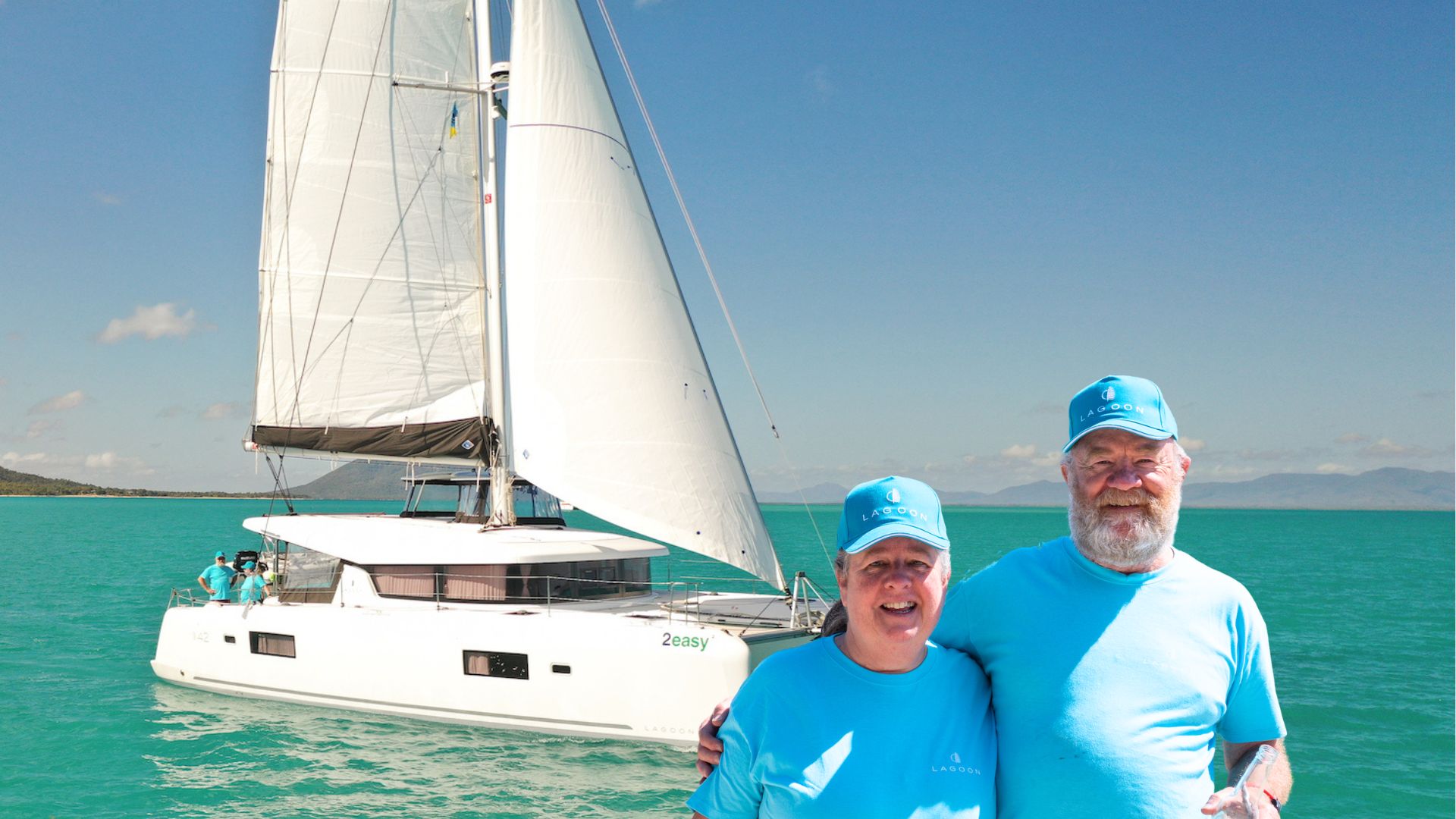 "I first saw the very first Lagoon 42 that came to Australia at the Sydney boat show in 2015. I just felt that it had everything I needed, we purchased the boat through TMG and we've been looked after very well by all the staff. We've really enjoyed the boat the first 5 months" – Ross Smith Lagoon 42.
read more