"Living the dream" on board a Lagoon 380
Earlier this year, TMG Yachts Rowan McMahon flew to Les Sables-d'Olonne to hand over a brand new Lagoon 380 to a lucky Australian couple who plan to live and work on their boat for the next 10 years.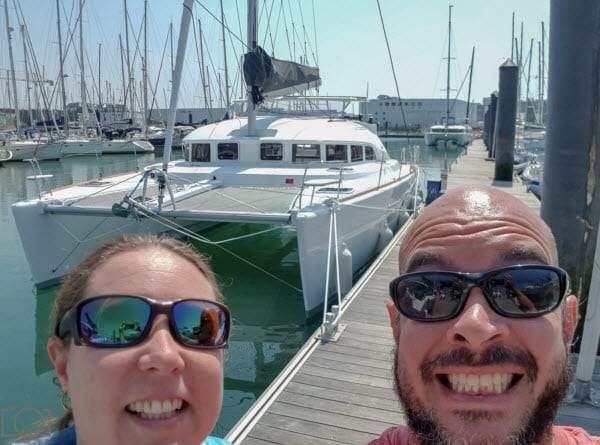 Justin and Kelly Felter are both tax accountants and they love the fact that they are able to work from anywhere in the world on board their new on-water home, allowing them to also indulge in their passions for scuba diving and fishing.
Five months on from their Euro launch, we caught up again with Justin and Kelly to find out how life is panning out, "living the dream" on board their Lagoon 380
Every day is magical
"We only picked up 'Oops' on the 13th May but it already feels like it's been years. We're amazed at just how easily we've settled into this way of life.
Every day is magical when you're living on board. Take this morning, for example … the water was like a millpond, delivering a special sunrise. This was the view from our cabin as we woke up.
Our plan when we left Les Sables-d'Olonne was to get lost in the Med and that's just what we've done. 
We're now heading east and are currently lying off the beach at Benalmadena, which is a town in Andalusia in southern Spain, near Málaga, on the Costa del Sol between Torremolinos and Fuengirola."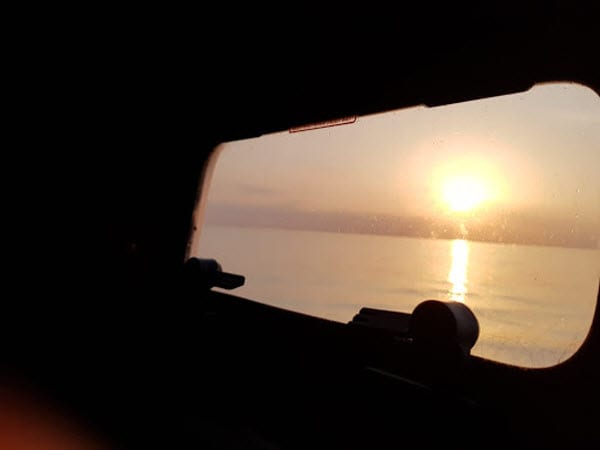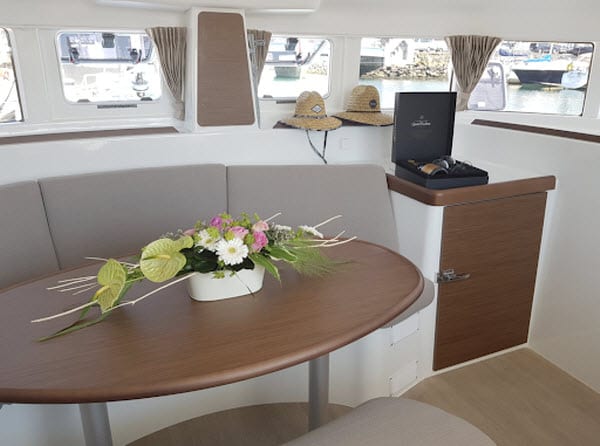 The Lagoon 380 is very spacious and very well designed
"We chose the 380 for her spacious interior. She's super easy to sail, well suited for the two of us to live and work on board comfortably and she has plenty of indoor and outdoor living areas.
The 380 is such an incredibly well designed boat because Lagoon have had a lot of time to refine the design. It has been in production for 20 years, which is a massive thing.
In fact, there's so much space we've had to resist the temptation to fill it all up. The shower is enormous and there's more than enough room for the two metre high, 488 kg box of toys we brought with us!
So there was no need for us to rush straight in and make modifications immediately. We had the luxury of being able to get used to the boat first before we decided to make some customisations."
We can now live off the grid
"Because we plan to live and work abroad for many years, our top priority for customisation of the boat was to have the ability to live off the grid.
We installed 1000 watts of solar panels, a water converter and increased our battery capacity … in fact, we like to call our solar arch on the back of the Lagoon our 'arch de triumph'!
We've been into the guts of our boat with the work we've been doing and we discovered that everything was very nicely laid out under the panels. The plumbing and wiring diagrams were also very straightforward, making it easy to customise.
We really feel like hippies going off the grid, but it's given us so much more freedom. We can now stay overnight, sitting on anchor just 200 metres from the marina and our batteries only drop to 80% charge overnight. It's dead quiet with no neighbours and incredibly peaceful."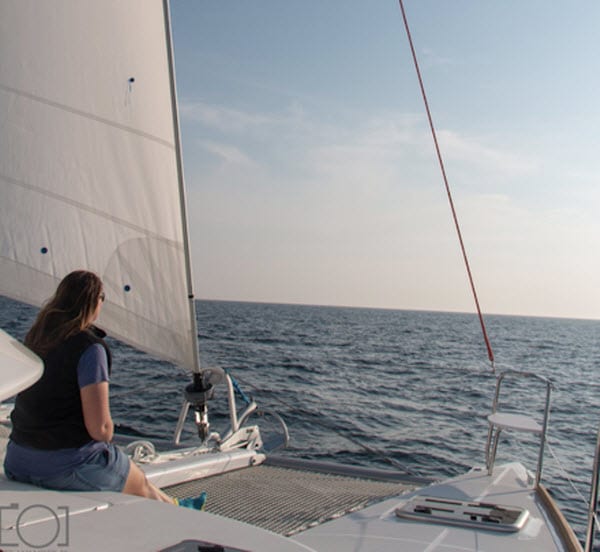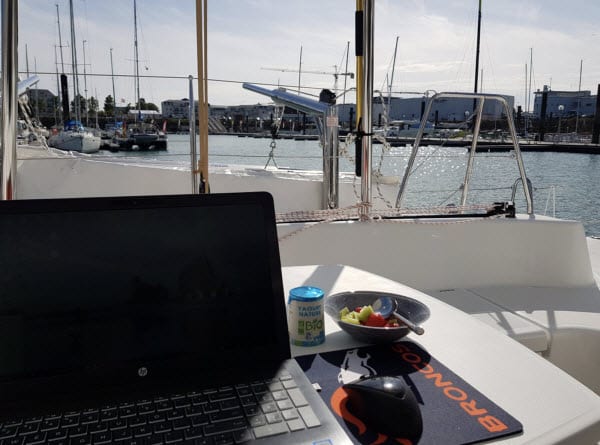 We can run our business from anywhere in the world
"Another modification that was right up there on our list was to install a dive compressor. We both love our diving and we probably have enough gear on board to open a dive shop!
Before we cross the Atlantic, we're planning to install a freezer and we're pretty much in agreement that a dishwasher is a relationship saver!
We're also looking to get a satellite phone for when we do crossings, but basically if we have electricity and connectivity we can run our business from anywhere in the world."
There have been so many highlights already
"Vigo was an unplanned stop because the weather was messy. It's a really beautiful place, with awesome seafood and the marina was so close to pubs and bars.
We caught our first fish on Tuesday. It was a mackerel, but not a Spanish Mackerel as we know them in Australia. Apparently they don't have Spanish mackerel in Spain! And we're planning on catching up with friends in Barcelona very soon to go deep reef diving.
We've also discovered that a lot of the marinas in Europe will lend you bikes so we've had the chance to explore so many beautiful places. There's just so much history out there … we like to joke that it's not historic unless it's older than Australia!
Ibiza is also a great island to anchor off no matter what the wind direction is."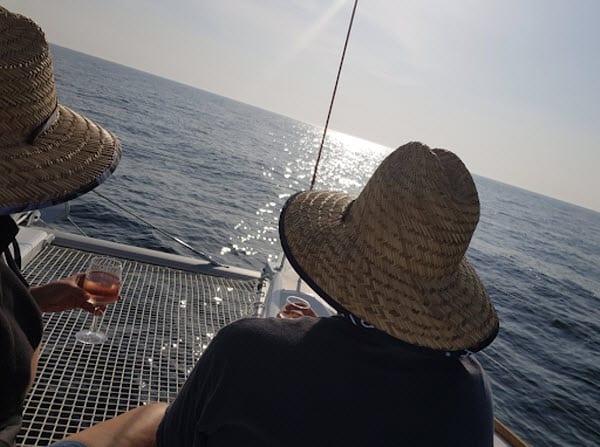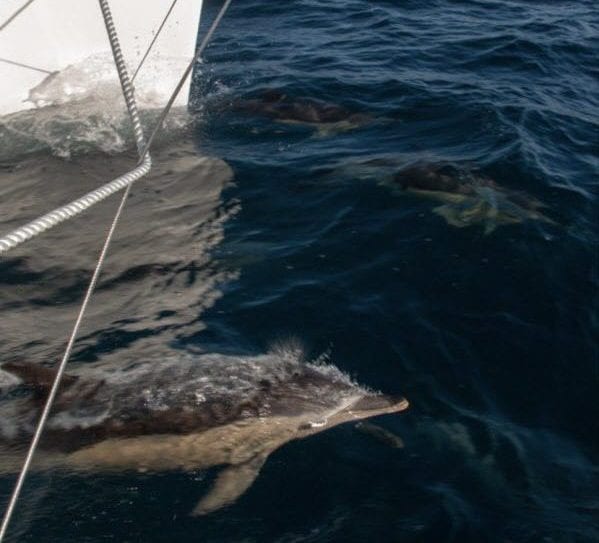 If we'd known how great life is on board a Lagoon, we'd have made the change years ago!
"We're now tossing up 50/50 whether to head to the Caribbean or Croatia, but we're really itching to get into the South Pacific and visit the remote islands and go diving in places like Bikini Atoll and Vanuatu.
Chuuk Lagoon in the Northern Pacific has some amazing wreck diving. 
This is where the Japanese lost their navy in WWII and there are over 100 ships, planes and submarines all in close proximity, situated in shallow clear water.
We are so happy and comfortable and we plan to continue our adventure on our Lagoon 380 until we get bored with it … which is certainly not any time soon.
As accountants, we've had some horrible offices to work from but now we look out from our 'office' at pods of dolphins and wake up to stunning sunrises.
To be honest, if we'd known how great life is on board a Lagoon, we'd have made the change years ago!"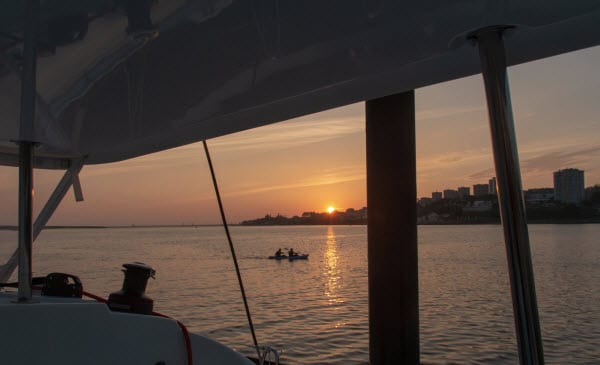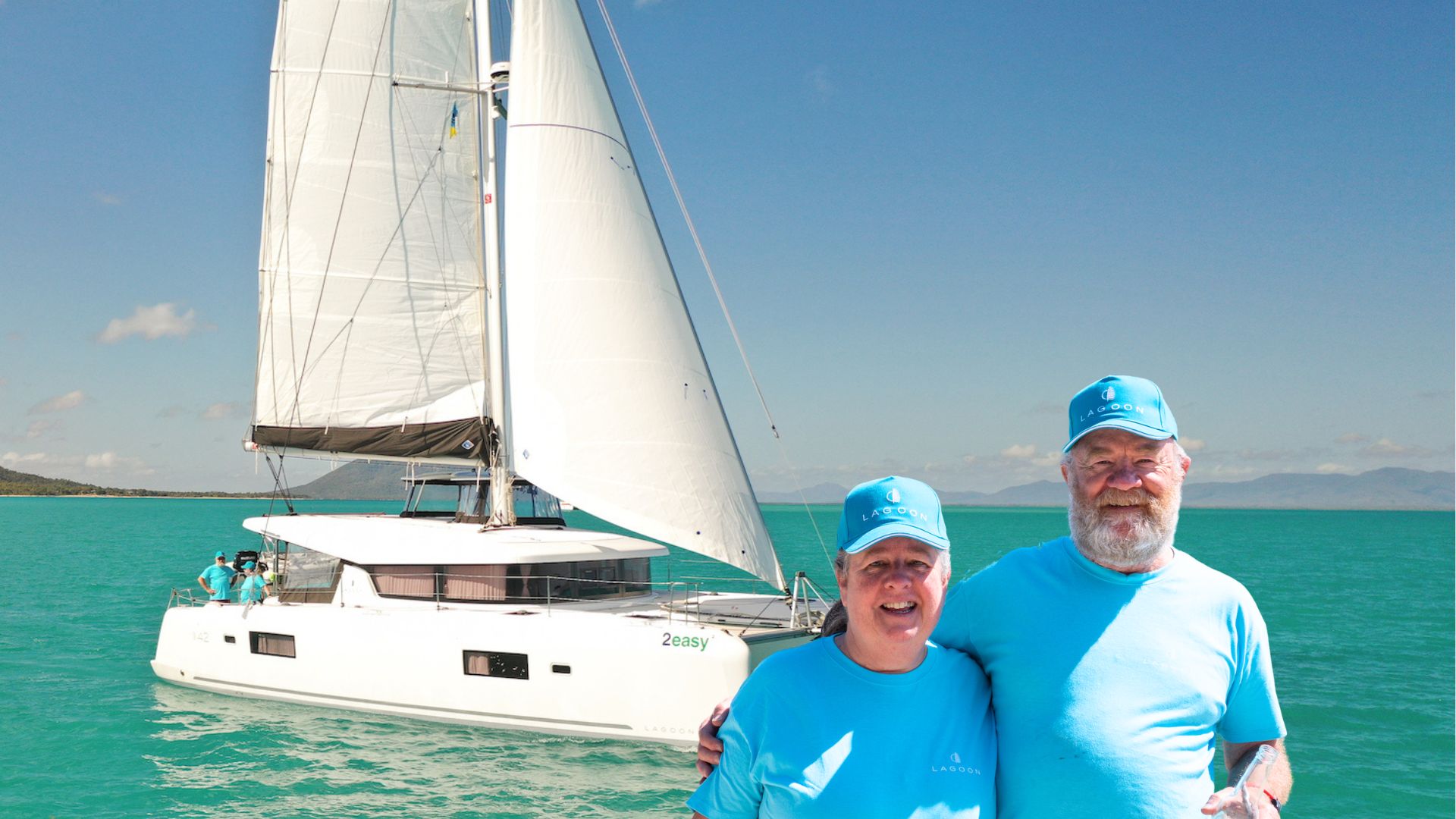 "I first saw the very first Lagoon 42 that came to Australia at the Sydney boat show in 2015. I just felt that it had everything I needed, we purchased the boat through TMG and we've been looked after very well by all the staff. We've really enjoyed the boat the first 5 months" – Ross Smith Lagoon 42.
read more