The Jones Family take delivery of their new 42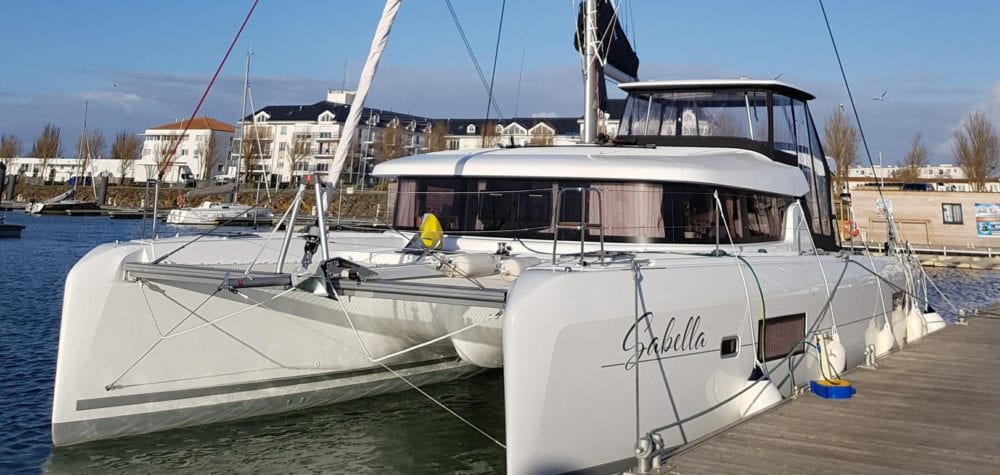 At the end of January 2017, a VERY excited Jones family travelled to Les Sables-d'Olonne for the handover and launch of their beautiful new Lagoon 42 Sabella. TMG Yachts MD John Cowpe flew out to oversee the European pick up and make sure the Jones's set off on their live-aboard adventure with ease, confidence and of course, a bit of Lagoon style
The shakedown
"The first sail was a good lesson in expecting the unexpected. Aaron recalls "We went out with the whole family on-board on the Bay in Biscay, in winter, with a 2m swell which was sporting! We got the genoa out, we weren't game enough to put the mainsail up."
The second shot at it however was, in Aaron's words, "absolutely phenomenal."
"This morning John and I set up the gorgeous black code 0 for the first time and made sure it worked. This is a big light air headsail, twice the size of the normal genoa.
"We marked the main halyard. We hoisted the tender on the davits and it all looks ok – let's give it a shot!
"We're in Les Sables-d'Olonne and we're taking the boat out for a test sail and I'm floating on a cloud, I've got no idea what's going on! It's the most stunning day – in January no less!"
Aaron commented after the sail that "The weather was fine and the wind almost calm, but regardless she made 3 knots in 5 knots of breeze. What a clever little thing she is!"
A deep joy
The team from TMG Yachts want to make sure picking up a boat on the other side of the world is a positive, memorable and stress-free experience.
We ensure the vessel from the factory is ready for handover and we aim to put your mind at ease, help you navigate through any uncertainties and get you familiarised with your vessel.
The shakedown sail is when the fun begins!
"John Cowpe kindly came over from Sydney to do the handover."
"We cannot express the amount of gratitude we feel towards this gentleman, and his company, which has taken a complex and potentially traumatic process and turned it into something of deep joy for our family."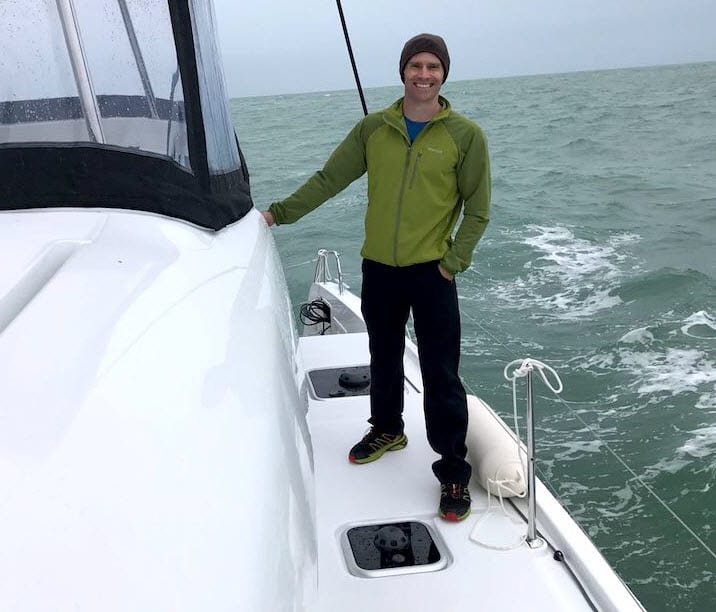 Can't beat that new boat smell!
"When we first arrived, the boat exceeded all expectations. New boat smell aside, it was the quality and the reception from Oliver and the team at Lagoon and having John fly over… we've got numerous welcome packages and presents on-board… it did exceed all our expectations," Aaron says.
"Our commissioning agent Sailing Atlantic Services has been exceptional in helping us out. The crowning achievement was when our tender, ordered from a third party, was delivered to their warehouse.
"I had been scratching my head as to just how we'd get it inflated, the engine installed, and transported to the boat. The next morning SAS knocked on our hull towing our tender, all set up and ready to go. There was nothing in it for them, just a random act of kindness!
"All the little extra details and thought…  the help from SAS and the rest of the commissioning team… I'm speechless. Lara and I are just over the moon with how we've been treated here."
It's an absolute dream
"I'm so excited. We've been living out of a suitcase for 2 months. I'm still a bit nervous…
…but mostly excited!
"Seeing the boat for the first time is not what I expected – it exceeded all my expectations.
"I thought it would be more scary, but everyone was really accommodating – SAS, TMG Yachts – the boat was set up amazingly well."
"It made me feel really special and really lucky to be able to experience something like this.  It felt great, every little detail was thought of," adds Lara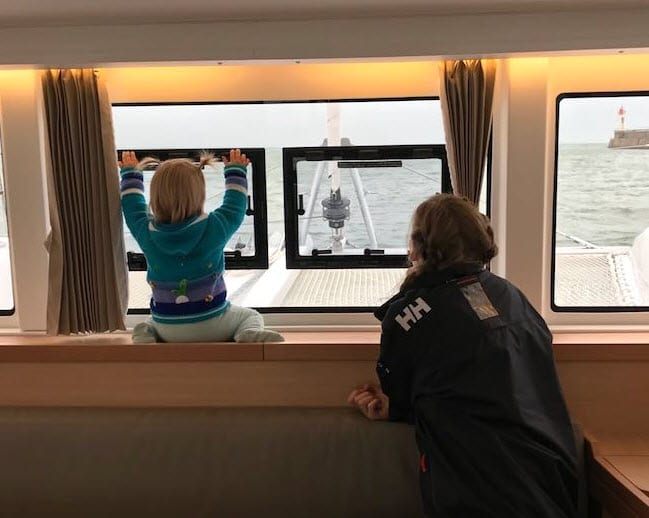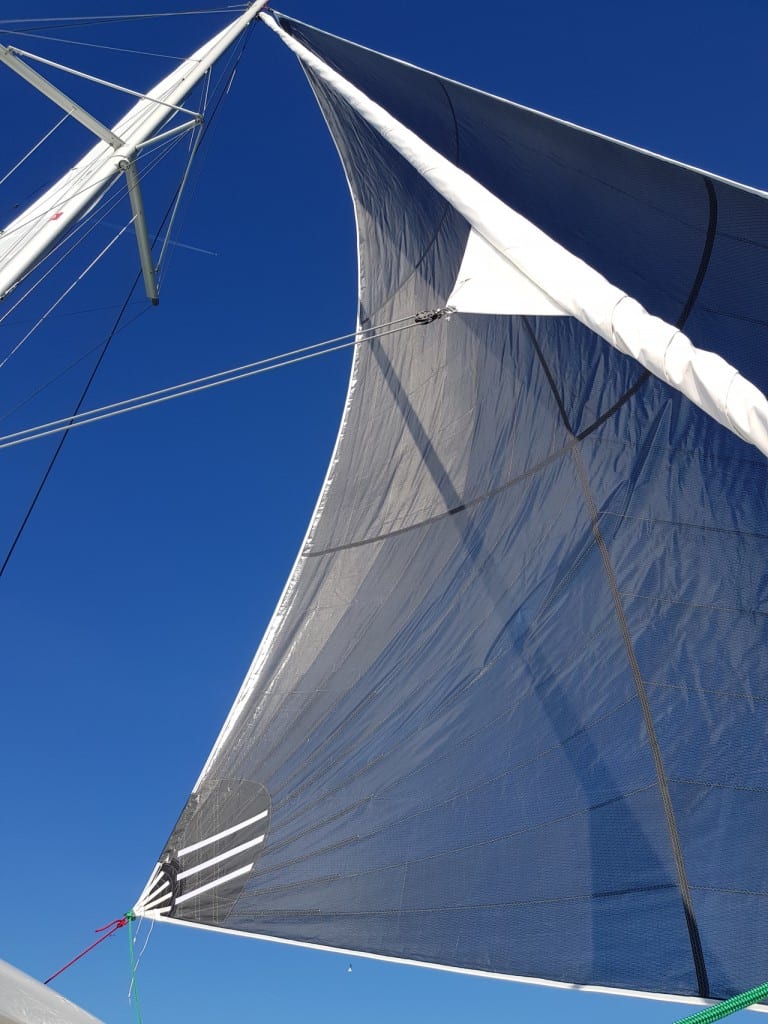 Champagne for Neptune
No handover is complete without the all-important naming ceremony, and appeasement of the god of the seas with a drop of champagne.
John was delighted to do the honours and share this special moment with the family.
"We christened Sabella this afternoon whilst tied up to the famous Vendee Globe dock.
"Luella proved that it is in fact possible to knock a camera tripod over whilst standing several meters away from it," jokes Aaron."
Lara adds "In our last video we were on someone else's 42, now we're on our boat! In Les Sables…
…in France… Hull #169!"
Welcome home Jones family – The Multihull Group wishes you fair winds and following seas.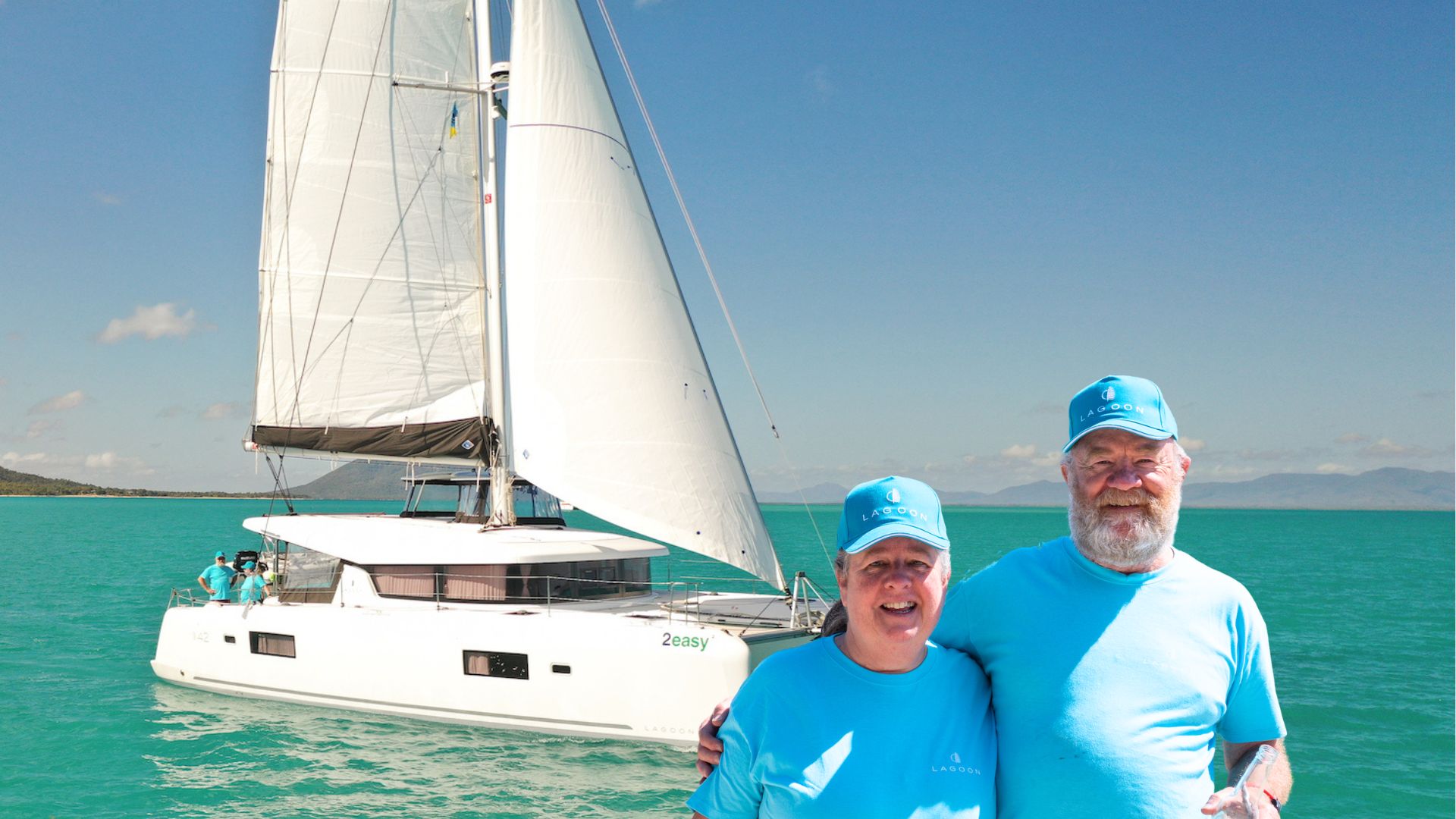 "I first saw the very first Lagoon 42 that came to Australia at the Sydney boat show in 2015. I just felt that it had everything I needed, we purchased the boat through TMG and we've been looked after very well by all the staff. We've really enjoyed the boat the first 5 months" – Ross Smith Lagoon 42.
read more