Just do it! A European Launch Story
Drew Hakin is a keen sailor and has clocked up many nautical miles around the globe. It was not surprising then that he opted for a European launch for his stunning new Lagoon 42, Adèle 1.
The option of sailing back to Australia from Europe gives Drew the opportunity to see yet more of the world, and to get to know his striking new boat. Plus turn a few heads on the way…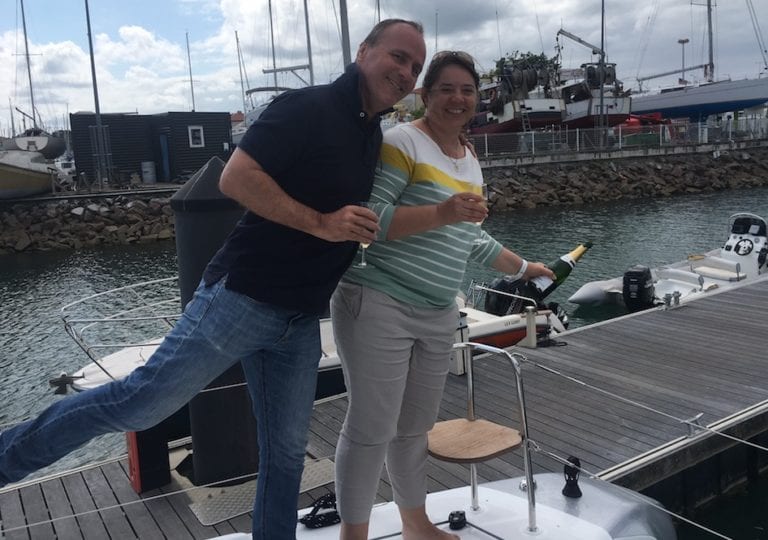 A smooth handover
At the end of July, Drew and his wife Eloïse picked up Adèle 1 from the port of Les Sables d'Olonnes, on the west coast of France. This is where new Lagoons under 50ft built at the Belleville factory are launched and commissioned.
Picking up a boat on the other side of the world can be daunting, but the handover process overseen by The Multihull Group was smooth from start to finish.
TMG Yachts European team member Tom Barker was on hand to take Drew through the features of the newly designed Lagoon 42. Tom's role is to check off the delivery and perform the final handover. This includes a review of the electrical equipment, the generator charges, the water systems and boat layout. Tom also showed Drew how to operate the navigation and sailing equipment, making sure he felt comfortable with everything.
This is a key part of the handover service from TMG Yachts – to make sure owners are comfortable with their new yacht and get the most out of it as soon as they take to the water.
And she's off
After the all important naming ceremony, Tom and Drew took Adèle 1 down to Port Varzim, north of Porto, to pick up Eloïse, and then they sailed on to Lanzarote in the Canary Islands. The weather in Les Sables d'Olonnes was not optimal so the run down to the Canaries gave them the chance to master the sails and get their first taste of the Lagoon's stand out performance.
"The boat is very well-thought out so it wasn't difficult to pick up how to handle her. Tom is knowledgeable and is very familiar with this model, so his instruction was invaluable".
During their time in Lanzarote, Drew got to know the boat a bit more, caught up on some work enabled by his handy wi-fi setup on-board, and made plans for the next installment of his adventurous sail back to Australia.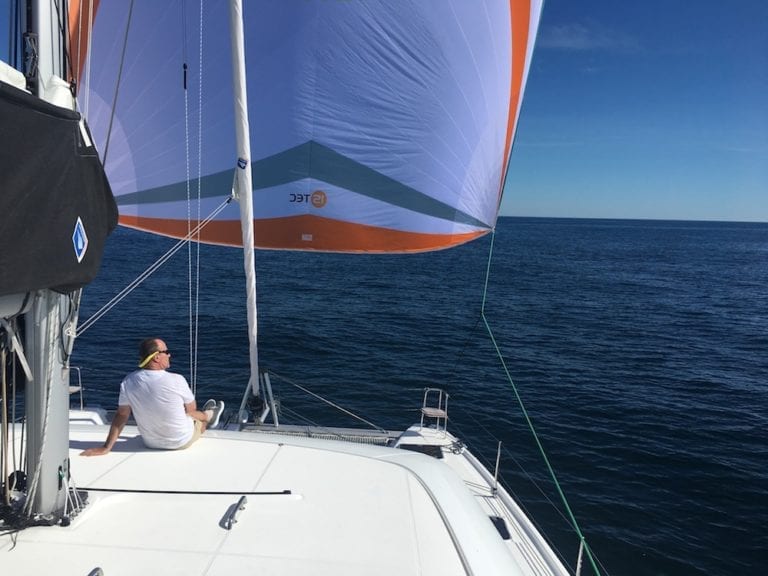 Why the Lagoon 42?
When deciding what boat to buy, Drew did his homework and shopped around.
"We looked around quite a bit, and investigated the opposition! We went for the Lagoon based on a number of things. The 42ft is the right size for us, and she has a good feel when under sail. The combination of layout and space was just what we were looking for. She has a good mix of features the we wanted in a catamaran…
…Importantly, the Lagoon 42 sails well short handed. I am used to a large monohull, sailing single handed. Comparably, the 42 is extremely easy to sail.
The 42 is a very, very nice boat. I'd be hard pressed to fault it. Usually with a new boat, after a while you find things you'd like to be different, but there's little of that with the Lagoon, it has been very well thought through."
The long way round
Adèle 1 is berthed in Lanzarote while Drew attends to work (and the garden) at home in Australia. He plans to return to Europe to take her on to Gran Canaria in a few weeks.
Her route back to Australia will be an enviable adventure. In October she will undertake her first ocean crossing, traversing the Atlantic via Cape Verde. Participating in the Atlantic Rally Cruise, Drew, along with his nephew and good friend from South Africa, will join about 50 other boats in the social and semi-amateur crossing. Drew is looking forward to the trip, and giving the Lagoon 42's systems a full work out.
In the Caribbean, Drew plans to do some exploring, and then again to leave Adèle 1, before returning to head down to Panama, when it's the right time to sail back across the Pacific.
Drew has arranged for Tom Barker to go to Panama to prepare the boat for the next leg – a valuable service for a busy man. The route he has in mind will take him via the Galapagos Islands and French Polynesia, then perhaps Auckland before Adèle 1 is officially homeward bound. Quite a trip!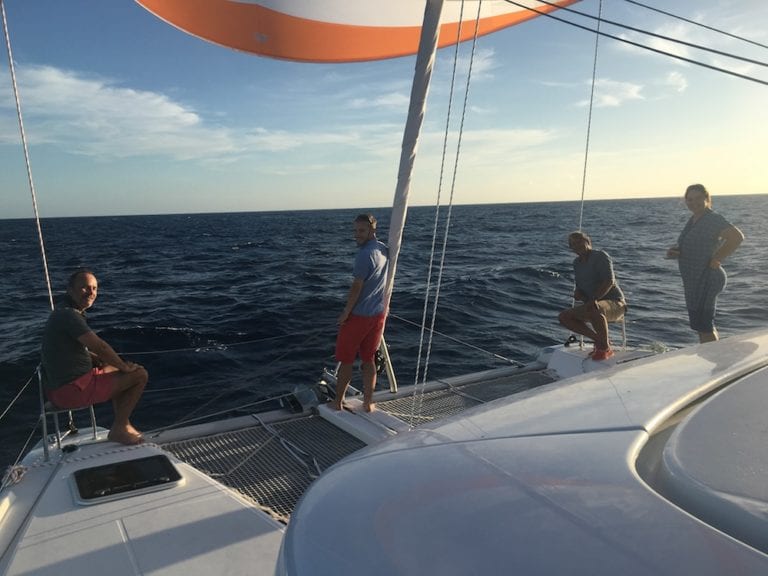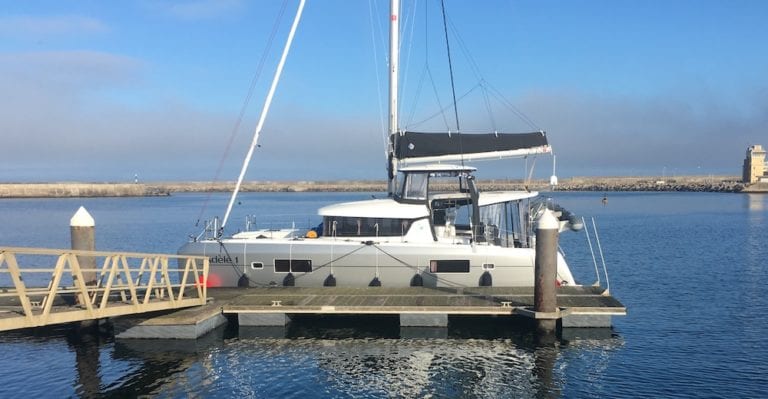 Advantages of a European Pickup
Drew runs a busy facade engineering company called DHC – the company logo can be seen on Adèle 1's eye catching sails. His packed schedule usually only allows him to manage an ocean crossing every 5 or 10 years – he has ticked off both the Indian Ocean and the South Atlantic. But the European pick up option will give him the opportunity to complete 2 crossings in the next 6 months which he is really excited about.
"I think it's a fascinating and great way to live… I had the choice to wait until semi-retirement in a few years or to just go ahead and do it. And I am lucky to have the choice of setting the boat up so I can work anywhere in the world.
You never know what will be in 5 years, your health and circumstances can change at anytime. I would say if you want to do it, just do it… So many people put things off until retirement, and then can't achieve their dream when they get there. I'm happy with my choice, It stretches you a bit and you juggle a lot of things, but with good people like Tom Barker and the team at TMG Yachts, you can follow your dream".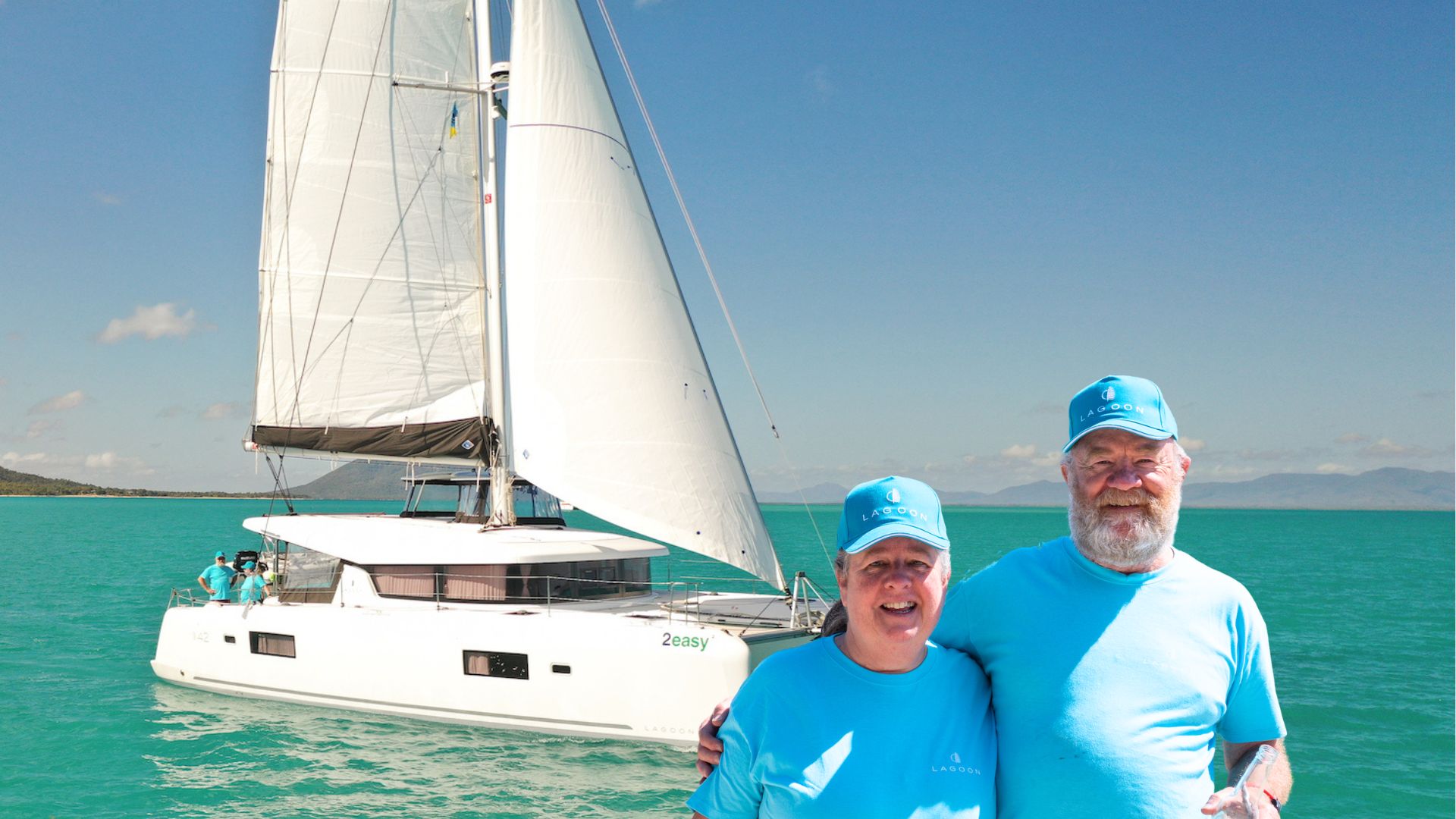 "I first saw the very first Lagoon 42 that came to Australia at the Sydney boat show in 2015. I just felt that it had everything I needed, we purchased the boat through TMG and we've been looked after very well by all the staff. We've really enjoyed the boat the first 5 months" – Ross Smith Lagoon 42.
read more