Wonderful memories sailing Sabella
Since the end of 2017, we have watched with delight as the Jones family planned their live-aboard adventure.
From picking up their perfect new Lagoon 42 in Les Sables d'Olonne in mid-winter to training a two and four year old to be useful deck-hands, Aaron and Lara have been generous and open in sharing their story, including the ugly bits!
Their adventure has inspired us, made us laugh, and stirred jealousy in even the most practical of landlubbers.
Their open-ended on-water journey is sadly ending on a bitter-sweet note, cut short due to a health issue that is now the family's priority.
But in 6 short months, the Jones family have embraced their new life with such gusto and determination, that we are sure this won't be the last we hear from them. Aaron kindly wraps up episode 1 for us here. We can't wait for the sequel.
Planning a new life
Aaron and Lara planned their live-aboard adventure many years ago before they had kids. But they never committed to a date until they took the leap and bought Sabella. With startling efficiency, they managed to pack up their lives and put a plan together in around 4 months, before heading off to France to pick up their dream boat.
"During that time we sold our house, the cars, the caravan… we packed up our things and sold, stored or shipped the rest to Lisbon. We visited the doctor for a comprehensive medical kit to have some self-sufficiency with the kids onboard.
When we arrived in Les Sables in January there were boxes from all over Europe waiting for us – the tender, the life-jackets, all our other items for Sabella's fit-out. We moved onboard and set off. It was a very exciting time."
What services does Tahiti Crew provide to
TMG Yachts

Lagoon owners who would like to visit French Polynesia?

"Tahiti Crew is a marine conciergerie and as a partner of TMG Yachts they have the capabilities to organise everything regarding immigration and customs, as well as boat parts, technical assistance, wash down, boat keeping, etc for TMG Yachts Lagoon owners who wish to visit French Polynesia.

If you are a non-European sailor, you have three options to enter French Polynesia. You can post a bond at the bank (the equivalent of a return ticket to Australia), own a return ticket to Australia or use the services of Tahiti Crew to organise a bond letter for you."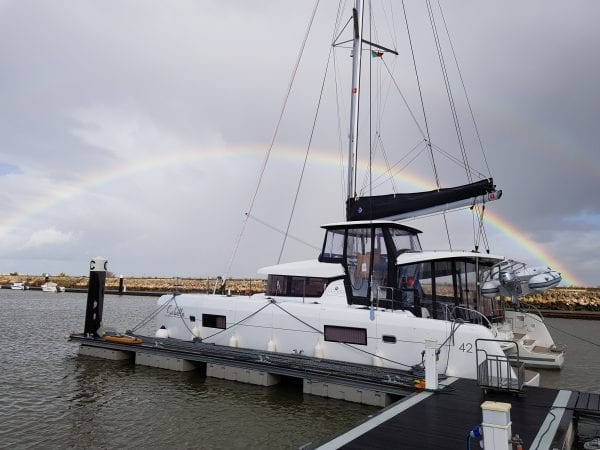 No expense spared
Aaron and Lara's vision for Sabella was to create a safe, comfortable, reliable space that would provide a home on the water for their young family for a long time.
"Our planned adventure was going to last for an indefinite period, so we spared no expense. She has top of the line gear and a full suite of safety items as required by Australian regulations."
She boasts 1675 Watts of solar power from five panels – an important choice for Aaron and Lara who wanted a maintenance free, sustainable option.
From an 8kg washing machine to the fun little fishing kayak, the Joneses made this boat their home.
The experience of a lifetime
"From our 6 months onboard, there are so many personal highlights.
From a sailing and cruising perspective, I can hardly put our time in the Balearics into words. Formentera in particular, some of the anchorages there once the crowds had gone for the day were absolutely stunning. We have very fond memories of that part of the world.
On a personal note, seeing our young girls develop was something special. We gave four year old Luella more jobs as time went on. Initially, she looked out for fishing pots…
She would remind us to turn on the anchor light and turn off the gas. She even gave our first guests the safety briefing!
Seeing wild dolphins swimming alongside the bow in the Atlantic is something we will never forget. We have so many fond memories that we will carry with us forever."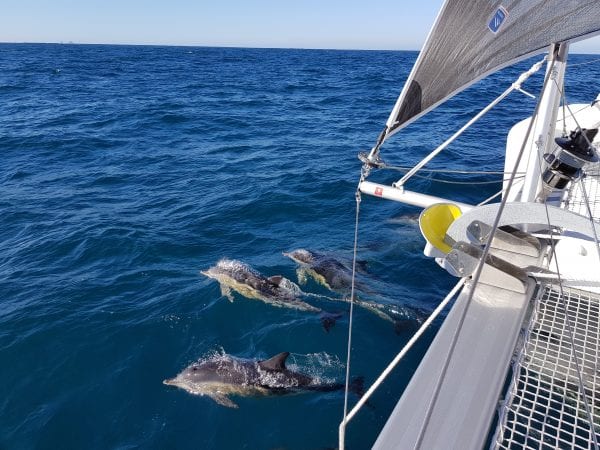 A sense of achievement
"When we left port at Les Sables, we started as a family with no idea about sailing apart from going on a couple of charters in the Whitsundays.
The Atlantic coast in France in the winter was full on. Kids screaming, the adults not knowing what to do… all hell breaking loose… that was the beginning.
A couple of months later, arriving in the Med and the Ballerics it was a much calmer affair. Everyone knew what to do.

And I was capable of sailing single-handed which gave me quite a sense of achievement.
So we went from absolute chaos to being a family who felt very much in charge of the boat and very capable at sea."
Until next time…
Aaron and Lara are passionate about seizing opportunities in life and despite the unexpected curtailing of this adventure, their message is clear… do it!
"For other families considering this sort of adventure on a Lagoon 42, I'd advise them to stop stalking other sailing families on Facebook like I did for 10 years! Draw a line in the sand. Set a date. Decide to do it and off you go.
When Lara told me she wanted to buy a boat, we bought a boat and off we went. We found ourselves sitting in idyllic (and I don't use that word lightly) anchorages almost every night.
Looking through crystal clear water at the bottom of the ocean 10m down and wondering if life could get any better… it just doesn't. Would we do it again? In a heartbeat."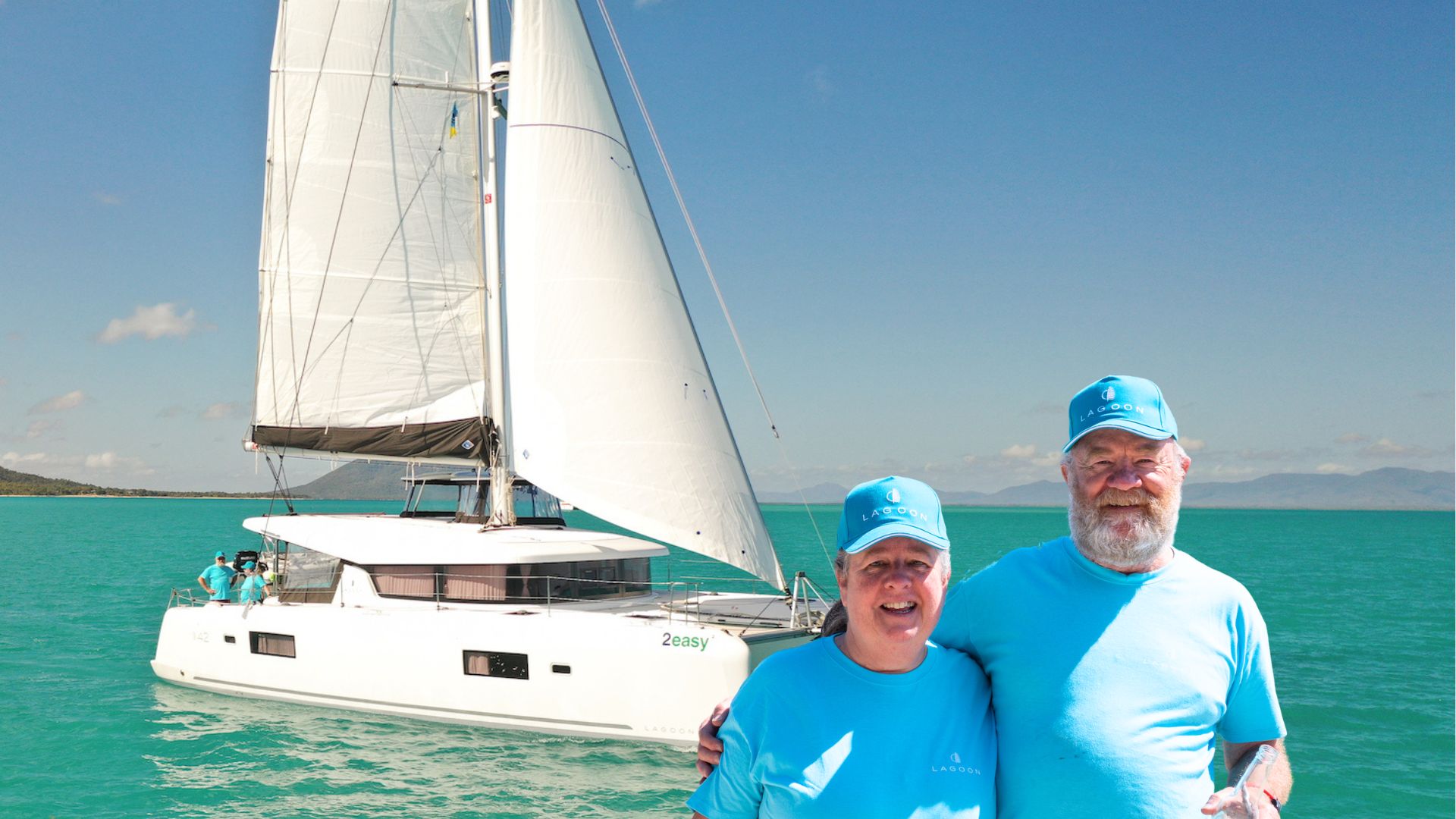 "I first saw the very first Lagoon 42 that came to Australia at the Sydney boat show in 2015. I just felt that it had everything I needed, we purchased the boat through TMG and we've been looked after very well by all the staff. We've really enjoyed the boat the first 5 months" – Ross Smith Lagoon 42.
read more