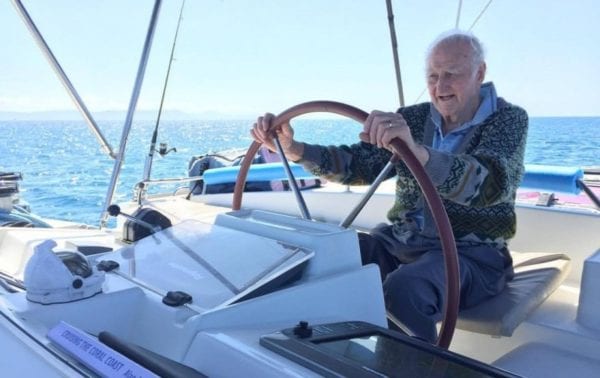 It has been about 6 months since the Waters family took to live-aboard life with their young family. They have been sharing their beautiful images of life on-board Pacific High with their Facebook followers and inspiring many a family to set sail. Not to mention showing us what a Lagoon kitchen can create!
We checked in with Kristy to see where the wind has taken them.
'The furthest north we've been was to Port Douglas. A few family members flew over from WA to join us, and we had great fun heading to the outer reef. My 87-year-old grandad came out and impressed everyone with how well he got around the boat.
'We love showing the family around. We took them snorkeling out at Michaelmas Cay, kayaking, standup paddle boarding, and fishing. The kids are off the boat as soon as we anchor. There's always something to do. And we usually spend most of our time out of marinas, preferring instead to anchor offshore.'
Keeping up with the kids
'Live-aboard life with kids has been awesome. Max has learned the most. He's Darren's little shadow, and now he knows heaps of boat terminology, how to tie knots and handle the sails. He is getting a lot out of the whole experience.
'Tyler has enjoyed herself too. But she does look forward to catching up with her friends. She has learned a lot about the boat – handling the sails and how to put the anchor up and down.
'When she's not helping with boat duties Tyler loves spending time with baby Frankie. She also plays her violin and we've purchased a keyboard for her since we've been aboard.
'Frankie stays around in her little area. We have 3 safety gates inside now, so she has the whole indoors as a safe space. We installed the safety nets around the exterior as soon as we could… you need them or you couldn't put Frankie down.
'The boat itself is actually pretty baby friendly. All the cupboards have push buttons, and the furniture is fixed in place. Boat life is all she knows so it's fortunate she loves the water!
'Schooling is going well for the kids, although it probably works better for Tyler. She can participate in 'live' classes on the internet and she's getting good grades.'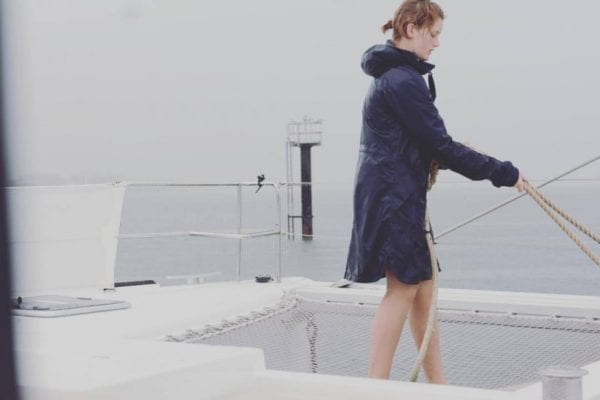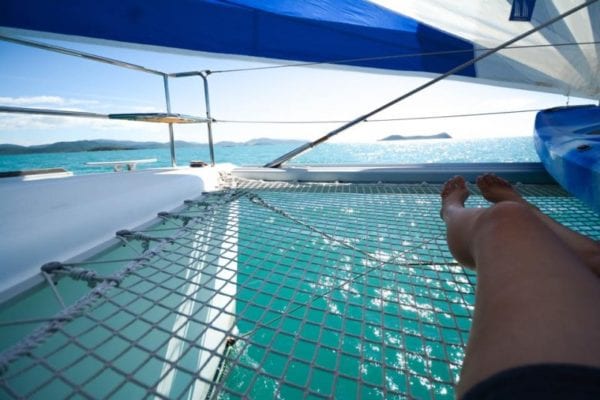 Fun with the 'goonies'
When they were at the Lagoon Escapade in the Whitsundays in July, Max really enjoyed spending time with other live-aboard families who attend remote schooling. They met up with some of these families again at Magnetic Island after the event.
'The Escapade was amazing. Seeing all the other Lagoons and meeting the other owners for the first time was fantastic. It is such an awesome idea to get everyone together. It was a really beautiful couple of days. We loved meeting such a diverse group of owners too, from retirees to young families, a great mix of people.
'It was also great to chat with other live-aboard families and see what they're doing to keep their kids entertained, especially on long hauls which can be a challenge. Tyler will read all day but Max needs a bit more activity! He loves board games and gets the fishing lures out at every opportunity.'
Lagoon life
'Lagoons are perfect as a live-aboard option. They have plenty of room, everyone in the family has their own space. Tyler can be off in her room, Max on the trampoline burning off energy, Darren keeping on top of the maintenance. The boat never feels cramped.
'Once we got on top of handling the boat at the start, it runs really smoothly. We mainly just keep up its appearance now, polishing the finishes and keeping it clean.'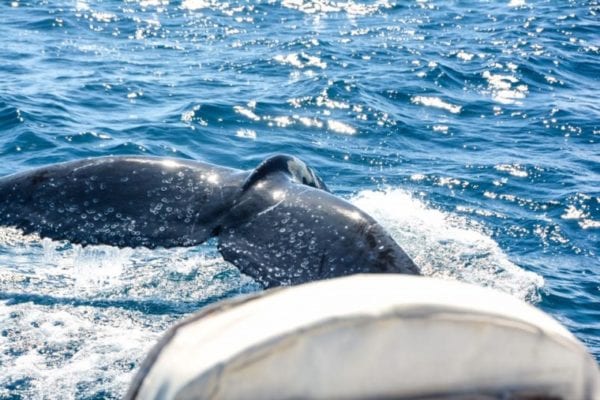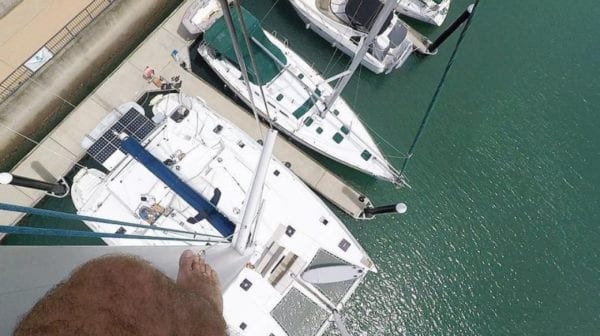 Magic moments
'There have been some magic moments in the last 6 months. Around Airlie Beach, we were motoring along and a whale popped up. So we stopped the engine and the whale hung around the boat for a good 15 minutes which was lovely for the kids.
'We've seen so much marine life around the reef. The green zone is full of fish and turtles, it's really gorgeous.
As well as Kristy documenting their sites and experiences with her beautiful photography and Facebook page, Tyler is keeping a diary and is working on a video montage for Max.
Learning through challenges
'We've learned that we work really well as a team. Not having any sailing experience could have been a challenge, but we've faced up to that well.
'The other night there was a big storm south of Cairns. We were anchored in a river, and the anchor dragged in 4m of water. Fortunately, someone alerted us with a torch that caught my sister's eye in her cabin at midnight. I stood out front and Darren navigated through the river, and we got onto it quickly.
'My sailing skills have really improved. My dad was with us for the first 7 weeks and during that time he and Darren got a handle on working the sails, and I had to take up the deckhand role. It has been such a great learning experience.'
A sense of pride
'I'm proud of myself for tackling the hands-on tasks. You have to be forward-thinking and have systems in place for everything, such as coming into a dock. When we first got on the boat we had experienced friends with us… and we were nervous bringing the boat into the marina. But now I'm confident and know what I'm supposed to do. I've learned skills I'll have forever.
'Darren was frustrated at the start if something went wrong, even something simple like the batteries getting low. But now he knows the boat inside out. There haven't been any dramas with the boat that he couldn't fix himself. He considers himself quite the Lagoon expert now! And he has really mastered the sailing itself – that's been a huge sense of pride for him.
'We have had some amazing experiences. Sailing is something we all love, and most importantly we all really like being together and enjoying quality family time. We're creating memories that will last a lifetime.'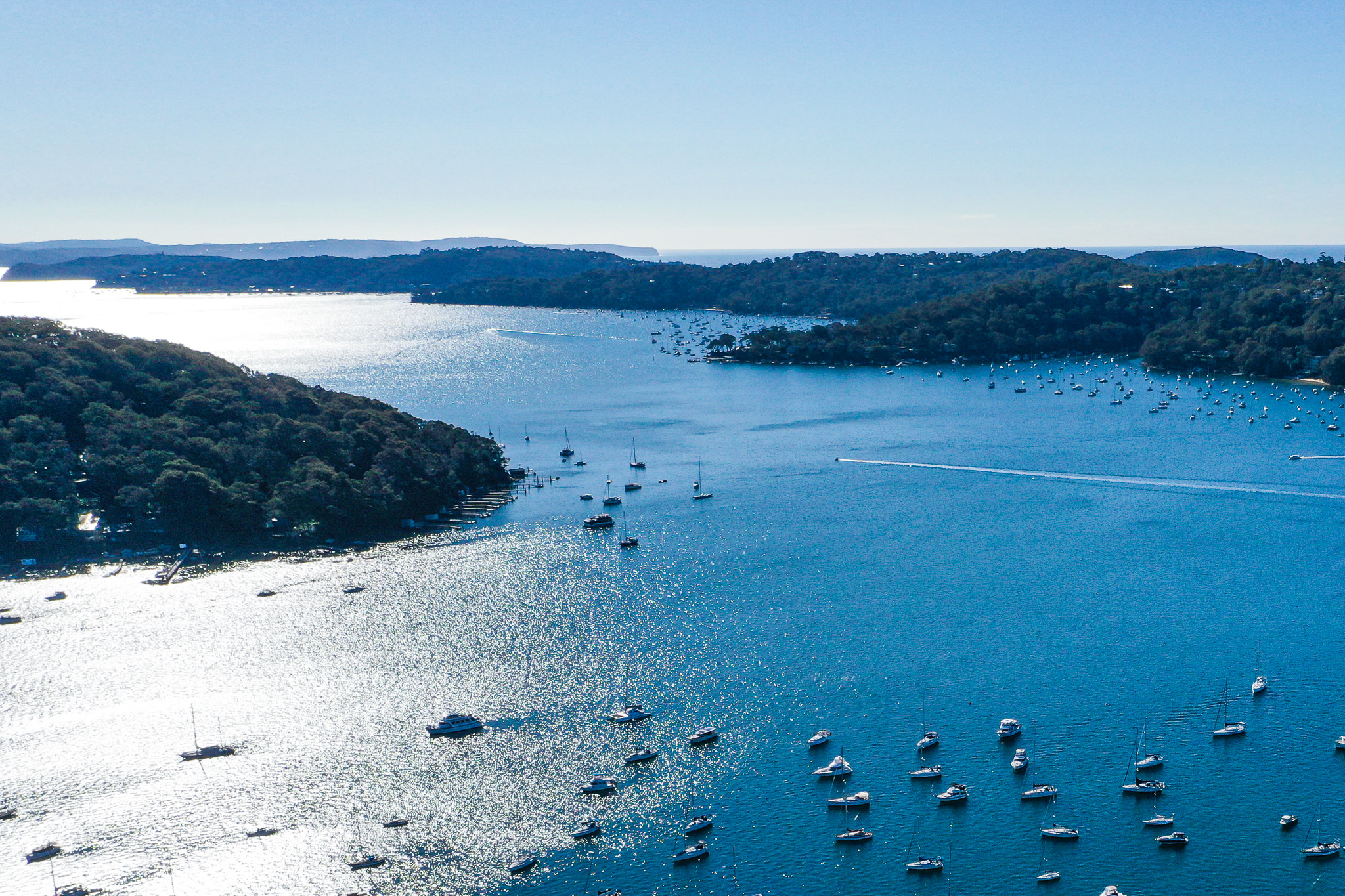 Surrounded by 30,000 hectares of unspoiled and spectacular Ku-ring-gai Chase National Park and only 35 km from Sydney's CBD, Pittwater and the Hawkesbury are two of the most picturesque cruising destinations in New South Wales.
read more