The liveaboard life Lagoon style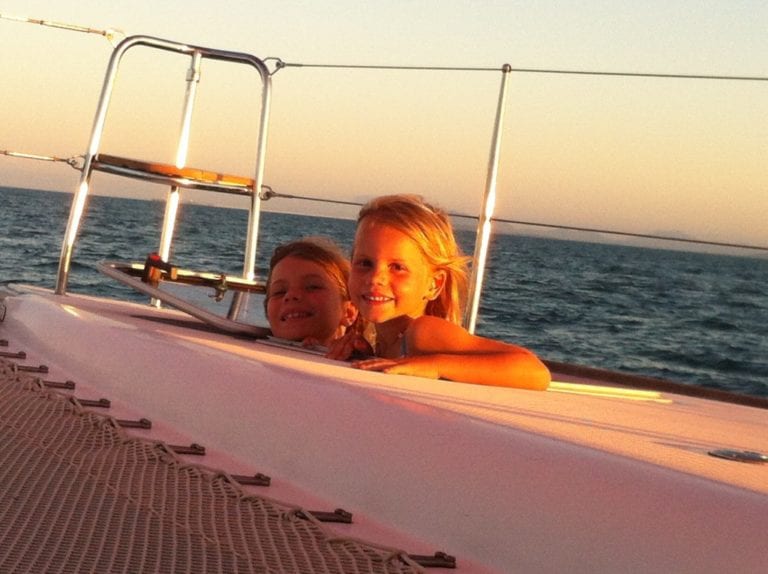 Life on-board Katsumi, the Atkinsons' Lagoon 400, is anything but dull. For 6 years, Nick and Lyndy have lived on-board their 40 foot catamaran with their two daughters, Lily, 11 and Sayuri, 9, with the ocean as their backyard and the beach as their schoolyard.
The family is currently docked in Sydney, while Nick, a qualified engineer and navigator, works as manager/skipper/engineer aboard a private charter yacht . The family are using this time to prepare their boat for their next adventure- redoing solar panels and other bits of maintenance, and can't wait to get cruising. They keep their ocean cravings in check with cruises around Sydney at the weekend, a time reserved exclusively for family activities. When based up in Queensland a weekend trip might take them to the Low Isles or Lizard Island; a new adventure is never far away.
The Atkinsons love their catamaran. They had the design in mind for 20 years, and even though they weren't actively looking, when they saw the Lagoon 400, they found the exact layout they had been dreaming of. Nick's parents lived on-board a catamaran, so they knew what to expect: they auspiciously sold their Beneteau 40 and their house on the same day and didn't look back. They are very happy with their boat, and it is extremely comfortable, but life aboard has meant some small modifications and additions which they share with the readers of their blog.
Lily and Sayuri have managed their unique lifestyle well from the start, it's all Sayuri has ever really known. They are desperate to go cruising and can't wait for the next opportunity to swim off the back of Katsumi or swim over to an island to explore. Now that they're a bit older, they are literally learning the ropes from their very qualified dad. Nick teaches them deck and engineering, navigation markers, tying bowlines; they are immersed and learning every day.
In fact the learning opportunities for their children are huge. The Atkinsons moved onto their boat after Lily had been at school for only one year, so it was relatively easy to make the decision at that point; and they adopted instead a less conventional way of schooling; often called 'unschooling'. With the ocean as the girls' schoolyard, Lyndy is always looking for learning opportunities that arise organically from their day to day experiences.
Lily is fascinated with sea life, so Lyndy has built upon that interest with educational movies and stories about the Great Barrier Reef. A visit to Reef Teach in Cairns with Nick quickly showed Lily knew more than the adults around her!
While kids return to school after the Easter break, Lily and Sayuri are visiting the Maritime Museum in Sydney to learn about Pompeii. Lindy observes the kids' interests, and if they have a question, they explore the answer together. A visit to Cooktown meant exploring cave paintings with an indigenous elder. They learn maths through baking and cooking, and as they get older, reading charts, navigation, and planning and provisioning will allow them to stretch their capabilities; the girls learn in real life and real time and education is a 24/7 opportunity. Lily and Sayuri are not that different to their dry land friends though, earning pocket money from doing chores, and enjoying episodes of "Horrible Histories" like most 11 and 9 year olds!
There can't be a better lifestyle for building memories for a young family, but a particular experience still delights them. Shortly after buying Katsumi, they were heading north and stopped at Hope Island, taking the dinghy ashore. A lady on the beach advised them to watch out for the turtles, and they spent the evening protecting the hatchlings from gulls as they headed into the water. Lily helped, and added the experience to her log book, a magical experience that would not have happened if they didn't live on a boat.
Life on at the dock is very different to life at sea, even though the boat is always home. At the dock a 'normal' evening is a bit of TV and an early night for the girls. But out on the water, it always feels like 'holiday' even if only for one night. The music goes on, they look at the star charts with the girls and Nick and Lyndy enjoy a glass of wine on the deck.
After 6 years on the water, the Atkinsons wouldn't live their lives any other way. They are motivated by thoughts of the next cruising adventure. They enjoying meeting other live aboard families, and will often choose their destination based on wherever other boats are. Next up might be the Pacific, Indonesia or Thailand to visit family or just heading north at own their own pace. If Nick's work commitments permit, they would love to join other Lagoon owners for the Whitsundays Escapade in July before heading north.
For now, life is working out just as they planned, and as long as Nick and Lyndy and their girls are happy, they see no end to their live aboard lifestyle. Family time is paramount, and they are always looking at that horizon.
Read more about the Atkinsons' adventures at homeschoolahoy.com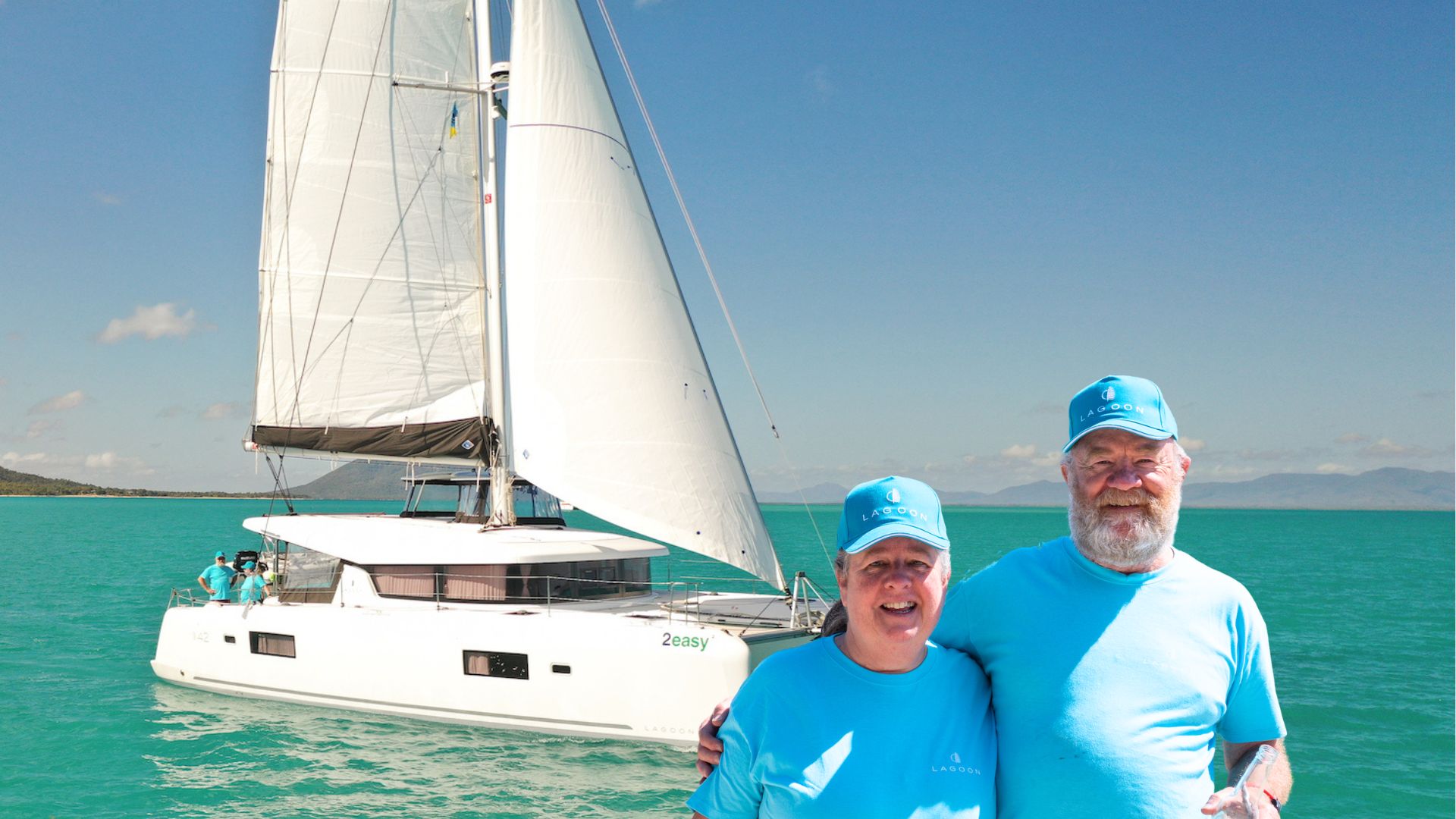 "I first saw the very first Lagoon 42 that came to Australia at the Sydney boat show in 2015. I just felt that it had everything I needed, we purchased the boat through TMG and we've been looked after very well by all the staff. We've really enjoyed the boat the first 5 months" – Ross Smith Lagoon 42.
read more