Sailing Sabella April Update
Wintering in Lisbon
Having weathered the harshest of the European winter in Lisbon, the Jones family is getting ready to move on. They have spent the last month making updates to their Lagoon 42, getting to grips with live-aboard life with two young kids, learning new skills and enjoying little moments of family bliss. Aaron tells us more…
"The weather is slowly getting warmer, the days are getting longer and that means we're getting ready to leave Lisbon. It's been an action-packed end to winter here in Portugal, never a dull moment for this young family. We've had challenges aplenty and many little adventures both at sea and ashore.
When we packed up our lives in Australia, we sorted our stuff into 3 piles, one to give away, one to store in a shipping container on a good friend's block of land and one to ship to Lisbon. The Lisbon pile ended up as 8 remarkably well-travelled boxes and arrived, unscathed, 3 months later. Excitement!"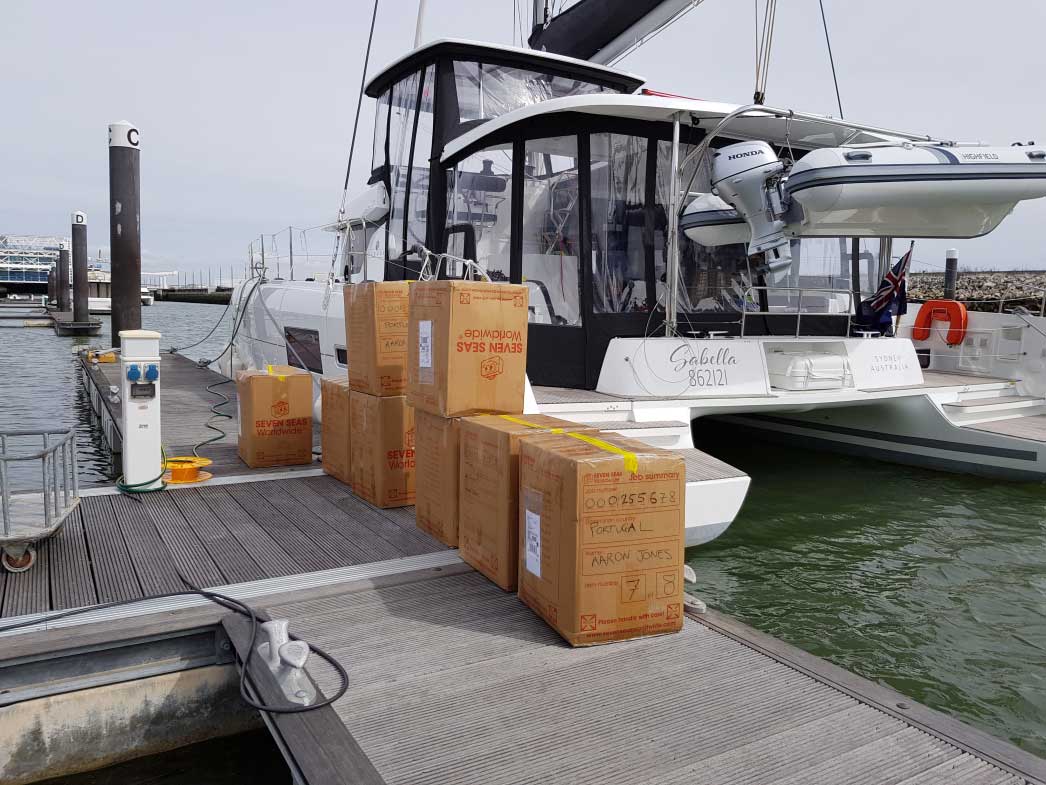 Boat updates
"We're about halfway through Sabella's aftermarket fit out, it's been quite the project to manage, particularly as the Portuguese seem to keep different working hours from the average Aussie.
Nevertheless, we expect to have everything done in time to set sail by mid-April.
Most importantly, we'll have our solar array for energy production, more batteries to store that energy and a water maker for self-sufficiency.
We've done some of the work ourselves too, like installing an excellent water filter under our drinking water foot pump and adding 6 Caframo Ultimate fans.
Running the wires for these was like going caving in a tight (prickly fiberglass) tunnel. I discovered parts of the boat that I never imagined existed and hope to never see again.
It was a delight to turn them on and see them not only spinning but spinning in the correct direction!"
Kids onboard!
"It sounds obvious, but learning to sail a big cat, whilst trying to keep 2 scallywags safe and ideally entertained, is hard work.
We reckon we're a fairly capable couple, and taking Sabella sailing is right at the limit of those capabilities. Our morning "let's go sailing routine" generally goes something like this….
Picture a rigid 10am departure from the marina to meet a slack tide and minimal cross current, at 9.45 I start the engines and prepare the docklines to slip, at 9.50 Sabine goes into meltdown (sensing our tension no doubt), at 9.55 Luella follows suit, at 9.58 we have a loud (to be heard above kids wailing) discussion about how to get off the dock whilst trying to avoid the boat next to us with the wind blowing us on, at 9.59 the crowds gather and assume their seats in the peanut gallery, 10.00 and we're still on the dock about to miss our slack tide exit from the marina…"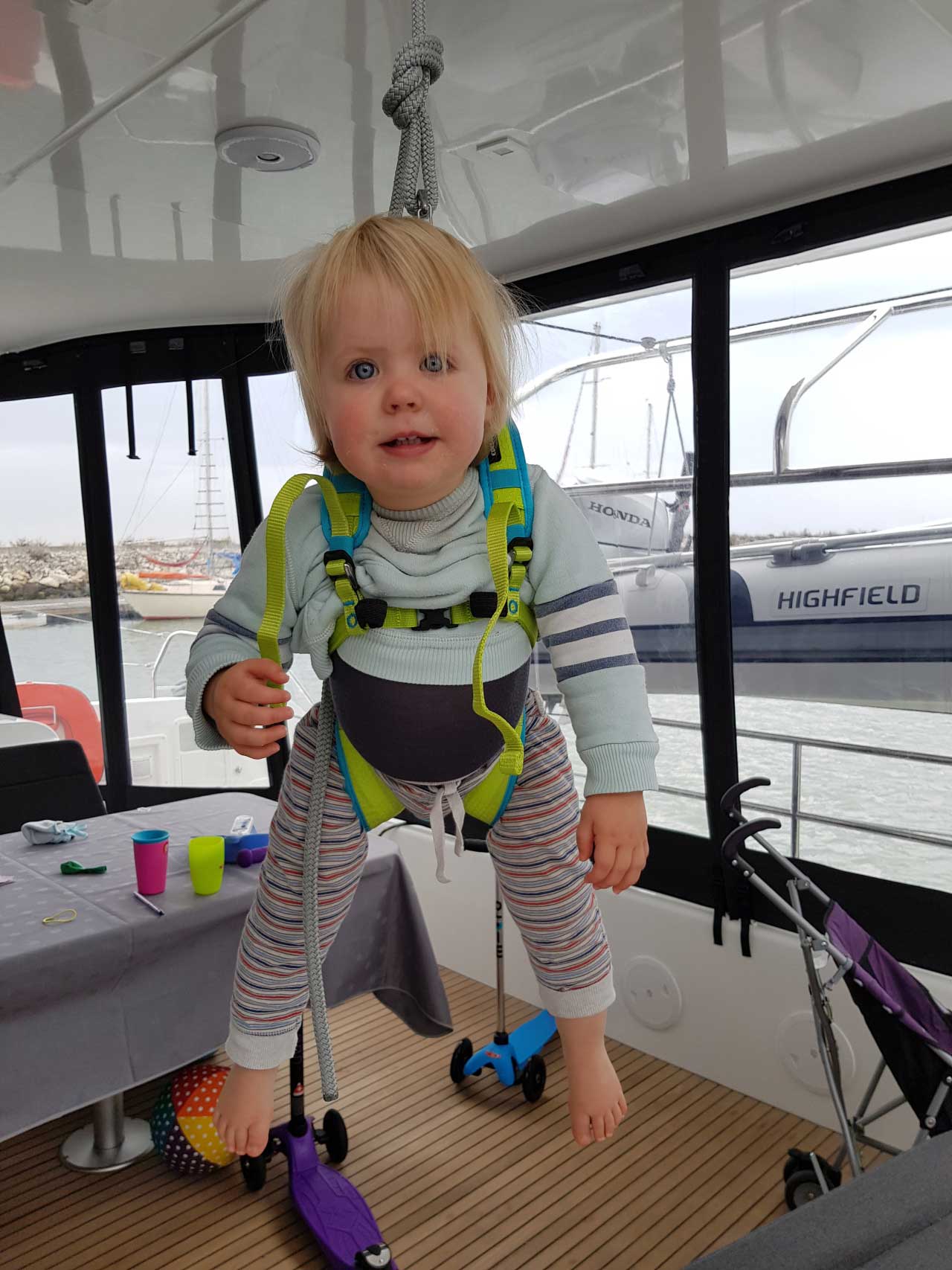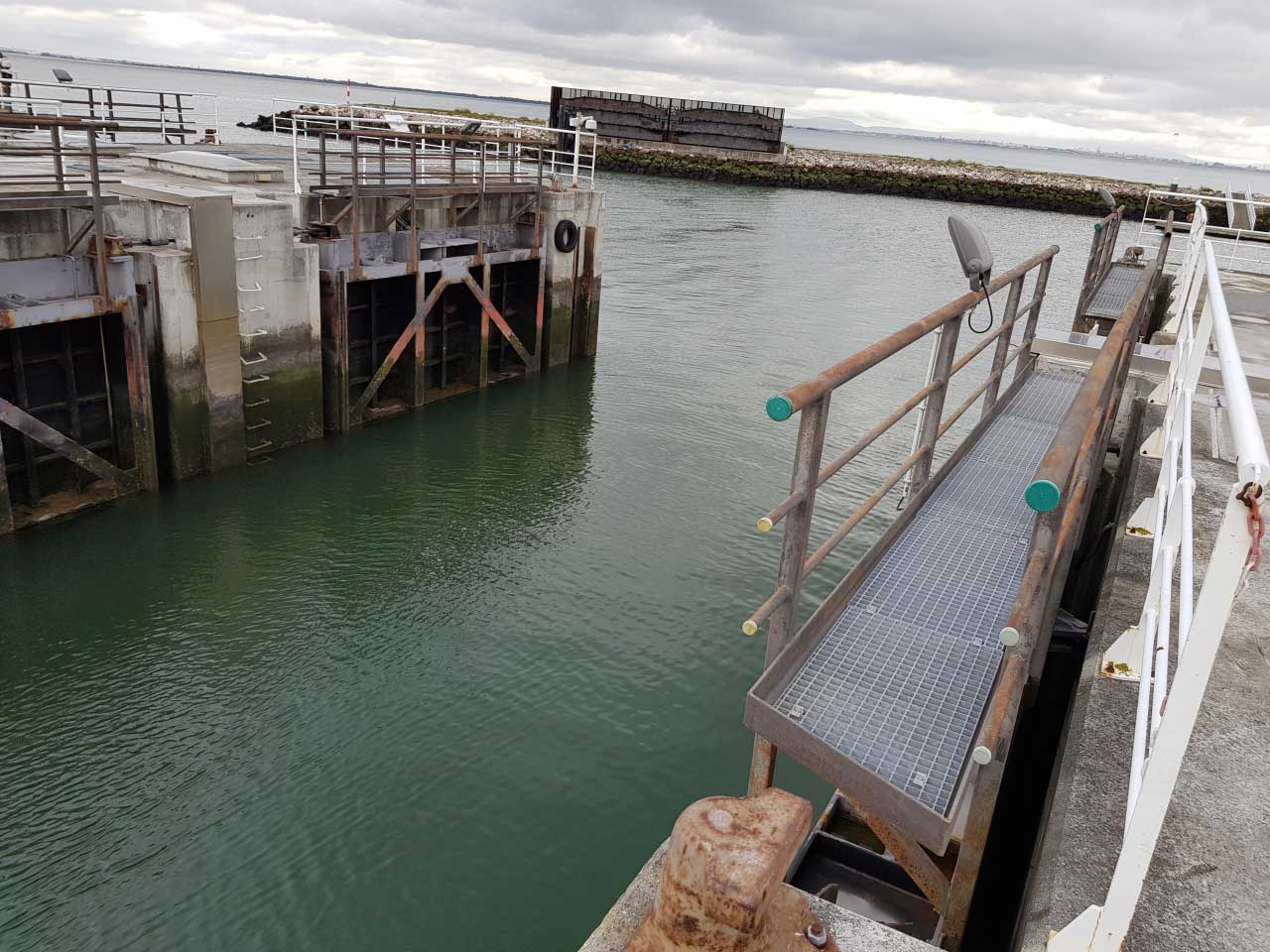 Learning new tricks
"One of the significant challenges we've had whilst learning to sail this boat ourselves has been "the dreaded sluice" at Marina Parque das Nacoes. This is a huge gate that's used to control the river currents running through the marina, a good idea.
The trouble is the gate is 9.6m wide and Sabella's beam is 7.7m (more with her fenders), you do the maths. There is an "interesting" whirlpool like cross current at the exit from the sluice which moves the boat sideways once you get halfway through the thing.
The trick, we've been told, is to take it slowly for the first bit then gun the engines for the remainder to avoid being picked up and pushed into the concrete wall of the sluice. Well, that concrete wall and I became good friends on our first go…
…I've spent my professional career trying hard not to crash things, and I don't plan to start now.
And so we not-so-gently bobbed down the River Tagus calling marinas as we went until one was kind enough to let us stay overnight on their visitor dock.  On a positive note, we are making good use of this boat's autopilot!"
Fresh bread and Easter eggs
"We've been at the Marina de Oeiras visitor dock for 2 weeks now and it's been wonderful.
We are away from the silted river and out in the clean ocean, the view of the city is stunning and they even knock on our hull each morning with a delivery of fresh bread. This is certainly the pick of the marinas in Lisbon.
Easter was a hoot, egg hunts on boats are fun! Although we must caution against using the top of the winches as hiding spots on a warm sunny day (melted chocolate, mmmm)."
Wonderful live-aboard life
"…living on Sabella is wonderful. Whilst much smaller than an Australian house, we each have our own space and it doesn't feel cramped.
Making an effort to put things back where they belong becomes extra important (the girls don't necessarily share this view!). We make an effort to get off the boat each day, even if it's windy and rainy, just to run around a bit. This makes a big difference for both us and the girls.
The daily beach commute is now a whole lot quicker with Ziggy, our electric scooter. The water is still pretty cold but the girls don't see this as an issue. The surfers in the background of the shot below are wearing wetsuits; Lula and Sabine, their pyjamas :)"
If you're enjoying the Jones family updates, keep watching this space, and read more from the Sabella crew on their blog, SailingSabella.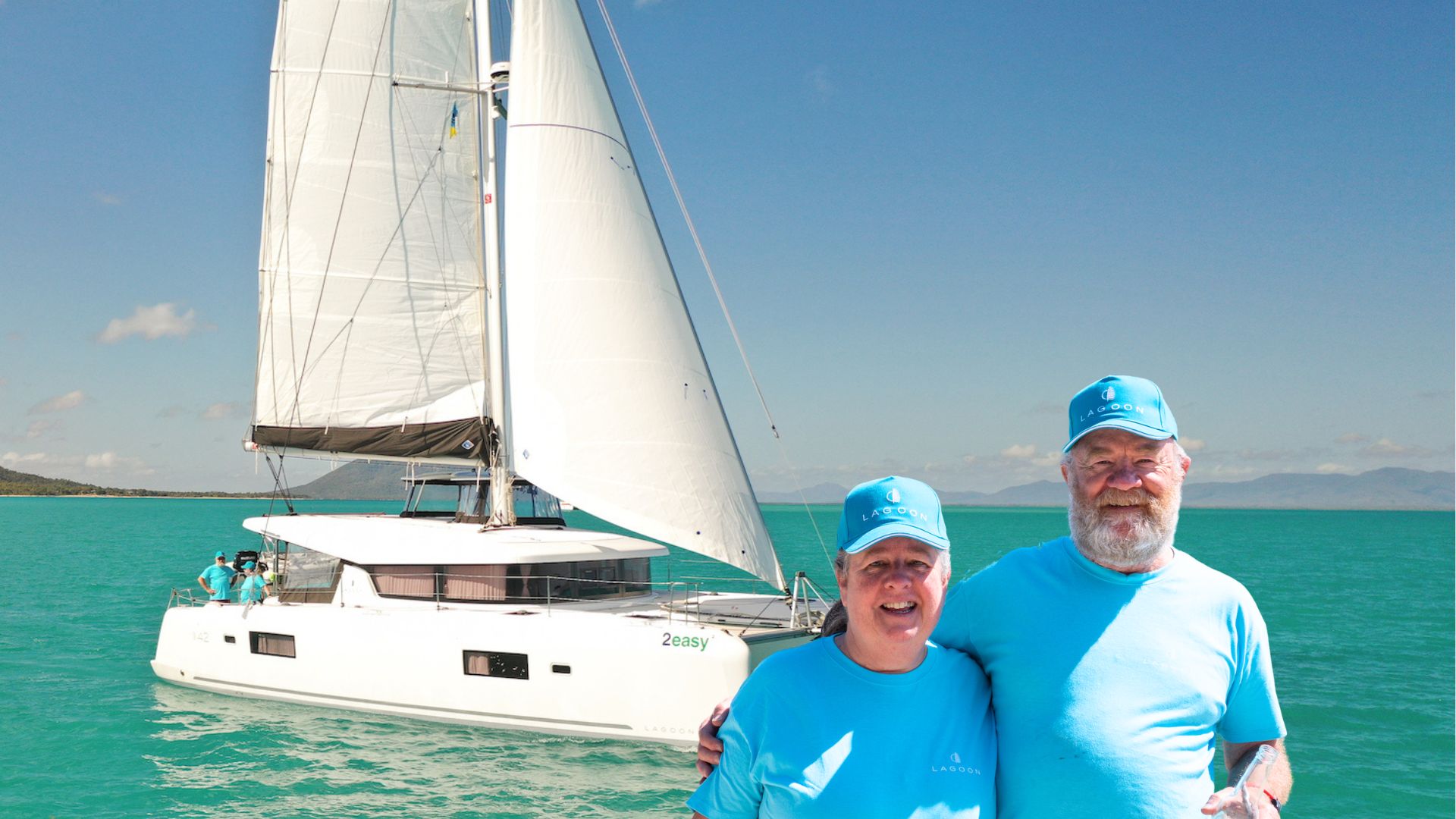 "I first saw the very first Lagoon 42 that came to Australia at the Sydney boat show in 2015. I just felt that it had everything I needed, we purchased the boat through TMG and we've been looked after very well by all the staff. We've really enjoyed the boat the first 5 months" – Ross Smith Lagoon 42.
read more