The Jones Family heads for warmer climates
Sabella escapes the cold
With the predictably chilly climes of northern Europe wearing thin, the Jones family has happily wrapped up preparations for their escape south on Lagoon 42 Sabella.
They are now enjoying balmier climes in Lisbon as their Mediterranean exploration gets underway in earnest. Aaron and Lara fill us in on the story so far…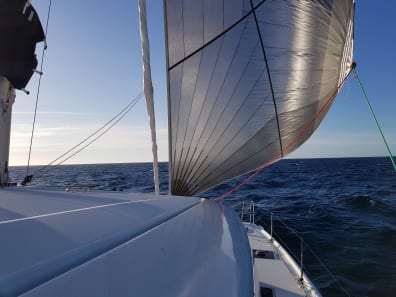 Departure prep
"With snow on the forecast in Les Sables d'Olonne, getting Sabella out through the Bay of Biscay and south to warmer weather suddenly jumped to number one on our lengthy to-do list.
A nice bit of teamwork and some strategic planning saw the boat beautifully marked.
Lara's 'new boat smell' issues were finally resolved with a simple air purifier, and the the washing machine installation took the boat from "luxury camping" to "home sweet home."
So their departure was just dependent on "a 4 day weather window indicating that wind and waves would play nice in the Bay."
"At this point Lara and the children went on ahead to Lisbon in "preparation for Aaron and a delivery skipper to bring the boat south to warmer climes," while Aaron and the crew waited for the weather gods to play ball for their departure.
Leaving Les Sables
Aaron is an Air-Force pilot with a strong stomach – he has never suffered from motion sickness.
However, he confesses, "that all changed dramatically during our first 12 hours at sea.
"I'm sure it happened just to help me find some empathy for those who suffer from seasickness more regularly.
"In any case, once I hardened up it has been delightful."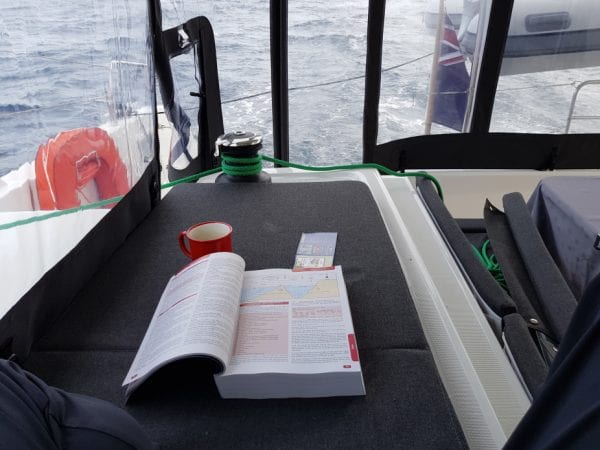 Aaron learns the ropes
With the family waiting in Lisbon, Aaron got some one on one time with his delivery skipper, which as a novice sailor, he made great use of.
"In a life preserving measure, we enlisted the help of a delivery skipper and crew from Halcyon Yachts for this first ocean passage," Aaron explains.
"I was also able to complete my Coastal Skipper ticket during the delivery, under the careful tuition of Tim, the delivery skipper, an invaluable experience on our own boat.
"By Tim's own admission, a Yachtmaster instructor should have some grey hair and perhaps he had just that little bit more by the end of a week with me. Tim's knowledge, demeanour and instructional technique were top notch, resulting in both a safe passage for Sabella and a whole lot of new knowledge for me."
An impressive performance
"The passage itself was great fun. The boat performed very well. We were expecting some new boat glitches but there were none.
"We set off on a cold and windy Saturday morning; simply leaving the dock was a challenge with the wind blowing us on, expensive boats on either side hemming us in.
"It took 3 days to get through the Bay of Biscay…
… and that included about 20 hours of motoring straight into the wind and waves. The feeling of climbing up a wave then free falling off the back before slamming into the face of the next one is memorable, and takes on new meaning in one's own boat."
Off the Atlantic coast of Spain, they hoisted the Code 0, picked up some speed and stabilised the boat. They had a 12 hour over-nighter motoring into the wind, but once it swung round they enjoyed sailing at 7 knots, all feeling well and sickness finally banished.
Aaron continues, "The most impressive aspect of Sabella's performance during our 6 day passage was her downwind ability. With the true wind within 20 degrees of dead downwind, we made just under half wind speed with only the main up, traveller let right out but main sheeted in hard to mitigate the risk of accidental gybe.
"With the Code 0 up we made about half true wind speed downwind, with the apparent wind speed roughly averaging boat speed, almost impossible in a cruising cat I would have thought. But I'm a novice.
"A pleasure during the trip was mucking around with the avionics (navionics?) to get the displays set up perfectly. The terms of reference are different (to flying), but the concepts are the same, just approximately 100 time slower and more peaceful."
Making memories
"We made good time on the way south, electing to keep pressing ahead whilst the wind was favourable. Each time we got within a couple of miles of land we could update the PredictWind forecast, informing our decisions.
"We stopped at Peniche for some close quarter manoeuvring practice, then again to anchor overnight at Cascais, close to Lisbon.
"There are so many wonderful memories from this short time at sea – sunsets, dolphins, peaceful night watches – this way of life is just spectacular and really feels right for our family. We pinch ourselves each day and wonder when we'll wake up from the dream."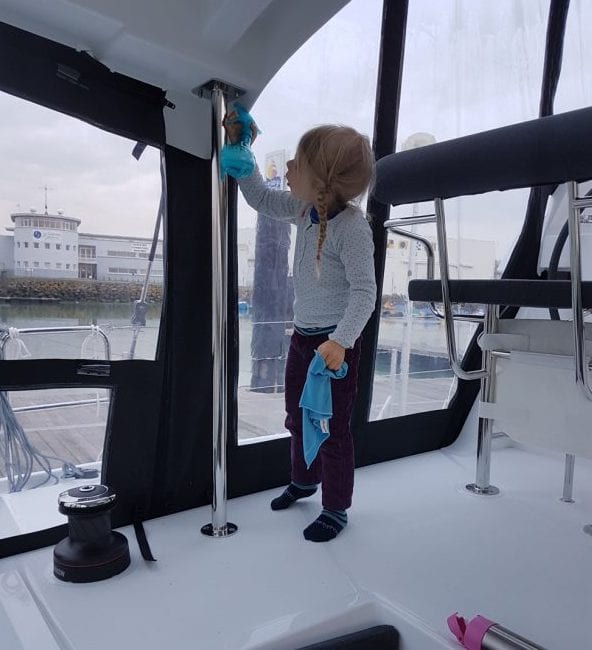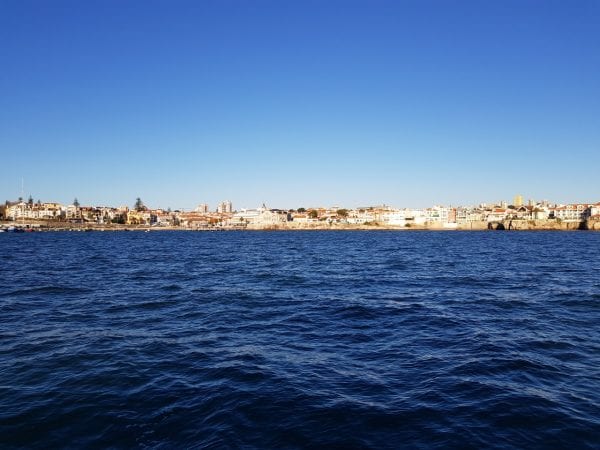 Freedom to roam
"It was very exciting to finally arrive in Lisbon. This was a milestone we've been looking forward to for many months, as it is really the beginning of the nautical part of our adventure. From here we are free to take our floating home round into the Mediterranean by ourselves."
TMG Yachts is delighted to share Sailing Sabella's journey with you – keep a look out each month as we find out where the wind has taken the Jones family.
And if you want to know more about the fabulous Lagoon 42, take a look here.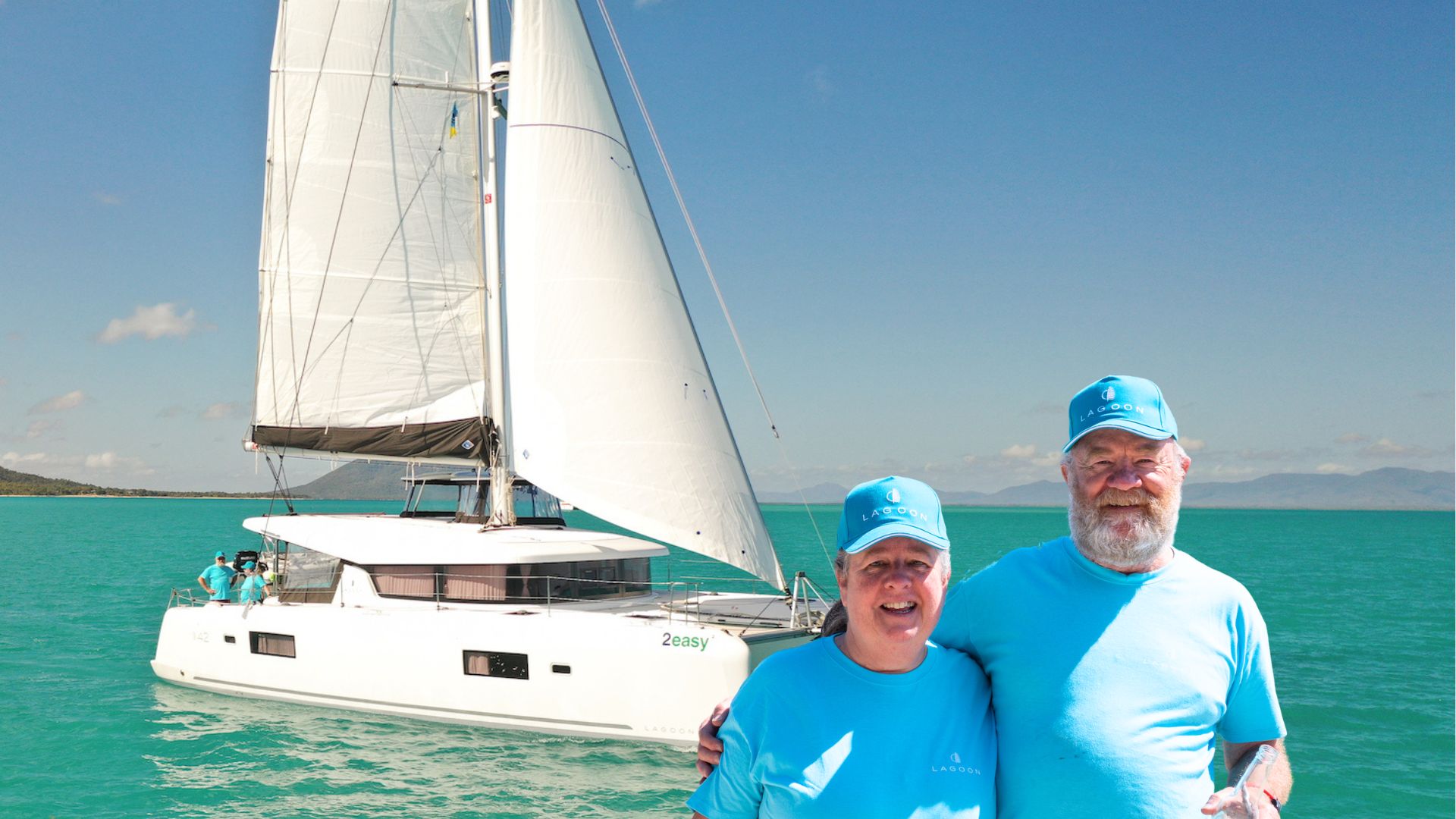 "I first saw the very first Lagoon 42 that came to Australia at the Sydney boat show in 2015. I just felt that it had everything I needed, we purchased the boat through TMG and we've been looked after very well by all the staff. We've really enjoyed the boat the first 5 months" – Ross Smith Lagoon 42.
read more