Home sweet home is a Lagoon 420
Bob and Margaret Kennedy have called their Lagoon 420 Casablanca home for 6 years, and to their grandkids, that makes them the 'cool grandparents'.
They've lived-aboard since they packed up their house in Brisbane 8 years ago and after a brief stint with another cat, they fell for the Lagoon, and it's unique sense of space and feeling of being 'home'.
While moored at Lake Macquarie, waiting for the Lagoon Escapade to get underway, Bob and Margaret shared their love for their Lagoon with TMG Yachts.
The perfect boat
"We've had Casablanca for 6 years and we wouldn't swap it for anything else. We bought this boat because another 420 owner invited us aboard for drinks up at Great Keppel Island.
We didn't know anything about Lagoons, but we came up the back steps from our smaller cat and thought 'this is something else!'. We thought it was terrific.
In comparison, our other boat was 'camping', but this was 'home'. We found a little-used boat in very good condition – we lucked out with the perfect boat."
Home sweet home
"Most owners will agree, a feeling of home is down to a boat's usable space. There are a lot of sailors out there (we are cruisers!) who want a racing boat and will sacrifice a lot of things for a night or two. We will sacrifice a night or two for livable space. This is a very livable boat. We have a lot of grandkids – four in one family – and we can bring up to 6 guests aboard. We can sleep them all, and not on top of each other – it's a very comfortable boat with a great use of space."
"And the thing about the hull is that they're the same height all the way through. We've got two very tall sons-in-law and it's the first time they've been on a cruising boat and not banged their heads!"
"We loved sitting on our back deck in our house in Queensland, and this is where we are sitting now – on our back deck. That was a must for us and the Lagoon had that. There's nothing to trip over. When we have guests and children about, there are no hazards and it's easy to work on… And the sails come back to the helm – ergonomically, it's very sensible. It's an excellent boat for a couple. And it can be sailed single handed easily. We're not experts but we manage ok. It's the Ideal size for us – big enough but not too big."
Casablanca has a hard bimini. She is fitted with plenty of solar panels and batteries – 95% of their power is solar, which means no burdensome electricity bills. And a washing machine and little herb garden aren't luxuries, they're just the comforts of home.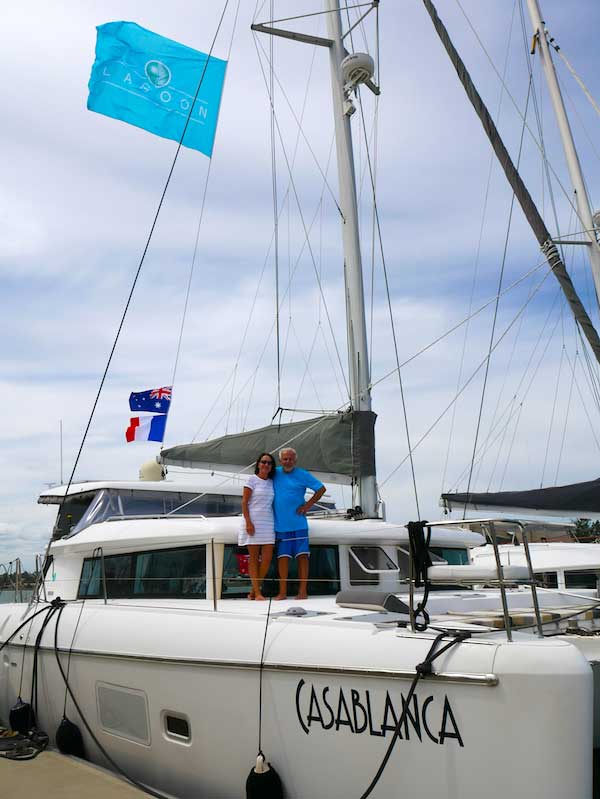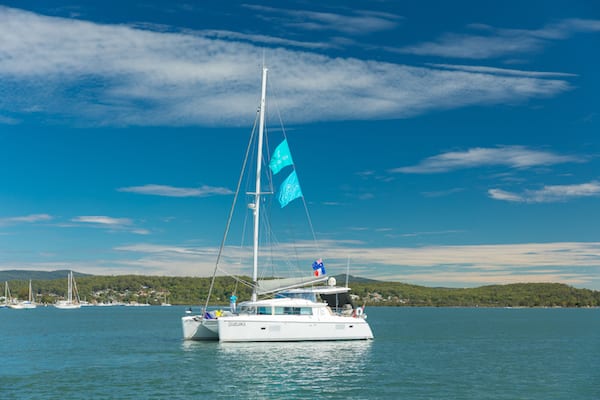 The Lagoon community
"Lake Macquarie is our 2nd Lagoon Escapade. We were up at the one at Airlie Beach (The Whitsunday Islands) last year and it was brilliant. We have met people who are just cruisers like us, and we get to meet some who aren't. The whole idea of a community of Lagoon owners for most of us is very important, and this is a good community."
"Getting Lagoons together as a group is good because you meet like-minded people too, probably people you wouldn't meet if you lived in a house. And really anyone can do it. We didn't plan to do this, it just sort of evolved. Bob just woke up one day and said let's buy a boat! That's where the little boat started and we wouldn't be anywhere else now!"
"It's not uncommon to have a (shared interest) group, but with boats, there are a lot of things to know about – where this switch is, how to fix that – we share a lot of useful information with the Lagoon community in Australia and worldwide. It's good to be a part of it and troubleshoot any problems. Somebody always has the information, has fixed it or can source a part. On the other hand, this boat is no trouble on the whole, she's a very robust reliable boat."
The cruising life
"Along with trips on the east coast as far north as Lizard Island and past Cook Town, we've been as far south as the western side of Tasmania, to the Southern Wilderness area. We explored Macquarie Harbour near Strahan and went right up Gordon River where, for those old enough to remember,  the Franklin Dam protests were. 30 miles inland on the river, we were kayaking with platypi. Further south, we went to Port Davey, and Bathurst Harbour, which is another wilderness area. We've seen places where nobody lives, you can't drive there, there are no roads."
"We've done New Year's Eve on Sydney Harbour four times now – you can have so many people on a Lagoon, and you can always find people to join you for New Year's Eve. The Harbour is beautiful, but it's the wilderness areas that are amazing and most memorable – they're very privileged places to be."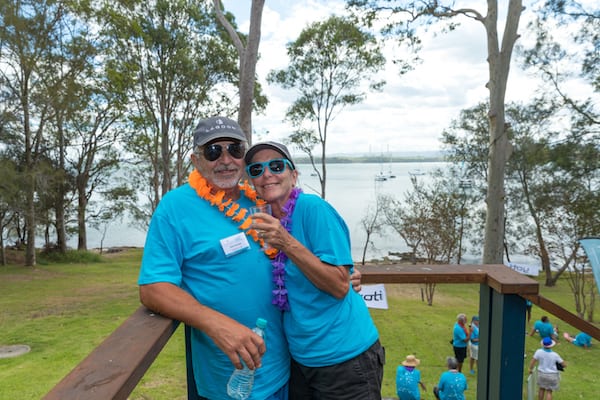 What's next?
"We plan on going down to Tasmania, and spend a fair bit of time in the south western corner. We have friends down there in other multihull groups, and we'll be spreading the Lagoon word! We don't have any offshore plans at the moment, there's so much to see in Australia, so we'll continue to cruise here. After 1000s of miles, we still haven't seen lots of places. Australia is great for all year round cruising."
"The other side of the coin is that this is not difficult, I'd never had a sailing lesson in my life," concludes Bob.
Margaret agrees "I can launch a spinnaker ok, put an anchor down – it's amazing the skills you can learn as you get older!"
Bob and Margaret will celebrate 50 years of marriage this year, and if that's not testament to a blissful home life onboard a Lagoon catamaran, then we don't know what is.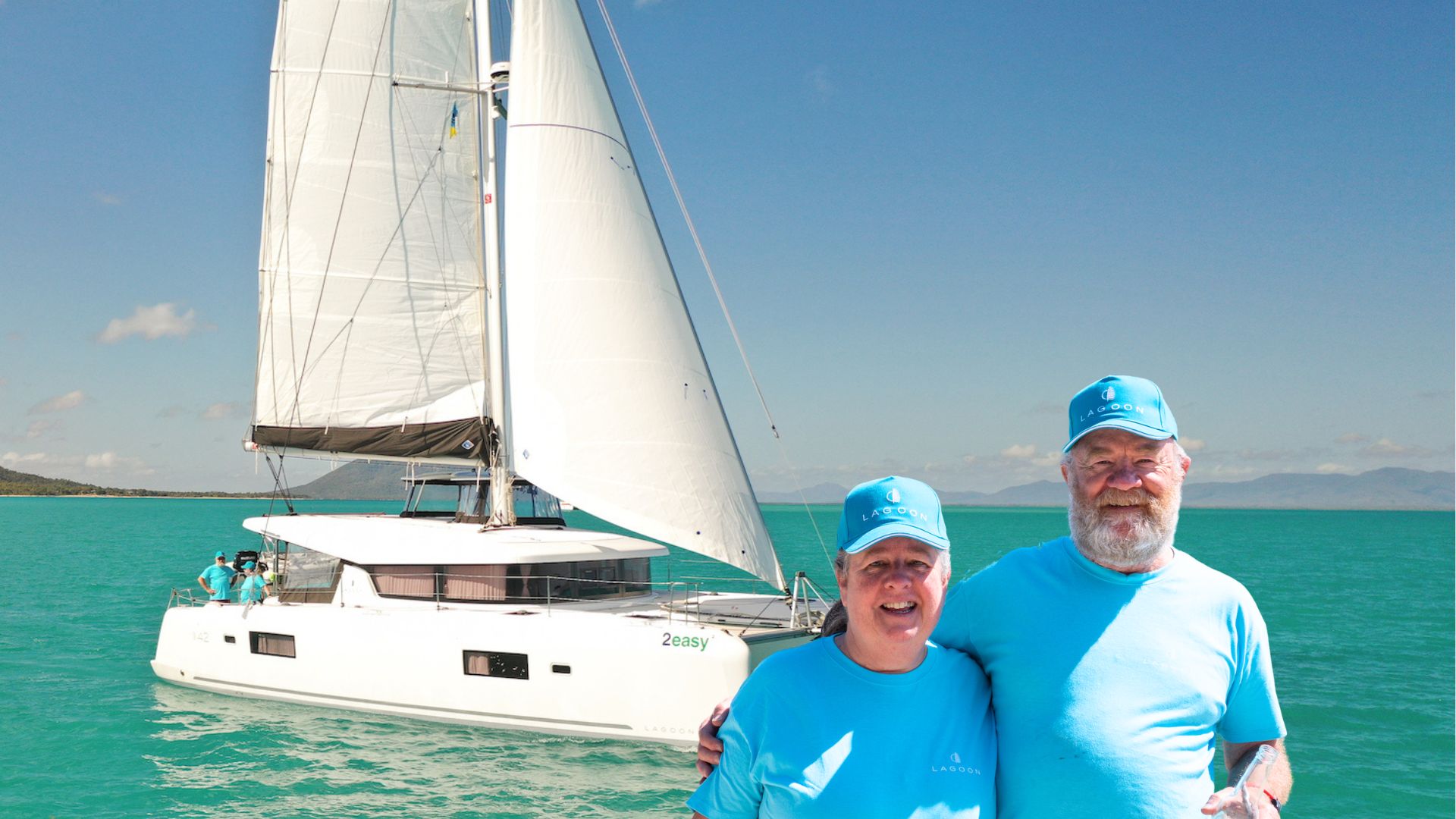 "I first saw the very first Lagoon 42 that came to Australia at the Sydney boat show in 2015. I just felt that it had everything I needed, we purchased the boat through TMG and we've been looked after very well by all the staff. We've really enjoyed the boat the first 5 months" – Ross Smith Lagoon 42.
read more