Is this the best Lagoon 450 ever?
John and Mariet need little introduction to Lagoon owners. John has been a sailor all his life, he has owned 3 Lagoons, and prides himself on taking the utmost care of his charges. So the opportunity to buy a boat that John has owned is unique.
Themis, the Lagoon 450F now for sale through our brokerage arm, Yoti, is the boat in question, and is quite simply, as good as new. In John's words, "There is not a scratch on the boat. Themis looks brand new – I'm very particular!"
John describes some of the changes he made to Themis that make her stand out from the crowd.
Smart additions
"Some of the special things on the boat are the set of lithium batteries and the 2.4 KW of solar panels. What that means is that we have never had to connect the boat to shore power. It is totally self-sufficient which is quite unusual. With solar and a big 1.2 KW lithium bank, we have plenty of power for two people on board and never run out. No other boat in Australia has this.
"We put a code 0 sail on Themis, which is very easy to handle, and we added a continuous furling line using the electric winch, which is activated from the steering station.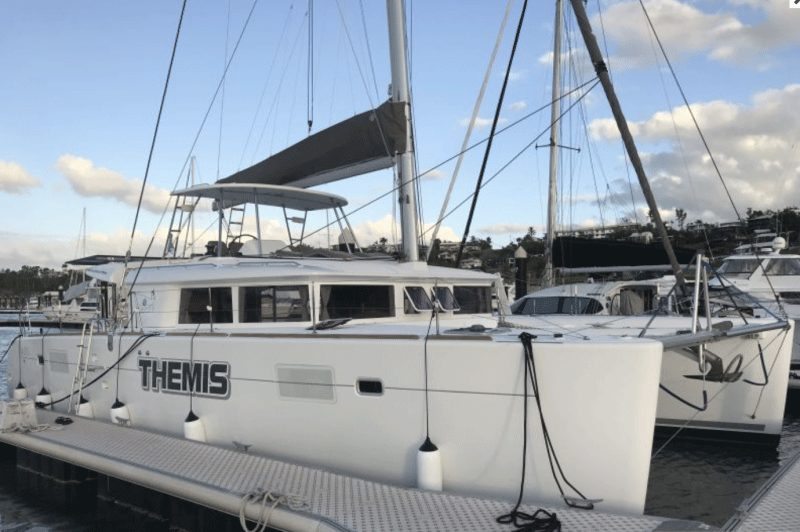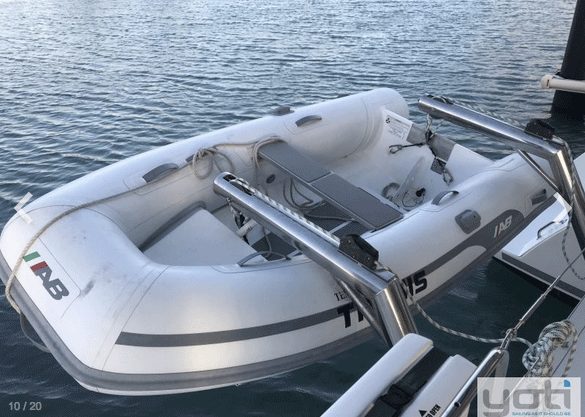 "We added a dinghy with an electric outboard. This dinghy, including outboard, is under 30kg, which makes it very easy to carry. When you take your dinghy out to the beach, it is an advantage to be able to carry it, the lighter the better. The dinghy has an electric motor- a German made Torqeedo, which is very quiet. It's charged by our solar panels, hence no petrol or oil onboard. It requires no maintenance.
"We replaced the small bimini soft top with a much larger hardtop, with steps, extra lights and sound boxes. It provides more sun protection and via the steps, it allows for easy excess to the sail on top as you can walk on this hardtop.
"Other additions are a washing machine, a water-maker,  a fusion bluetooth radio, a telephone booster and a freezer box."
Peace of mind
"We have installed a monitoring system on the boat, which is great for when the boat is in the marina and you're at home. The brand is Boat Command and it is very useful; monitoring power, bilge pumps, unexpected movement of the boat and the detection of intruders.
"We get an alarm message to our phone if there is any alarm going off on the boat and then can take appropriate action. We can see on our phone the actual power voltage at any time too.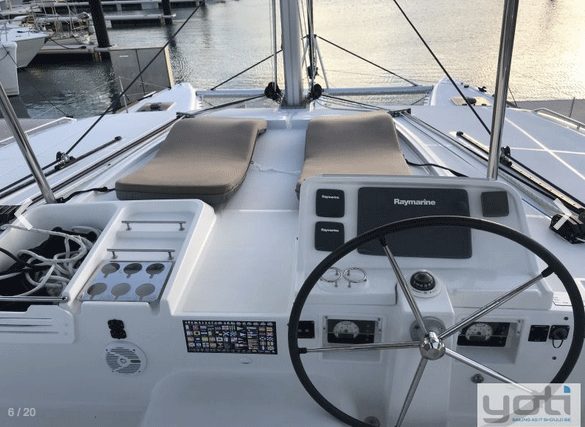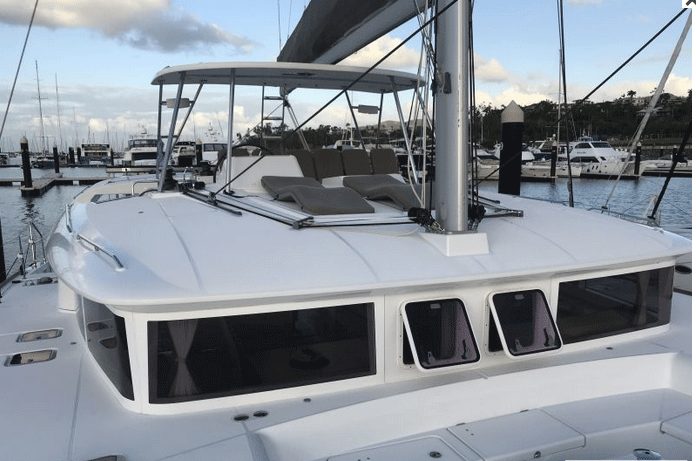 Short-handed sailing is a breeze
"We have lengthened the lazy jack lines and brought them back to the steering station. From that position you can drop and lift the lazy jack lines and we have jammers to lock them in place.
"Another unusual feature we have installed is an extra line to the top of the sail. When we bring the sail down we can pull that extra line to facilitate an easier drop – this is also on a little jammer near the steering station. Once the line is in the jammer the top of the sail will stay in the sail bag.
There's something about a Lagoon…
John has owned 4 catamarans, 3 of which have been Lagoons – the reason for the sale of Themis is his purchase of another Lagoon. Why does he keep coming back for more?
Firstly, he recommends buying a production boat – "…you want to buy a production boat, built in a factory in series. You get a properly designed and built boat, about which (Lagoon) have had feedback from owners on what works and what doesn't.
"You have to look at what you're using the boat for – racing and winning, or cruising and relaxed sailing… Racing boats have to be kept light to perform but a cruising boat should be like a holiday house on the water.
The Lagoon sits somewhere in between. The boat still goes fast but it's as much about the traveling to a nice destination, in comfort and safety.
"Compared to other 40ft boats a 40ft Lagoon will have the most volume – plenty of space for living and storing everything. A  signature of Lagoon is its vertical windows. The advantages are you have ample headspace in the saloon, plenty of light and 360 degree views, whilst keeping the sun out. This is unique to Lagoon."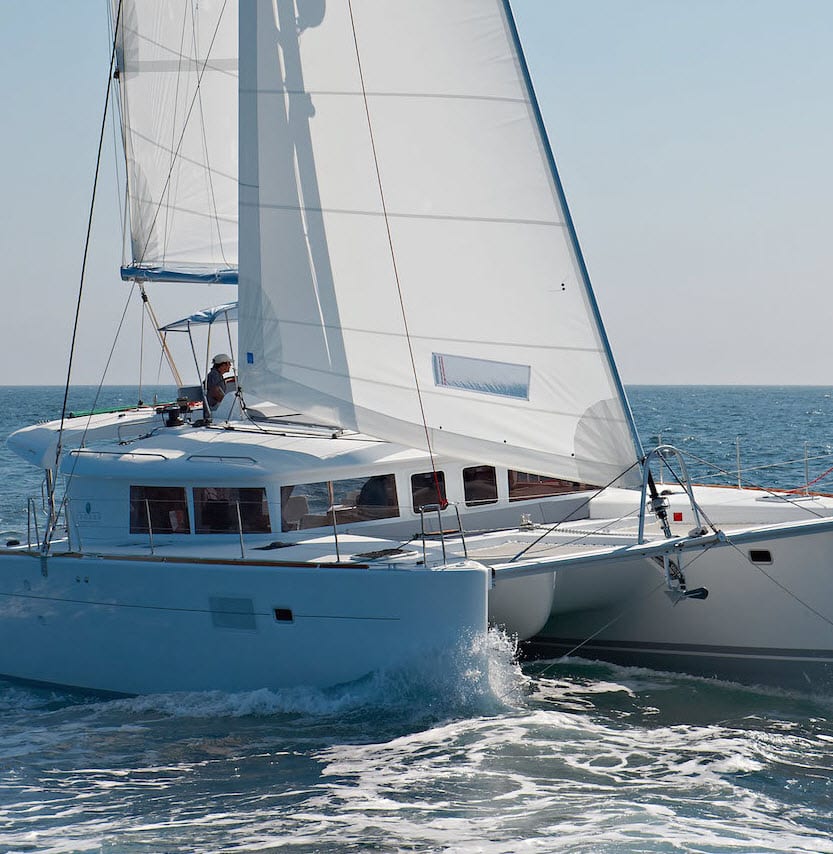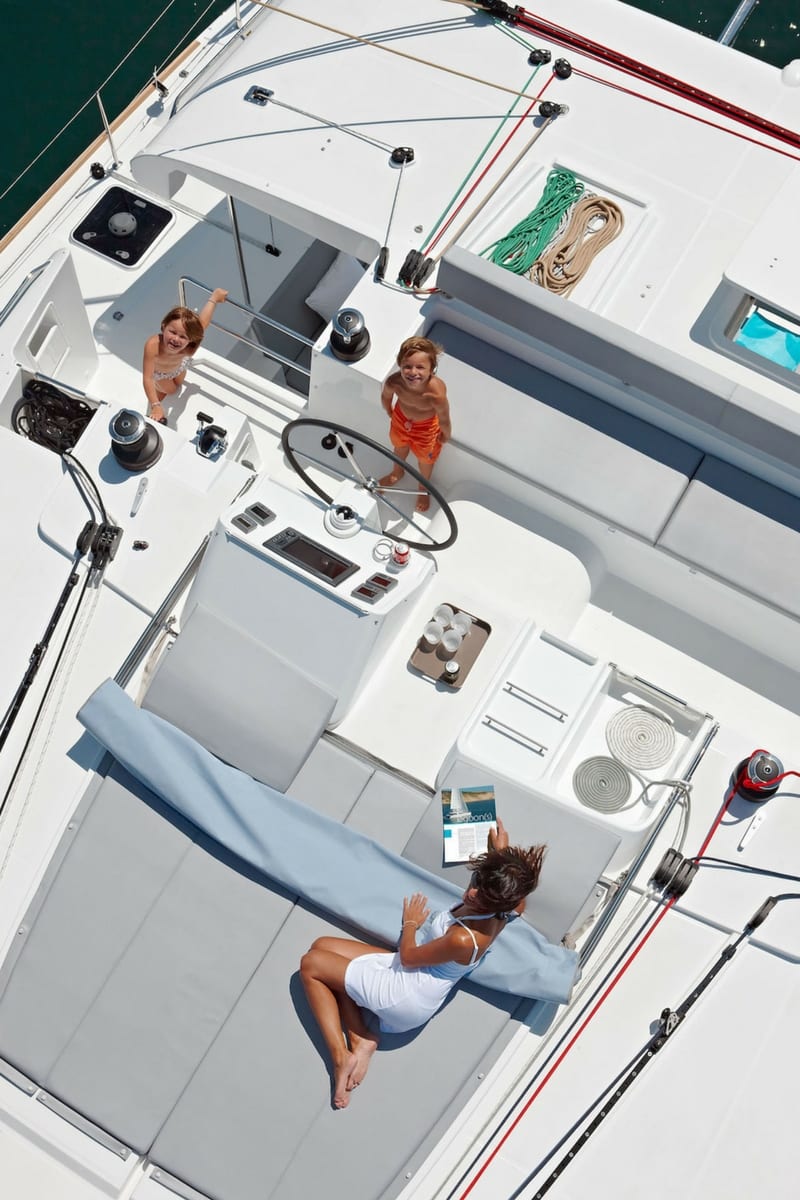 It's all in the detail
"Lagoon is the biggest cat builder in the world,  they have specialist interior designers who work out the ergonomic details such as places to hold on to so you can walk through safely.
"The boats are built with a lot of thought. Lagoon is very good at doing that – they know their market, they're building a boat for cruising, and for charter markets. The boats can be sailed safely solo, or by less experienced sailors. Lagoons will just keep going. They are enormously strong boats that could go anywhere in the world.
"I very strongly believe Lagoon is building the best catamarans on the market. They improve the boats all the time as well, even when you think they couldn't get any better, there's a new model and it's better again – that's why I keep buying Lagoons."
Themis is available to view at our Gold Coast office at The Boat Works Marina. Find out more here.
And register to view Themis at the Sanctuary Cove Boat Show, May 24 -27.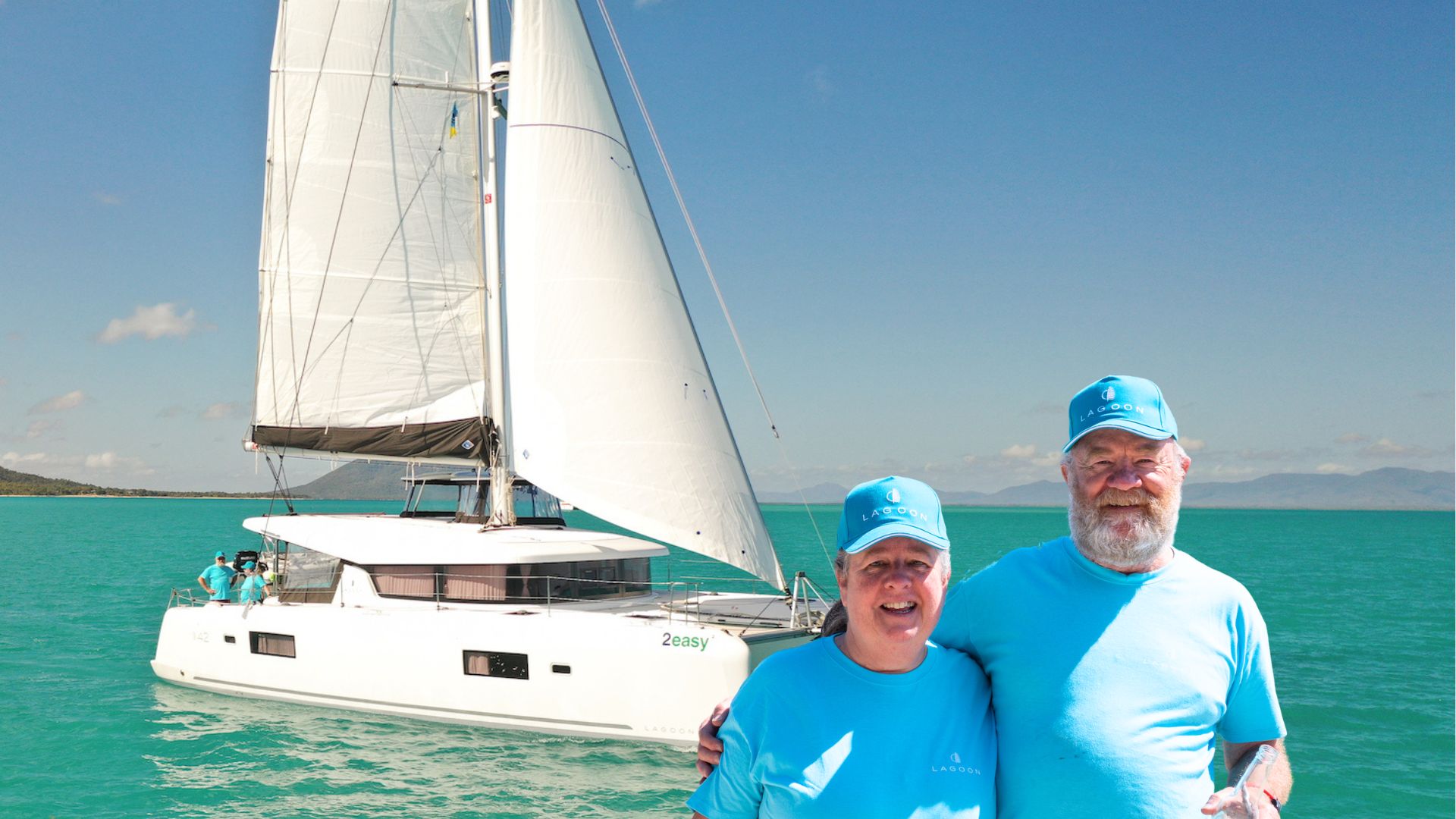 "I first saw the very first Lagoon 42 that came to Australia at the Sydney boat show in 2015. I just felt that it had everything I needed, we purchased the boat through TMG and we've been looked after very well by all the staff. We've really enjoyed the boat the first 5 months" – Ross Smith Lagoon 42.
read more