A truly unique Sailaway adventure
Lagoon adventures on the Great Barrier Reef with Sailaway
Sailaway Port Douglas owners Steve and Katrina Edmondson have a unique product that stands out from the crowd and they are fiercely proud of that. They have catered to tens of thousands of guests seeking an authentic Great Barrier Reef experience, presented with a message of integrity and delivering on luxury and adventure.
Steve chooses Lagoon catamarans for his business. He is as passionate about the French cat as he is about sharing his love for nature and his beautiful corner of Australia with his guests.
Sailaway offers people access to a 'wow factor' as part of their holiday – "It's in reach for people to enjoy a bit of that business class feel with their friends and family, in an everyday way."
Why does Lagoon fit the bill?
This year Steve and Katrina celebrated their 15th anniversary of owning and operating the Sailaway business.
"With the Lagoon, we can live out our passions for sailing, nature and the environment. I have had confidence in Lagoon from the moment I first stepped aboard one whilst looking for a boat to take to Africa.
I went on a Lagoon 380 in charter through Pro Sail and it stood out from the crowd."
"In my previous life I was in industrial design, product design and marketing. I have a feel for quality, clean, practical and attractive design. My confidence to invest in Lagoon would allow me to share the experience of nature on the Great Barrier Reef as I had done in Africa.
The development of Lagoon and the third generation design with flybridge led us to purchase a 500 (Sailaway IV) from the plans – it fitted my brief perfectly, being the ultimate design, professionally built, with innovation and quality.
Our satisfaction with the boat's performance and durability is really high.
Our love of this vessel led to the purchase of our 2nd Lagoon 500, (Sailaway V) a boat we knew worked. It was the right size and design, with the classic vertical windows, the flybridge and plenty of stunning features… it has great space around the deck and it doesn't look industrial.
It sails so well and has proven the test of time over 11 years, having done more work than every other Lagoon 500, equivalent to sailing around the world three times.
She's still beautiful and has received a high level of attention and maintenance – she remains up to the task and is enjoyed by so many people."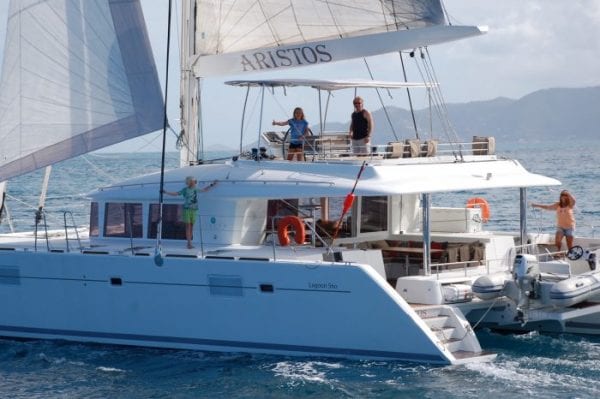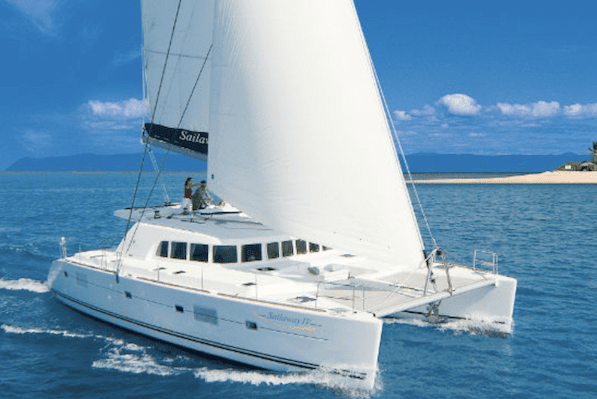 Why buy a boat in France?
As many Australasian Lagoon owners have experienced, picking up a newly commissioned vessel direct from the factory in France can be the start of a unique sailing adventure. Steve and Katrina picked up Sailaway in La Rochelle and had her delivered back to Australia, blogging about the experience of commissioning and preparing the boat for her journey home.
"During that journey, we combined the opportunity to go to the British Virgin Islands on our own boat for a month. We then handed the boat over to the crew, who delivered her home to Australia for her big launch. She was the first big production cat at the time in the southern hemisphere.
We've looked after the boat and she still works and sails beautifully. She has achieved her environmental credits and really stood apart."
They then purchased their Lagoon 560 over a year and a half ago, they sailed as a family – "We took the kids to 15 different countries over seven months. We realised we were crap at home schooling but big on life experiences! Being on that big boat for seven months, we had a great time."
"We had an experience in the Bahamas with a category one hurricane. We had anchored and were snorkelling off the Exumas Islands. We were having one of those 'living the dream' experiences. Then the weather took a swift turn and it became a 'get back right now' moment."
The Lagoon 560 can be handled with minimal crew but as the skies darkening and the wind picking up it was confronting moment for Steve and his family. At 50 knots, while at anchor they put the engines on to take the pressure off the bridle. At 66 knots they were on the flybridge, ploughing into the wind like parachutists.
After four hours, with the wind peaking 80 knots they had the emergency Fortress FX 85 anchor at the ready but fortunately, everything held and worked.
"One thing I learned about sailing and adventure with the family is that it's a even greater responsibility. ….  in far North Queensland you'd have time to pack everything away… there we were with the wind at 80 knots at anchor in an unpredicted storm…
The Lagoon 560 feels like a Harley Davidson or a Landcruiser – it just laps it up, it takes the weather safely and with confidence.  The boat never let us down. It always felt capable and sure footed."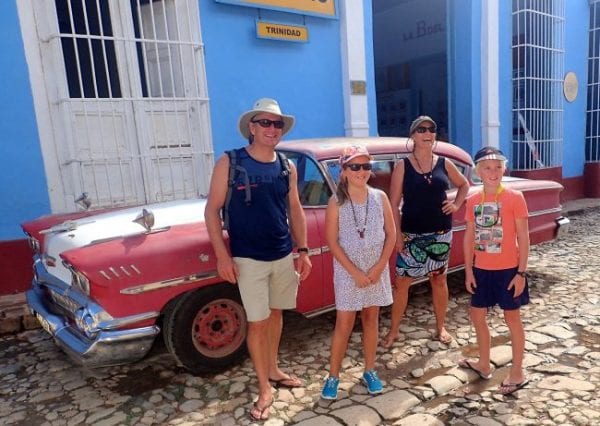 Climate action leaders
"We've chosen the angle of environmental awareness for our business, showcasing the environment in an authentic, sustainable and relaxing way.
This is done through the vehicle of good quality sailing cats built by Lagoon.
We were the first accredited Climate Action Leader by Ecotourism Australia, nationally awarded for sustainability 2002.
And using our success in green initiatives, we continue to be involved in campaigning and lobbying for sustainability."
Is the sustainability message filtering through?
"It is. We committed early on, innovating and investing to deliver our ecotourism message with passion. We have planted 15 000 trees – we do that as a contribution for each passenger. Behind the scenes, we don't wait for subsidies. We have marine biologists on our team to raise awareness.
We have targeted our market to consider what climate change means and how to have a low footprint, and that goes hand in hand with the best equipment and our philosophy, taking a small number of guests each day in a really nice way.
We focus on the natural diversity of Australia, particularly of North Queensland. And we do it with a level of professionalism, better than anyone else in the world. Tourism in Australia is an undervalued industry, but it is totally sustainable, it's non-extractive and highly educational. People are relaxed on holiday, and combining being on a beautiful, stylish catamaran with a high standard of ecotourism gives them a chance to understand the message and be inspired."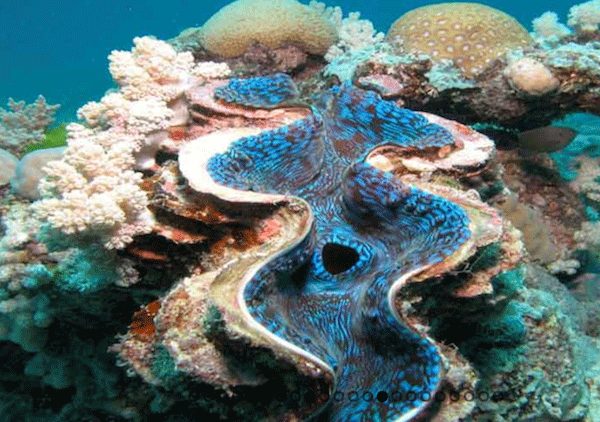 How do you get your message across?
"Our name, 'Sailaway to the Great Barrier Reef', conveys the message – a dedicated sailing experience to the very top spots with valuable, specialised permits. You see the name and the beautiful boat delivering an authentic sailing experience.
Throughout the experience, guests get the marine biologist's interpretation of what's happening, whether in the welcome brief or on your snorkelling trip.
On the heritage island walk on Low Island – the closest part of the Great Barrier Reef and the site of the first scientific research done on the reef in 1928 – we have trained guides who talk about the environment and the wildlife, such as the beautiful turtles.
Whether you're a novice with no sailing experience wanting to go on a beautiful sailing cat or you have your own boat, our experiences deliver a level of comfort and authenticity and our team delivers a consistently good message."
What do your guests have in common?
"The typical thing is that they've all chosen Sailaway consciously because they have thought about our message and our reputation. Discerning visitors who connect with what we do are all welcome.
We are true to our marketing and product and provide a high level of satisfaction. Our sunset sail is extremely popular – we ended up offering it seven nights a week and it's a really good teaser to sail on a beautiful yacht in the evening – it opened up the market to anyone wanting to experience a top operator and luxury yacht in an authentic stylish way.
There are different levels of presentation, and our product allows for different budgets and tastes. Two people recently got married and took the boat out for a private sunset champagne celebration. We have a broad attraction but a focused message and delivery of stylish, personal experience with nature."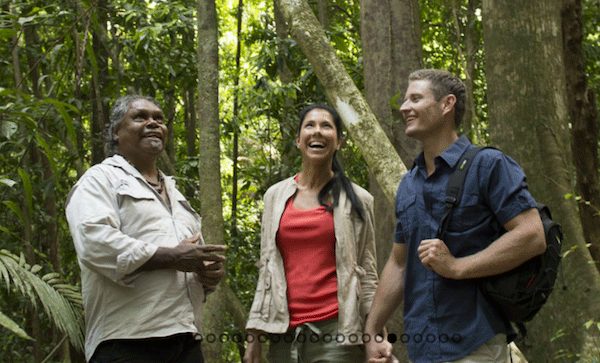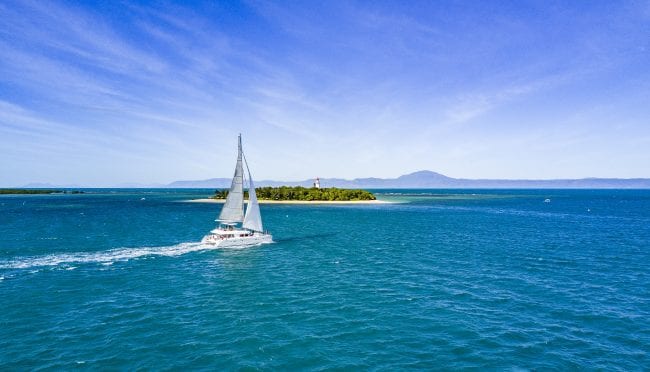 What's next for Sailaway?
"For our 15th anniversary we had a big celebration. We had a 'yacht hop', with our three beautiful boats lined up together. 136 people joined us, including John from TMG Yachts and his wife Rene, and we had our own little Boat Show, complete with Lagoon flags flying.
It was a great way for us to say 'thank you' to our network – our shipwright, our engineer,  our sailmaker – they all play a part in making our business successful. We appreciate the support of TMG Yachts and other like-minded people who are passionate about sailing and about the industry.
As a small Australian tourism business, you have to stand out, you have to be unique. You need a strong, tight message or it's not that straightforward (achieving success)."
"We have our newest product in Cape Tribulation and getting established in a remote location. With our Cape Tribulation cruise, we want our guests to know there are still exciting nature experiences on the wild side.  Another option with Sailaway V is different again; an adult only sail to a heritage island, then back at sunset with a glass of wine in hand.
And then we have the sail combined with a trip to Mossman Gorge Dreamtime Walk, allowing our guests to discover two world heritage areas in one day. This innovative product is a good way of adapting our core strength.
We continue to work with agents in Europe and North America to inspire travellers to commit to a long journey to Australia to experience our unique product.
We look forward to promoting cool projects and authentic, individual experiences to encourage more travellers towards sustainable tourism at the Great Barrier Reef."
To enjoy this truly unique experience in tropical North Queensland yourself, Steve can be contacted at info@sailawayportdouglas.com or check out their website at www.sailawayportdouglas.com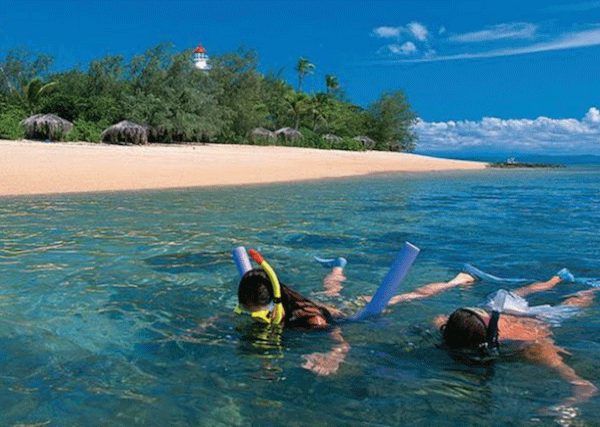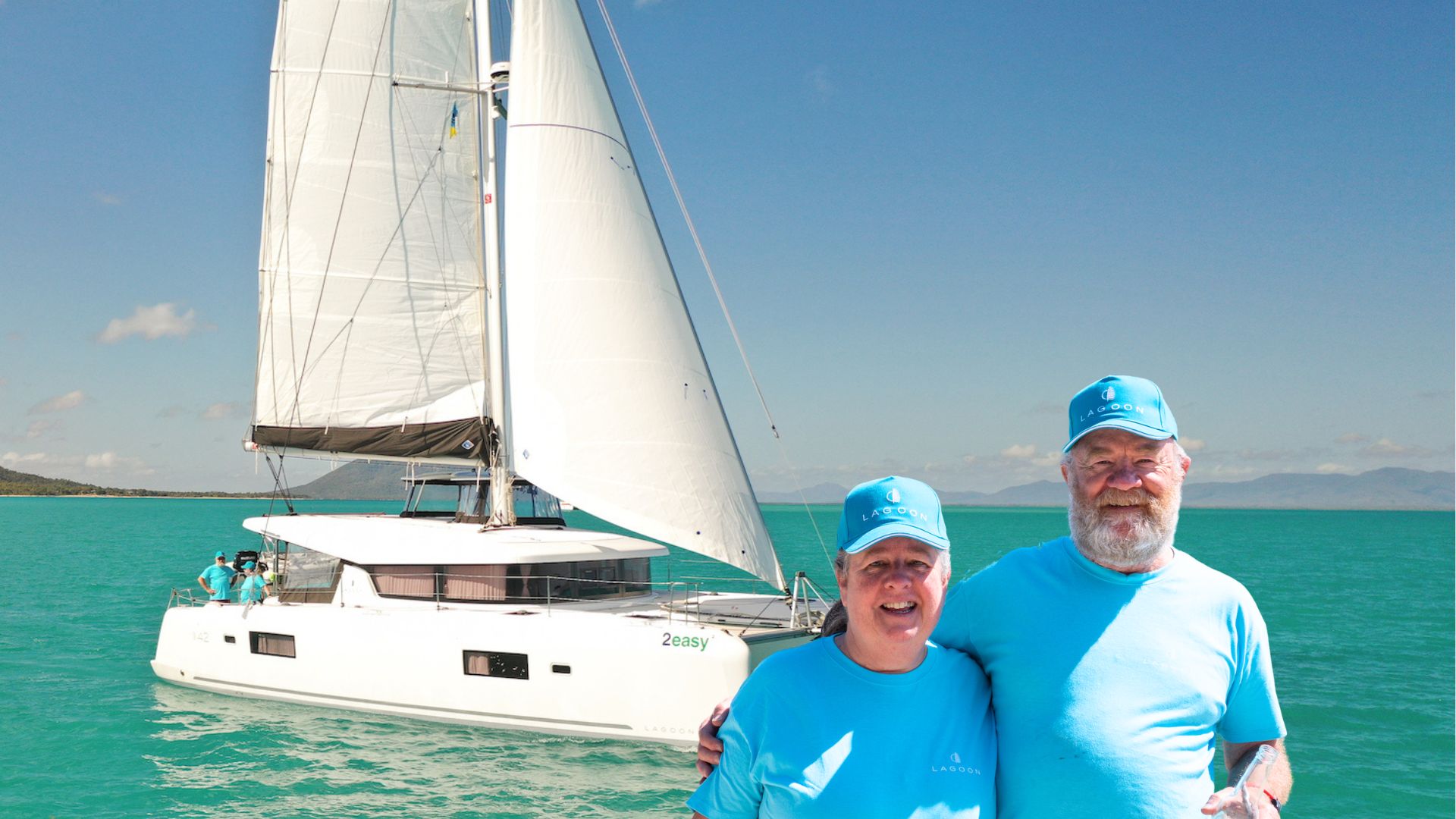 "I first saw the very first Lagoon 42 that came to Australia at the Sydney boat show in 2015. I just felt that it had everything I needed, we purchased the boat through TMG and we've been looked after very well by all the staff. We've really enjoyed the boat the first 5 months" – Ross Smith Lagoon 42.
read more