Dragonfly Sail Guide Reaching
Here is an in-depth guide to sailing on a Dragonfly trimaran on a reach, including how to use the boomvang system and how to set-up the barberhaul headsail system.
Overview
00m 32s – Boomvang System
03m 08s – Barberhaul headsail system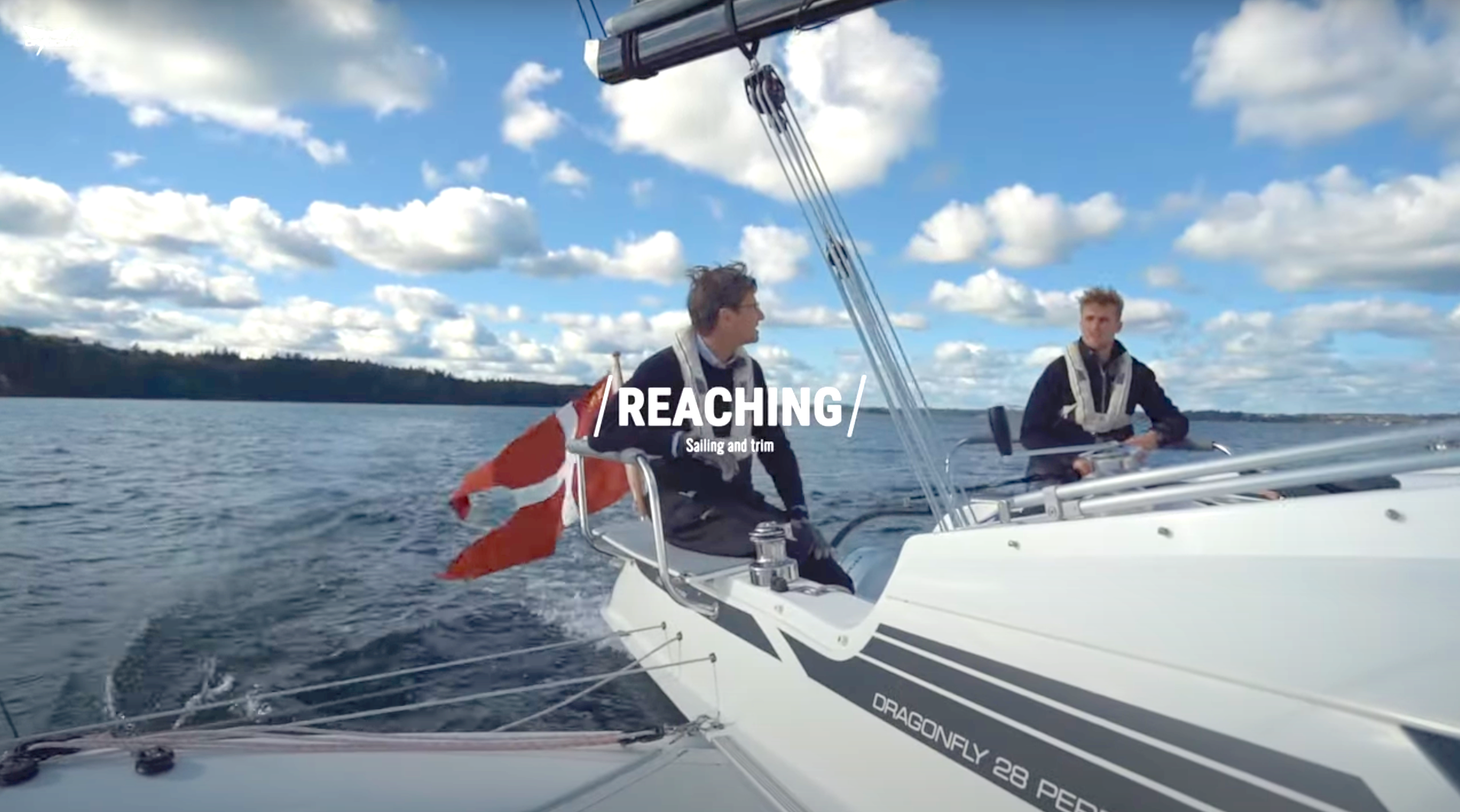 Boomvang System
00m 32s
A very important feature when trimming is the boomvang, or in our case the preventer system which is used in place of a vang.  The preventer works like an extra mainsheet system.
Dragonfly Trimarans do not have a kicking strap or a mainsheet traveller, like you would find on a monohull, so the preventers are very important in controlling the shape of the mainsail and the power of the boat.
We have a very powerful mainsail, so to control the roach (the top) of the mainsail, we attach the boomvang (preventer) and pull it on firmly.  This way the mainsail is also flattened, like we are going upwind.  The mainsail tends to always have the same setup, whether sailing upwind, downwind or on a reach.
As soon as you ease the boomvang (preventer), the sail will loosen and twist, opening up the top of the sail and allowing wind to escape.  So if you want to have a powerful mainsail, ensure that the boomvang has been firmly pulled on so the sail can keep its (flat) shape.
The boomvang is also an important safety feature when you are sailing downwind in poor weather conditions or in poor visibility, as it helps to keep the main under control.  If you are on a reach or sailing downwind and the mainsheet is out, the preventer will hold the boom firmly in place so there is no possibility of it slamming or gybing.
As soon as you go downwind, use the boomvang.
When sailing upwind, you don't need it.  Use the mainsheet only.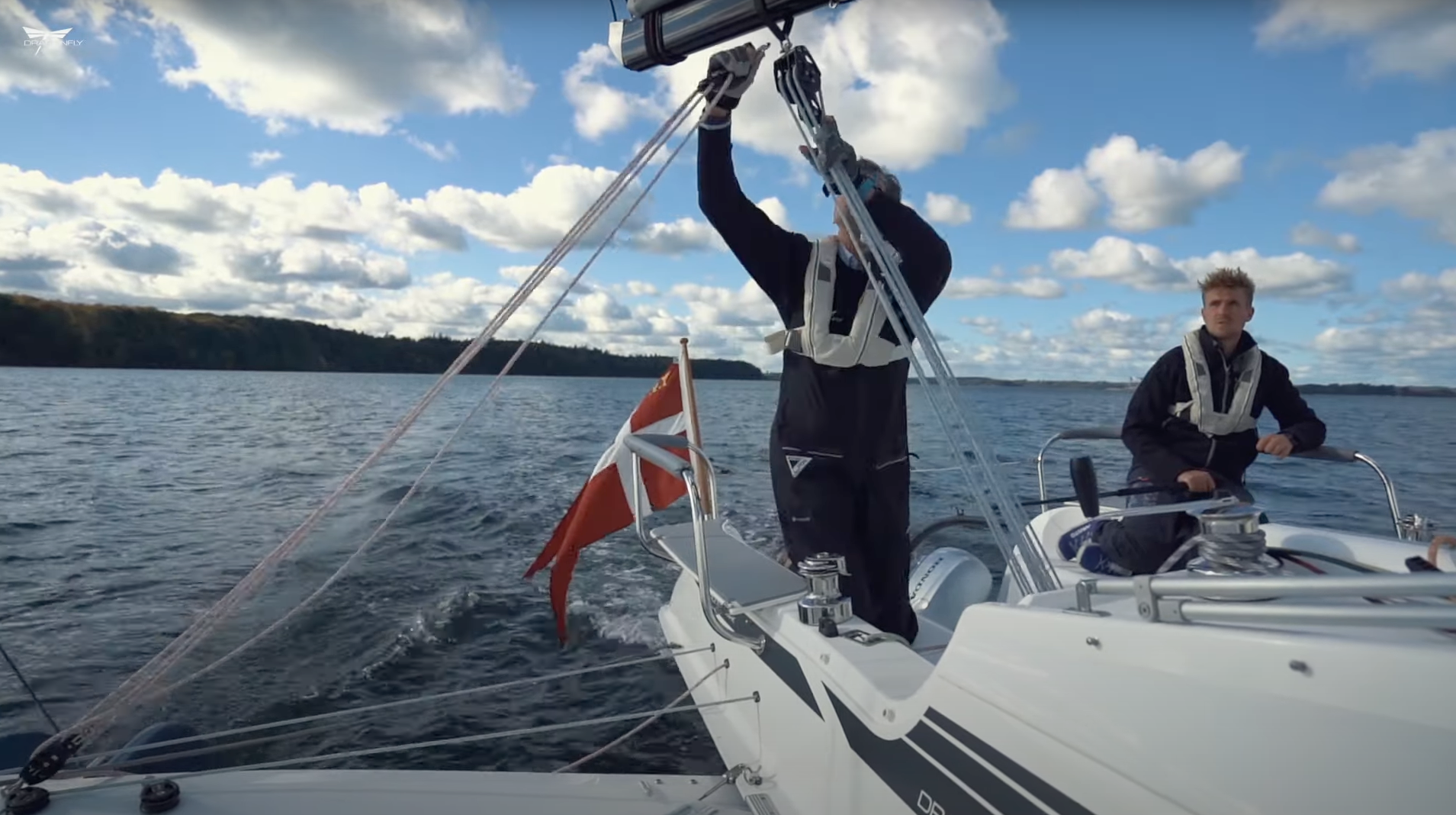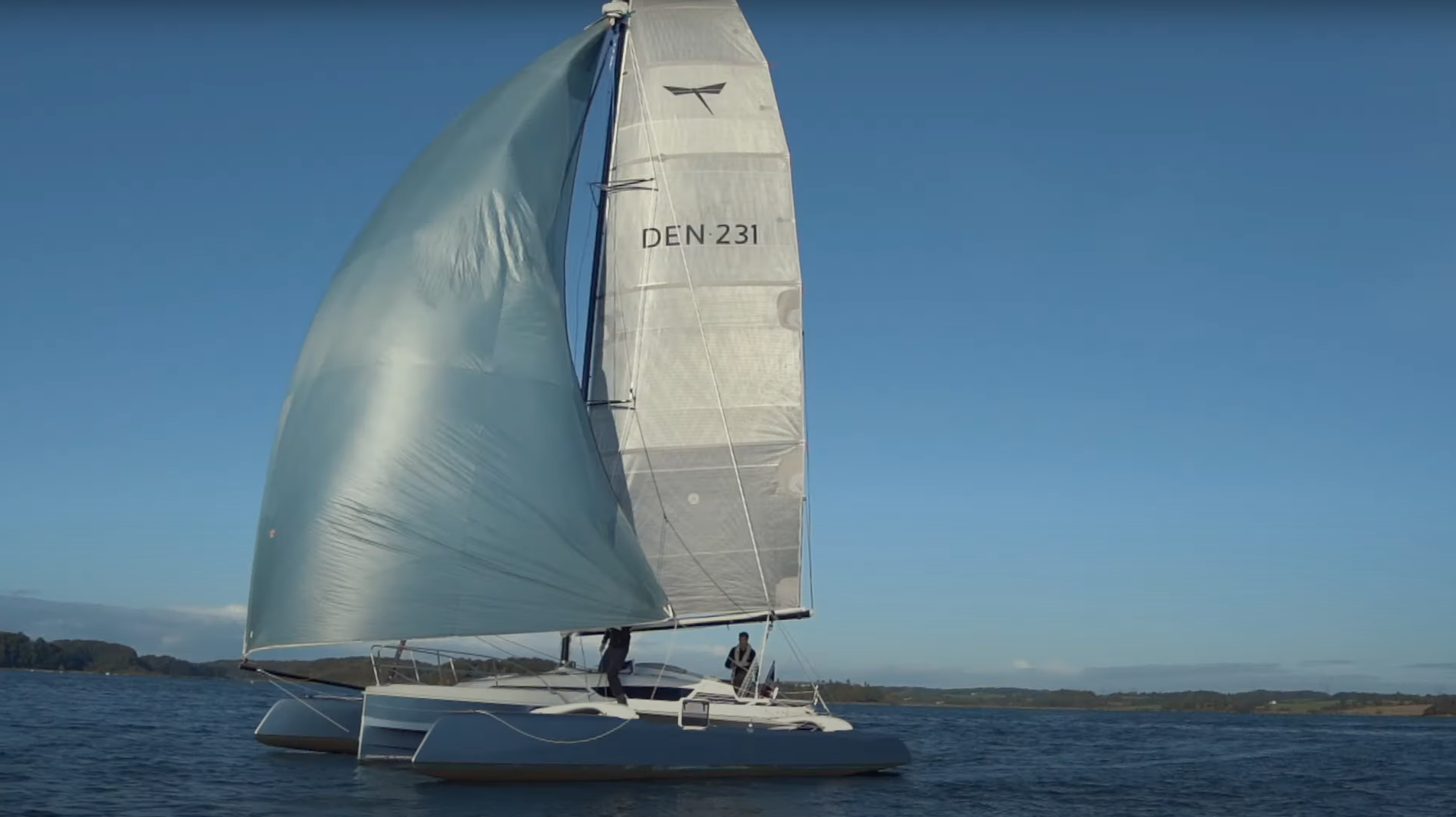 Barberhaul Headsail System
03m 08s
Another important feature for trimming the headsail is the barberhaul system which has been specifically designed for Dragonfly Trimarans.  It is used to change the sheeting point (which then changes the sail shape) for the headsail.
The barberhaul system is only to be used on a reach or when sailing downwind.
Important note: Do not use the barberhaul when sailing upwind, only use the sheet.
As soon as you bare away, pull on the barberhaul from the cockpit.  Tweaking the shape of your headsail will really increase your speed.  When it's right, we're speaking several knots of boat speed.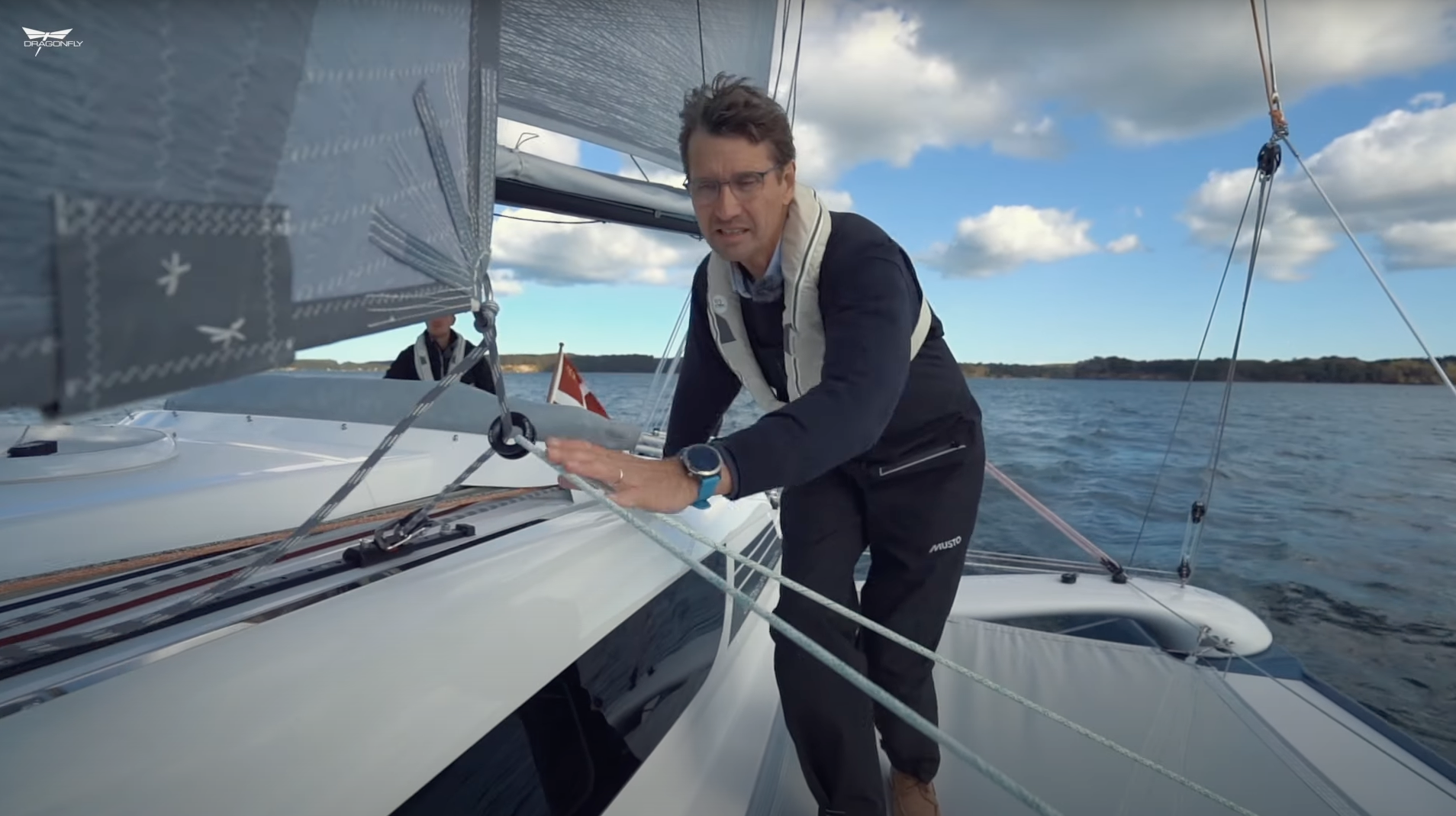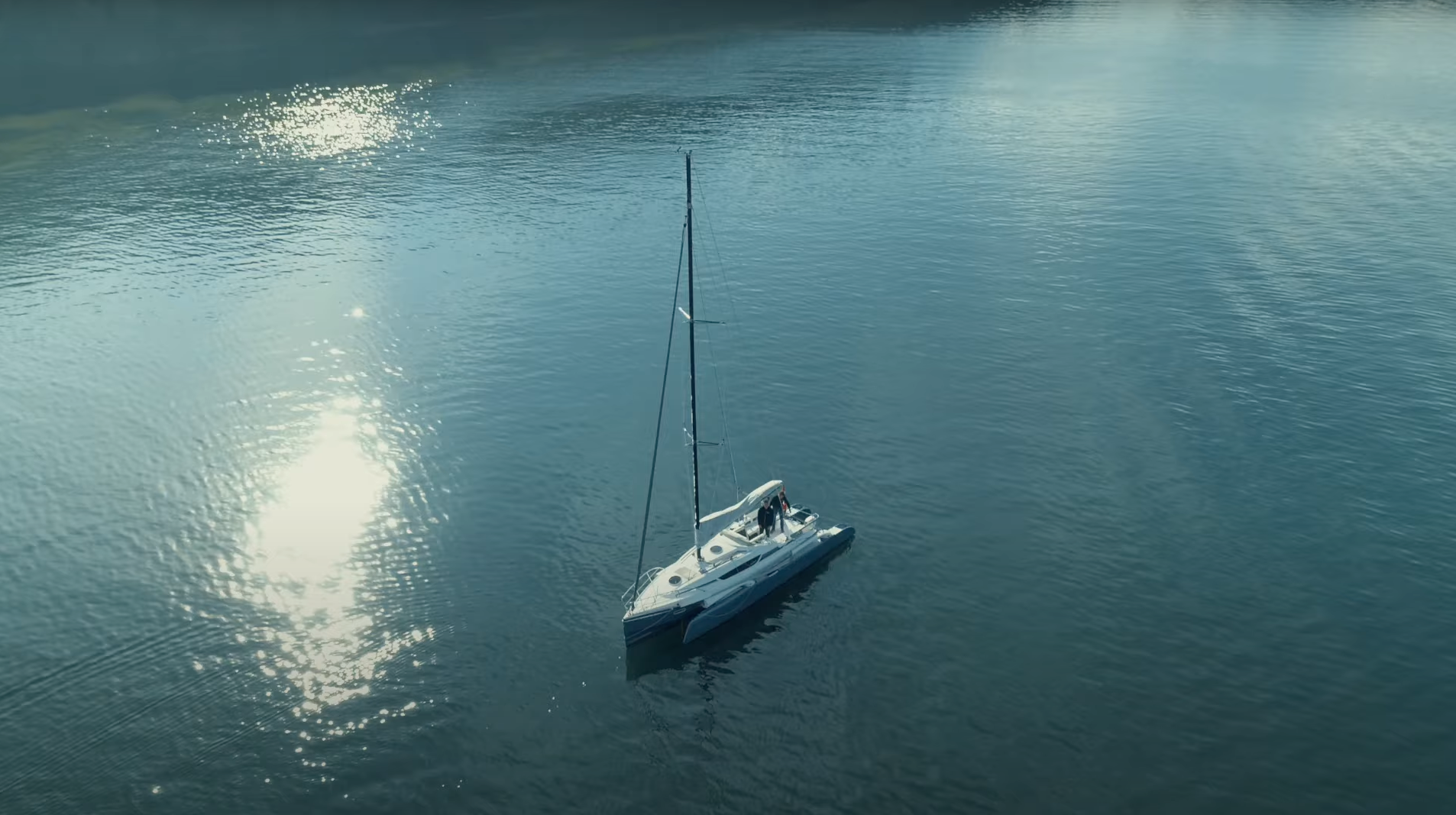 Here is a guide on how to sail a Dragonfly Trimaran in stronger wind conditions, focusing on reefing the headsail, reefing the mainsail and how hard you can push the boat.
read more